Big Reads
What's living with an Alfa Giulia Quadrifoglio like?
​Having spent nearly a year with Italy's 503bhp M3 rival, here's all you need to know about it
In 2016, after much deliberation, discussion and a spot of chair throwing, we crowned the Alfa Giulia Quadrifoglio our Car of the Year. What's it like to live with though? Over the last nine months, I've been doing exactly that. Here's what I found out.
I remember the day it arrived in the office because everyone in the office kept pestering me for the keys. And they would get to drive it. But not straight away, as the plan was to run RJ66 KYZ as an experiment. A lot of my esteemed colleagues are, um, ageing men. So they're completely love drunk on Alfas; spouting words like "passion", "soul" and "greatness" when talking about cars badged with a man being eaten by a serpent.
Advertisement - Page continues below
But I'm not like them. I'm a millennial. And not the good kind that grew up learning HTML code before I could speak. I was the awkward Nineties kid that befriended Tamagotchis and had Sea-Monkeys for pets. So, I simply don't get the whole 'Alfa Thing', as since I've been alive they've all been crap. Like, really crap.
Yes, I'm aware that way back when Alfa was fighting off Bugatti, Bentley and Merc – at Le Mans and in Grands Prix – and was perhaps the greatest sports and racing carmaker of an era. But for Generation X, this incredible history has been just that: history. Mere anecdotes and hubbub of the good old days. We've never had any substance to back it up. The 156, MiTo and Giulietta never enthused. And not once have we dreamt of being Dustin Hoffman. To us, he's just the weird old dude from Meet the Fockers.
Advertisement - Page continues below
Luckily, things might change for Alfa. It's had billions invested in it in a quest to take its sales of 75k per year to 400k within three years. But, to make that happen, it needs to convince people like me that its cars aren't rose-tinted turds.
With a new-from-the-ground-up platform (codenamed Giorgio), the Giulia Quadrifoglio is genuinely all-new. And even the most militant anti-Alfisti will salivate at the spec sheet. With a Ferrari-derived twin-turbo V6 packing 503bhp, sophisticated adaptive suspension, carbon-ceramic brakes (£5,500), the raciest carbon bucket seats on the market (£2,950), positive downforce, a full torque-vectoring ECU-controlled diff and RWD it's a seriously juicy thing. But, at £73k as tested, also expensive. Just look at it, though. Purposeful, angry and all wrapped up in a swollen suit of stance with carbon trimmings.
Then there's the inside. You've heard it a million times: imitation is the sincerest form of flattery. But when does imitation cross the boundary? Having spent a lot of time in the Alfa's cabin, it's a point I struggle with.
See, anyone familiar with Audi and BMW cockpit controls will see some visual similarities between them and the Giulia's gearstick and rotary menu control. When I say similarities, I mean, they look exactly the bloody same to me.
But making things look the same is easy, emulating the tactility and haptic pleasures is much, much harder. And this is where the Giulia comes up short. Both the BMW-esque gear selector and Audi-style rotary control feel incredibly cheap and plasticky compared with its German rivals.
Poring over the materials in the Quadrifoglio's cabin serves up a plate of confusion. There are some wonderful elements: the big metal paddles on the steering column that move with wonderful solidity, exposed carbon trim and classy green and white contrast stitching. But then there are the basic, uninspiring and slightly shoddy parts; the heating controls, in-house infotainment system and rattly hi-fi.
Then you press the big red Start button on the carbon-bottomed steering wheel. The engine fires into life and these worries subside. With the carbon weave on the underside of the bonnet winking at you from the driver's seat, lots of headroom, comfortable seats and good visibility it feels smaller to drive than an M3. And better too.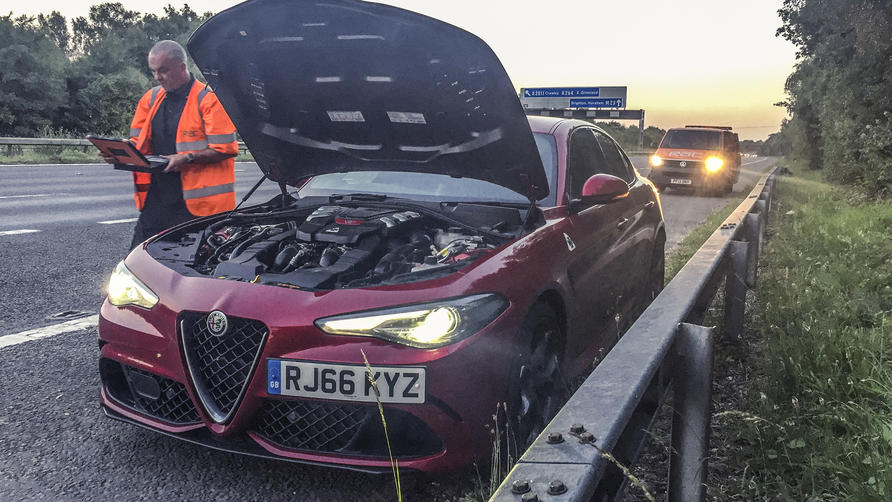 Top Gear
Newsletter
Thank you for subscribing to our newsletter. Look out for your regular round-up of news, reviews and offers in your inbox.
Get all the latest news, reviews and exclusives, direct to your inbox.
But, one evening as the golden sun set over the M23, the Giulia Quadrifoglio started to shudder. Moments later, RJ66 KYZ came to rest in one big, fat Alfa cliché on the hard shoulder. Yep, after just three months of ownership the Alfa had broken down. Go on, laugh your little head off and tell me you told me so. You done yet?
Given the car was developed in just two and a half years, we were expecting some electronic gremlins – even boss Charlie Turner's McLaren is riddled with then. What we weren't expecting was the toys to be thrown out of the pram this early. And by toys, I mean fundamental mechanical parts.
Before the Giulia came to a stop, the pistons sounded like they wanted out of the cylinders ASAP, the valvetrain tapped away like Michael Flatley, and a full house of warning lights glinted away on the dash. "I've never seen so many engine fault codes in my life," the RAC man said with raised eyebrows. He wasn't wrong. Thank God his grey box had a digital display, otherwise we'd have needed a fax paper roll: multiple cylinder misfires, low fuel rail pressure, low idle speed – the list went on...
Mr RAC managed to clear some of them and get the car going again. Worried, he chaperoned us 30 miles back to London. But then, when he left – and a mile from home – it conked out again. I waved it off on a low-loader the next morning.
Alfa's techies went back and forth as 
to what the issue was. And getting a clear answer hasn't been easy. They told us it 
was because it had no fuel. I proved to them it had more than half a tank. They then said it was a fuel sender issue. Then the fuel pump and lines. Then a missing 
ball bearing was to blame. Hmm. Either way, I got it back. And was delighted. So I took it to meet its competitors on the RS5 group test. Where, after one last triumphant drift, the 'Check Engine' light came on and the car retreated into limp-home mode. Blast! So back to the Alfa workshop it went.
Arriving back two weeks later, after two separate stints in the garage, the Alfa was alive and skidding again with a properly beating heart.  
Thanks to a nose around the fuel system, wiring check and two new turbo overboost valves (plus a brake clean to stop low-speed squeaks and fresh rubber all round) it took all of a twist of the DNA knob to Race, a blip of throttle and a thrash along my favourite road to turn my frown upside down.
See, like any slightly forgiving parent, I wasn't angry that the Giulia went wrong. Just really, really disappointed. Unreliability is a stigma that has overshadowed the brand to the point that it's now quite literally a joke. Rectifying Alfa's reputation must have been the one thing highlighted and underlined many times on FCA's marketing team's to-do list when the big-budget brand revival was announced. But the marketing team can only do so much, as it's ultimately down to the engineers. And our QV isn't the only one to have gone wrong. Just go online and read the forums.
To get M and AMG stalwarts out of M3s and C63s and into another £60k super- saloon, Alfa has to beat the Germans at their own game: reliability. And this hasn't happened. It's frustrating because those stalwarts should have a go, as the Quadrifoglio is one of the best driver's cars you can buy: the body control and balance is phenomenal, steering elegantly quick, engine characterful and it can be an entertaining handful if you want it to be.
I'm smitten with it but, as a test of – ahem – reliability, I handed the QV straight to Chris Harris to see if it'd go pop. Out of the frying pan into the fire? No siree. It danced around beautifully without a glitch. I hoped it'd stay that way, as Alfa Romeo idiosyncrasies (a manual that doesn't make any sense, lack of engine and oil temp gauges and a wonky door aperture) I could live with, but breakdowns I couldn't. Unfortunately, that wasn't to be, but more on that later.
First, DNA. In human speak, it's the carrier of genetic information that either makes you a square or bonkers. In Alfa speak, it's a four-stage rotary knob that either makes the Giulia Quadrifoglio a square or bonkers. See, unlike its competitors, the Alfa does not have configurable driver settings (why?!). Instead, there are four DNA settings that shift the character of the QV from a cylinder-deactivating fuel-sipper to a noisy thug capable of a 'Ring lap under 7m 40s.
In ascending order of madness, you start with A, or Advanced Efficiency. It slackens the steering and throttle and encourages the engine to shut down a cylinder bank to save fuel. Then there's N (Normal). It's a little flat, with long throttle travel but applies a soft damper setting. D (Dynamic) shortens the throttle, adds firmer damping and opens up the exhaust above four grand for a much better sound. Best of all, you can then independently soften the dampers and keep the punchier powertrain. But Race mode, or, if you're not careful "BRACE, BRACE, BRACE!" mode, is my default. Mainly because my personal DNA is made up of part TOWIE and part idiot.
Race makes the ride even firmer (which you can slacken off), opens the exhaust valves permanently and deactivates the stability electronics. And when they're off, they're off. So you've got a 503bhp rodeo to deal with. Annoyingly, it also gets rid of the digital speedo. Not ideal in a ballistic car. But, on the motorway, I degrade myself to A to double the mpg.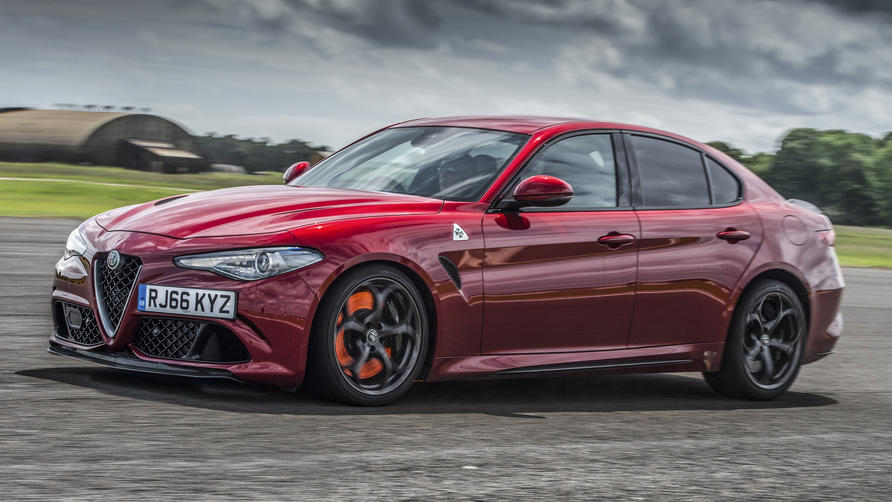 Now, lets talk brakes. Brakes are quite a crucial component of a car. Without them, things can get very airbag-y, very quickly. So, telling your passengers that the brake pedal in your near-200mph super-saloon isn't actually connected to any mechanical componentry – rather your foot sends electronic pulses to a computer to tell the car to slow down – ruffles an eyebrow or two.
The Quadrifoglio uses what's known in the business as 'braking- by-wire'. This fighter-jet tech currently isn't popular, with Toyota being the only other manufacturer using it since Mercedes-Benz made a U-turn on the technology ten years ago, reverting back to hydraulic after many, many complaints.
So why is Alfa backing it? Well, it's 4kg lighter than a traditional set-up, builds brake pressure notably faster (so you can stop quicker), and gets rid of that awkward ABS shudder when you really slam on the pedal (good for track work).
But the Quadrifoglio comes with two different flavours of brakes: the standard cast iron and aluminium floating ventilated discs, or a set of bigger (390mm fronts and 360mm rears) carbon-ceramics that cost an extra £5,500.
Ours is optioned with the latter – the same carbon-ceramic technology that was used on the Ferrari Enzo,
 no less. And I've seen the benefits of the beefy Brembos on track, as when digging deep into the pedal at speed, they offer powerful, fade-free braking and the ability to deal with crazy temperatures. But for day-to-day driving, the brake-by wire system and carbon combo isn't perfect.
It's due to the brakes only working properly after a decent heat cycle. Otherwise, there's a real lack of bite at slow speed and you have to put an unnatural amount of shove through the pedal for it to lurch to a stop. Otherwise, it'll just creep into the back of the car in front in a seriously embarrassing 2mph accident.
There is a useful display to show when you're in their operating zone, but during normal driving, you rarely get there. And getting enough heat into the brakes on a commute requires either an anti-social stop, or trail-braking around like a wally.
So, unless you're tracking the car regularly, it might be better to save your cash and get the smaller, standard discs. Even if they don't look as cool tucked behind those gorgeous dark telephone-dial wheels.
But where the Alfa really stands up, even surpasses its competitors is when it comes to driving. For our Awards issue, I spent a lovely crisp autumn morning zig-zagging across the Wiltshire/Oxford border on some surprisingly quiet and well-sighted roads in order to refamiliarise myself with the McLaren 720S Coupe.
Having zipped up and down the same slice of glorious dry road to affirm and calibrate my judgments, I concluded that the 720S is still one of the most capable, unbelievably quick and transcendental supercars ever created.
But, having driven the Giulia up to the location, and with an hour or so of daylight left, I was intrigued to see how the super-saloon would fare on this same specific bit of British B-road.
Now, although the QV was launched with a lot of BMW M3-baiting track-enthusiast marketing bumf, for a keen driver, I believe that the Giulia really shows its true colours and shines far brighter than its competitors on the UK's craggy rural roads. It's the inherent suppleness that's incorporated in the chassis, allowing the car to absorb and flow with the road when working in harmony with the direct, sharp steering. On the same strip of tarmac, the 720S's front wheels were getting continually knocked side-to-side by bumps, would follow ruts and generally feel wider. The Giulia chewed through compressions, felt lithe and with that angry V6 soundtrack and aggressive manual shifts in Race, I found it more involving and rewarding to go fast in.
See, unlike the McLaren that blows you away with its broad ability and crazy, crazy speed, the Giulia thrills by making the process that's involved in going fast more communicable and relatable to the driver. Something that for me the McLaren does a bit too clinically.
After an hour or so of driving the same road, I was full of elation at how wonderful this car can be at providing joy through the act of driving. I really didn't think it could get much better. Which it obviously couldn't, as it quickly got worse.
A few days later, the 'Check Engine' light started to come on again. And again.
And again. So it's been limping around in 'Normal' again. Plus, one of the 14 speakers (part of the £950 Harmon Kardon upgrade) rattled so badly it sounded like it was physically decaying. Oh, and the TPM system doesn't like the cold – it bongs thinking there's low pressure when it's reading fine.
So the Quadrifoglio went back to Alfa to be fixed. Again. It was there for a few weeks, while I was screaming very loudly into the middle distance.
Yet, it came back. Initially, Alfa's techies struggled to identify the fault, but pinned it down to an electrical glitch in the wiring loom. This gremlin duped sensors into thinking there was an issue with the turbos, giving the car's brain the impression it'd grenade itself imminently. That's why it'd shut all the fun of Race mode down and nestle itself into a safety net, instantly transforming it from a rev-snorting super-saloon to salesman's repmobile.
To rectify it, a section of wiring was snipped out and replaced. It didn't skip a beat again. But what about that dicky speaker? Well, that still sounded like a perforated tambourine. But sick of it being in the shop (and really missing it) I just lived with it and listened to the naughty V6.
Now, you may have noticed at the tail-end of a year it gets quite chilly. Apparently, it's this thing called 'winter'. Well, I had quite the introduction to winter when entering a cold, wet two-lane roundabout... halfway round on a steady throttle, the rear Pirelli P Zero Corsas just gave up.
These super-sticky tyres are great on track (although they have a pretty horrendous wear rating and cost approximately £255 for the fronts and £290 for the rears) but are pretty much useless in a British winter. So I swapped them for winters which gave the traction control a break. Admittedly, the Alfa still has a playful rear end, but now it can handle adverse conditions. Like snow.
But over the course of its life, I don't know exactly how many photographic frames of our Alfa Romeo Giulia Quadrifoglio have been committed to SD cards over the past nine months ("a lot" is the easy answer) but the glorious shot below is my favourite.
Taken by Mark Riccioni on our first group test of the new Audi RS5, it sums up what I love about the QV in one easily-saved-to-my-desktop-wallpaper image.
Where the Audi looks mopish as it apathetically walks a tightrope of understeer, the Giulia is lit up; grinning like a madman as it incinerates it rear tyres with 503bhp and sensational chassis balance. It looks fun. And makes you want to have a go. That's the stuff marketing teams dream of.
And trust me: behind the wheel it is as good as it looks. You feel everything that's going on as it wills you on to drive it harder, to learn to explore its limits. Well, it did until it went into limp-home mode five minutes after this was taken...
See, as I hand the overly fat key back after plenty of mixed miles, I'm conflicted on how to summarise my thoughts on Italy's super-saloon.
My ownership experience has been a frustrating big-dipper of emotions as excitement behind the wheel got shot down by tragic disappointment each time the Check Engine light bonged on.
I entered the tenure cynical. Not about the car, I was more sceptical about the whole Alfisti approach of sweeping criticism or faults under the carpet because "it's an Alfa". But I've now realised I've turned into one of those Alfa fans that champion the car even though it's been nowhere near as reliable as its German competitors.
The QV is still one of the best cars I've driven. Its chassis and ride offer an incredible bipolar personality that sees it morph out of comfortable fuel-sipper to track nutter with a twist of a knob. Race mode offers a challenge and is addictive as the whole car kicks on its engine mounts. Sensations you crave as a car enthusiast which the Alfa serves up in dollops of goodness.
Yet it's been riddled with electrical gremlins. Some diving into online forums sees that we're not the only ones, with a number of RHD cars suffering from similar faults due to water in the ECU. Remember this was a whole new RWD car, on an all-new platform, with an all-new engine, developed by some of Ferrari's nest in just 30 months. Does it feel like it? Yes. It has plenty of genius in it, yet you're overwhelmed by the feeling it's been rushed through. And when it comes to reliability, once the seed of doubt is planted in your head, you instantly lose trust.
So can I recommend it? Yes. Should I? Well, that's a bit trickier. I never want to lead someone who has worked hard for £75k to buy a car that's an uncertain gamble. Let me say this. It has character. It has soul. I've realised it's a proper Alfa. But in this age that doesn't excuse it for being a bit break-y. If Alfa wants to earn the trust of new buyers umming and ahhing over, say, an M3 or C63, it needs to make it more reliable. So let's hope it does. Being so good, the car deserves it. And more people need to experience it. But if you're a car fan that doesn't mind a risk and wants more than 'just a car' on their driveway, go for it. Just don't say we didn't tell you so if it stops working.