Best of 2022
Will the cool Peugeot 9X8 Hypercar help reignite endurance racing?
Fuji Speedway, the Peugeot 9X8 Hypercar, and us getting in the way. It's official, endurance racing is back on the map
There's nothing like a Japanese pitwalk to fire up the engines of the surreal.
Over to one side, a mascot clad head to toe in primary coloured nylon staggers into a barrier and dislodges their own oversized head, obviously overcome by 40°C heat and humidity that makes the air breathe like warm cotton wool. Mechanics clad in various team-based and sponsor uniforms stride about doing Important Car Things, while a portly man follows them around pushing a plush three-foot-high doll in a pram. Grown women dressed in weirdly abbreviated school gym outfits totter around on ankle-crippling five-inch heels as GT cars spit and fuss at idle, and overhead, a platoon of military types rappel from a hovering helicopter just over the start/finish straight. Just as we pass, a man with a T-shirt cannon accidentally shoots a spectator in the face with a balled-up garment, but seeing as the victim is in the 40th row of grandstand seating, it's probably not fatal.
Advertisement - Page continues below
Photography: Mark Riccioni
Among all this, blissfully calm and broadcasting a comforting aura of favourite uncle, is Jean-Marc Finot, big boss of Stellantis Motorsport. He is, by my estimation and limited experience, one of the nicest men in motor racing. So far, he's been patient with my enthusiastic but naive questioning, understanding about the vagaries of trying to do a filmed interview on a busy pitwalk, and has politely failed to mention the fact that I'm sweating so aggressively that my head is starting to look like a massive pink sultana.
"You don't work in motorsport unless you have passion. It's a dream since being a kid. And if you have that passion, you'll never work a day in your life," he says smiling and tapping his chest to indicate his heart, and weirdly unbothered by the heat. "But of course this is also a technical laboratory for new technologies that you might see on future cars." Which seems a bit of a stretch, to be honest. Because at this point, we pass by the reason he's here, the Peugeot pit garage, and catch a glimpse of what it contains. The Peugeot 9X8 Le Mans hypercar. And it looks utterly bloody brilliant.
Advertisement - Page continues below
It does not, however, look much like a 308 or an e-Rifter. Yes, it looks like a Peugeot, the claw-slash lights are a dead giveaway, but the lean, predatory stylings of the racecar don't lend themselves to the necessity of getting a pram in the back. After all, even a competitive 9X8 hypercar is unlikely to associate enough with a 508 to make true the old adage of "win on Sunday, sell on Monday". But there's method to this madness. Yes, motorsport is the crucible in which new technologies are born and older ones refined. There are explicit links between race and road, from efficiency in energy recovery for hybrid systems to working out what goes bang after being battered in the war of endurance racing. Apparently, the energy management algorithm for the 508 PSE is directly related to that in the 9X8, believe it or not. But more than that, motorsport brings prestige and the mood of confidence, the idea that a company that can engineer a car to cope in such extreme conditions can also manage to build a car for the School Run GP. It's a PR exercise with teeth.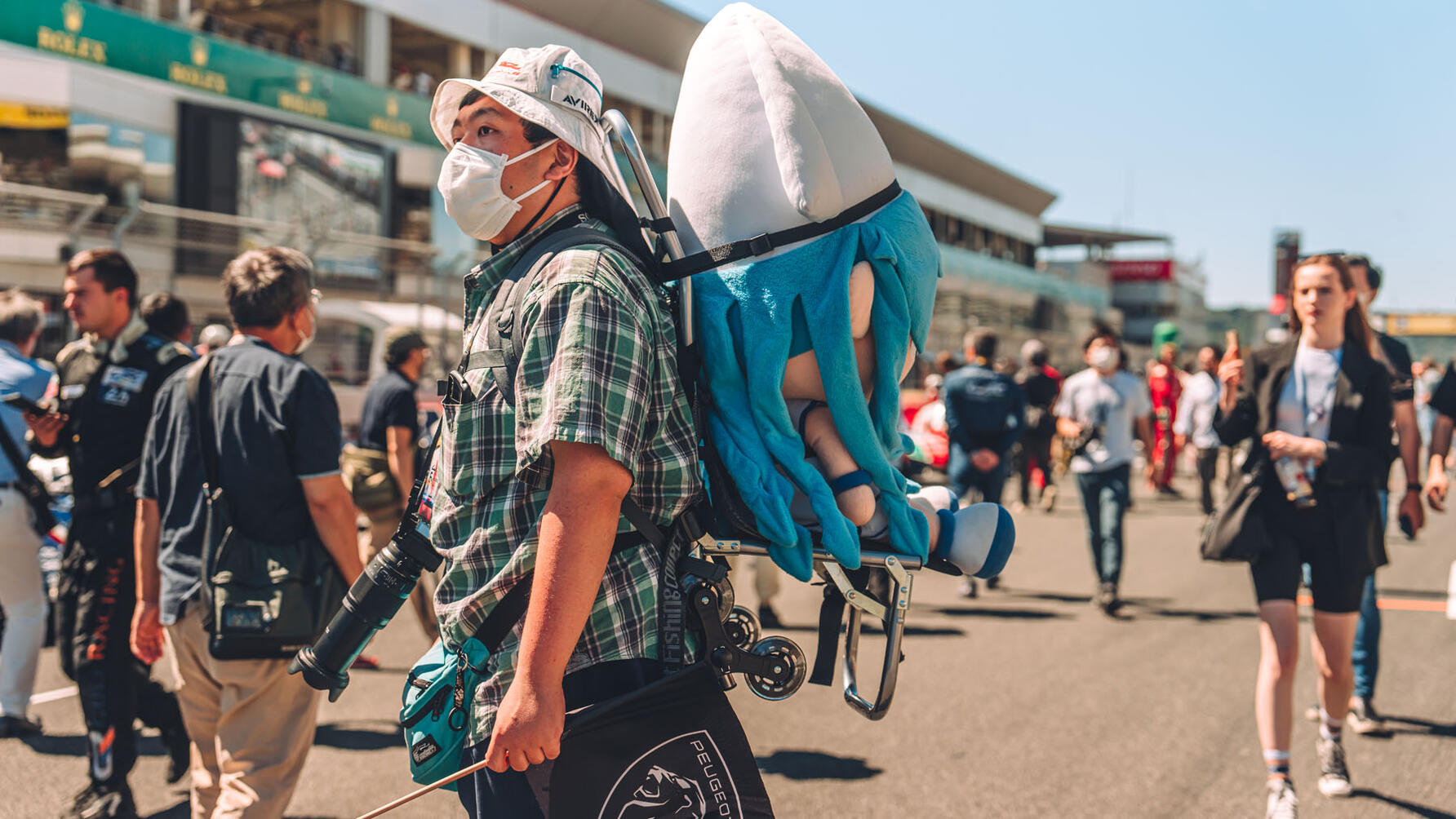 Which is kind of why we're here. To see about the new WEC format of Le Mans hypercars (and the closely related Le Mans Daytona hybrids), through the lens of the grid's – so far – most interesting vehicle, the Peugeot 9X8. To see if this stuff is worth your attention. And 'here' is definitely the place to be: Japan.
Coiled invitingly in the shadow of Mount Fuji is the eponymously titled Fuji International Speedway, currently a hive of the aforementioned bizarre activity as teams furiously prepare for the imminent start of the 6 Hours of Fuji WEC race. GT cars flare with revs as they warm, the various Ferrari 488s' raw voices overlaid by the chainsaw rasp of racing Porsche 911s. Those mascots strut and pose, then quietly retreat to the pit garages to die away from the cameras. It's a circus, but an entertaining one. Unfortunately, things have not been going well in my immediate vicinity. Muddled by jet lag, 40°C heat and humidity, I've already managed to get in the way of a mechanic in pit garage eight, stumbled over an important and apparently very dangerous cable festooned with hazard symbols and bumped into a precarious stack of slicks, causing everyone in the garage to roll their eyes hard enough to cause temporary blindness. Everyone knows their job, slots into spaces, prepares with the kind of graceful military precision that doesn't allow for a random human bumbling around in the background. But the fact that I have very little natural grace and even less situational awareness is not a surprise. What is a surprise is just how good the 9X8 looks in its natural habitat.
Of course, interesting Peugeots have had their glory years. From 205 GTis to T16s – both 205 and 405 – to 905Bs and WRC cars. Even Pikes Peak had its cinematic Climb Dance 405 moment at the hands of Ari Vatanen. In fact, Peugeots have hit pretty much every niche, from endurance racing to rallying to Dakar. But lately? Not so much. Until the 9X8.
In the metal and composite, the 9X8 is stunning. Smaller than you imagine, with that little bubble cockpit shrouded in bodywork that seems constructed entirely of function. In a world of fake vents and marginally useful aerodynamic additions on road cars, the 9X8 is a banshee wail of utility. In many ways it it defined by absence; the cutaways, the slashes, the voids and the fact that there's no huge wing at the back, the necessary downforce instead convinced into being by careful design of both top surface and belly, lateral stability provided by a dorsal fin that would do a Great White proud. It might be packed with technology, but there's no getting away from the fact that, with those claw-cut lights at either end, this is one good looking racing car. And better than that, it looks fast.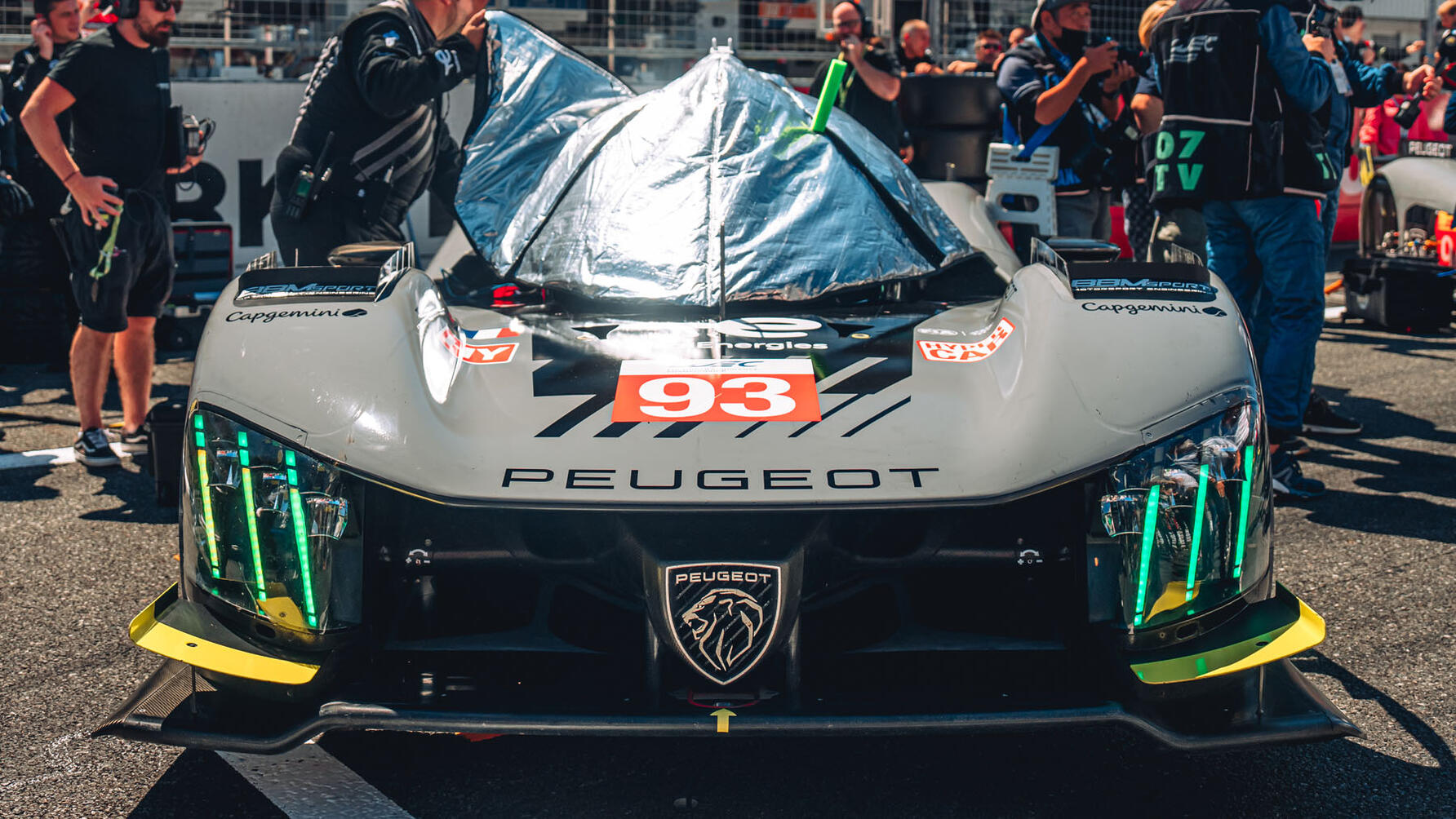 And quite obviously unique. In a world of top-tier endurance racers that look like identical siblings, this is something of a revolution. And so to the subject at hand: Le Mans hypercars. To spoil the end a little, a series that might well be the saviour of endurance racing. Or at least the shot in the arm to reinvigorate it for a whole new generation of fans. A bluffer's guide then, to explain why the 9X8 looks like it does. Basically, the outgoing LMP1 class was getting more than a little Byzantine in structure, and the costs involved were somewhere in the region of the GDP of a small to medium sized country, putting off manufacturer entries and all but killing off privateers. A situation which led to the LMP1 class feeling a bit... thinly populated.
The problem with LMP1, apart from the massive cost, is that the regulations dictated the way everything looked. To get the downforce needed to be competitive, the wings needed to be just so. Cars needed to hit specific parameters, or they'd ultimately be pretty back markers. You ended up with what were – to the untrained and casual eye, at least – photocopied versions of largely the same car with different liveries. And that doesn't give much intellectual or emotional traction for fans. Fast yes, but not entertaining.
Enter LMh (and LMdh), with a whole new gameplan. Less downforce, allowing for more freedom of design and hence the 9X8's wingless profile. A proprietary chassis from one of four sanctioned manufacturers – keeping costs down – and a set of regulations that means there's more freedom to express. The drivetrain, for example, is generally (but not exclusively) a hybrid system. A rear-mounted ICE engine allied to a 200kW (270bhp) front-mounted electric motor. As long as peak output doesn't crest 671bhp or thereabouts, the hybrid system can be deployed as necessary, so you can boost the ICE, use the front motor to power the front axle (and have all-wheel drive), or just run the ICE on its own. The same Michelin tyres.
And then there's the cost cap, which makes an LMh car some 75 per cent more cost effective to run than LMP1, which opens up both manufacturer entries and privateers. Which makes for good racing.
Top Gear
Newsletter
Thank you for subscribing to our newsletter. Look out for your regular round-up of news, reviews and offers in your inbox.
Get all the latest news, reviews and exclusives, direct to your inbox.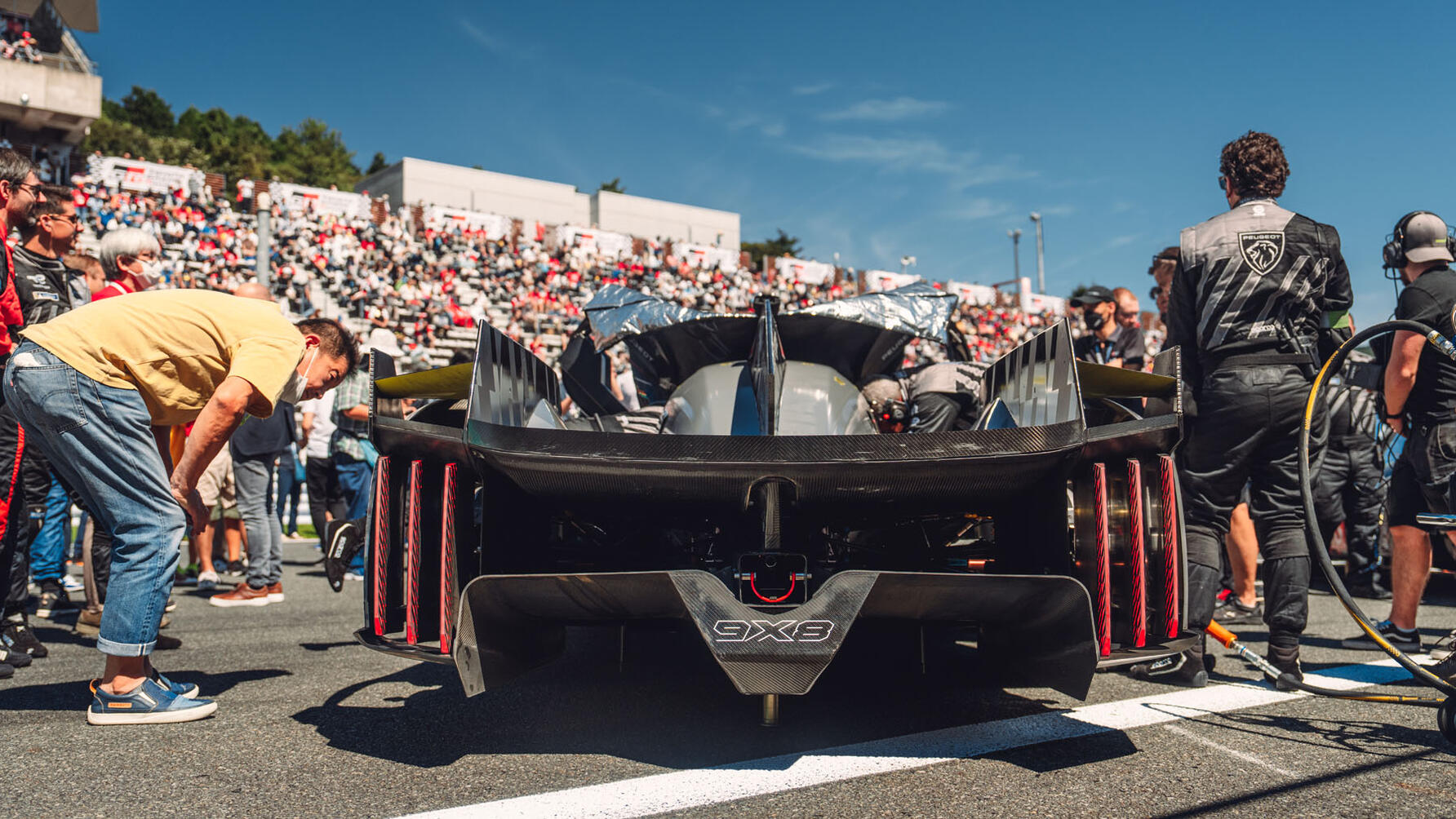 But the best bit? While the regulations state a flat slate for power output and some complex BoP (balance of power) regulations to try and keep racing close, the choice of ICE engine is completely up to the entrants, of which there are many. Turbo or naturally aspirated, V6, V8 or – likely only technically – V10 or 12, the choice is open. So you have Peugeot (9X8) and Toyota (GR010) – and Ferrari (499P) – with turbocharged V6s, Scuderia Glickenhaus (SCG 007), Lamborghini  and Porsche (963) with bi-turbo V8s and some cars running without the complexity of hybrid at all. But it doesn't stop there. There are entries from Acura (Honda's luxury/performance arm), Alpine, BMW M, Cadillac, and Vanwall (with no hybrid system), with more to come, not including privateers. What that means is that you're looking at a class that suddenly has some of the character of the GT class. Recognisable cars from a generous gamut of specific manufacturers, cars that sound, look and act differently. Cars that rely on set-up and driver skill more than budget. Cars that will make endurance racing exciting.
Exciting it is. With only three teams running in this precursor to the full start of LMh in 2023, you can tell them instantly. Faster than the GT cars (though not as fast as the old LMP1s) they still have to slice 'n' dice with the slower production cars, weaving and faking themselves around the usual Ferraris and Porsches, adding to the drama. The 9X8 is actually a level above that, instantly recognisable, both in terms of sound and vision. For every one of the six hours, the Peugeot 9X8 drew the eye and the ear, spearing around the hilly circuit like a particularly handsome missile. You can't help thinking that this is what endurance racing should be about – the cut and thrust of close racing, allied to strategy and reliability with super cool looking cars. High octane, four-dimensional chess at 200mph. It is, even at this early point, more enthralling than the WEC stuff I lost interest in a while back. During the race, the Peugeots do perfectly well, seeing as this is more serious test session than any kind of championship contention. The team obviously wanted more – the will to win is in their DNA – but taking on the Toyotas at their home circuit with a much newer car is a big ask.
But despite the obvious newness here, the 9X8 shines like a beacon for the series. In today's world, it's all about engagement. How to grab someone's attention and keep it, preventing them from wandering off into any one of the multiverse's other channels of entertainment. It's too easy to be distracted by something shinier, brighter, more vital. And that's what Le Mans hypercars is about. It's bringing back the team you can identify, and root for. Peugeot is being brave, and unique, and has returned to motorsport with a car that makes everyone take notice – a stance that might well rub off on a couple of PSE-branded road cars. So no, it's not surprising that manufacturers are excited about Le Mans hypercars, and yes, it's a series that is well worth your attention. But of most surprise is that the coolest car on the grid so far, is...  a Peugeot.