Big Reads
World exclusive drive: Koenigsegg Regera
We drive Sweden's utterly bonkers 1479bhp, 1465lb ft, 250mph hybrid hypercar
Advertisement - Page continues below
It's the Koenigsegg Regera, the Swedish firm's 1479bhp, 1465lb ft, 250mph hybrid hypercar. And no, those figures are not a mistake. At the heart of the Regera sits broadly the same 5.0-litre twin turbo V8 as you'll find in the back of an Agera RS, but to give it a little extra something, there's also the small matter of three electric motors as well.
Words: Ollie Marriage
Photography: Rowan Horncastle
So this is Koenigsegg's answer to the McLaren P1, LaFerrari and Porsche 918 Spyder?
Sort of. If it just followed their template that would be impressive enough. Koenigsegg is a small company (it's only ever built around 120 cars) and doesn't have the resources the holy trinity manufacturers can call on. The assumption would be that the Regera (say it with a hard 'g', it translates as 'to reign'), would give a passing nod to electrical power, before pointing you in the direction of its 1160bhp internal combustion output and showing you the way to 250mph.
Advertisement - Page continues below
But you'd be wrong. Some things you need to know about Koenigsegg: it does almost all its own carbon fibre work, was the first to equip a production car with carbon fibre wheels, assembles its own ECU circuit boards, has developed its own infotainment software and is the first to use F1 battery cell technology in a road car.
Really?
Yes – all of it. Anyway, a couple of weeks back, before this candy apple red Regera was loaded up and shipped off to appear at Pebble Beach, photographer Rowan Horncastle and I went to Angelholm to spend the day with Christian von Koenigsegg and drive his new car. And yes, the F1 cell pack only weighs 75kg and yet Christian reckons it should give a range of 20-30 miles. That alone could be revolutionary for the car industry. The power density is massive and running at 800 volts (another world first, the Porsche Mission-E will eventually catch up…), the recharge and discharge rates are colossal.
And they need to be, because the Yasa electric motors are massively powerful. There's a 32kg motor for each rear wheel (which manage torque vectoring and mean the Regera runs an open differential) and another on the crank, this one to recharge the battery, operate as a starter motor and generally smooth things out and assist when it can. That one delivers around 220bhp, while each rear wheel motor contributes another 240bhp. Yep, that's a total of 700bhp of electric power right there. Basically the same ballpark as the Tesla Model S P90D. Or expressed another way, more wattage than the P1, 918 and LaFerrari combined.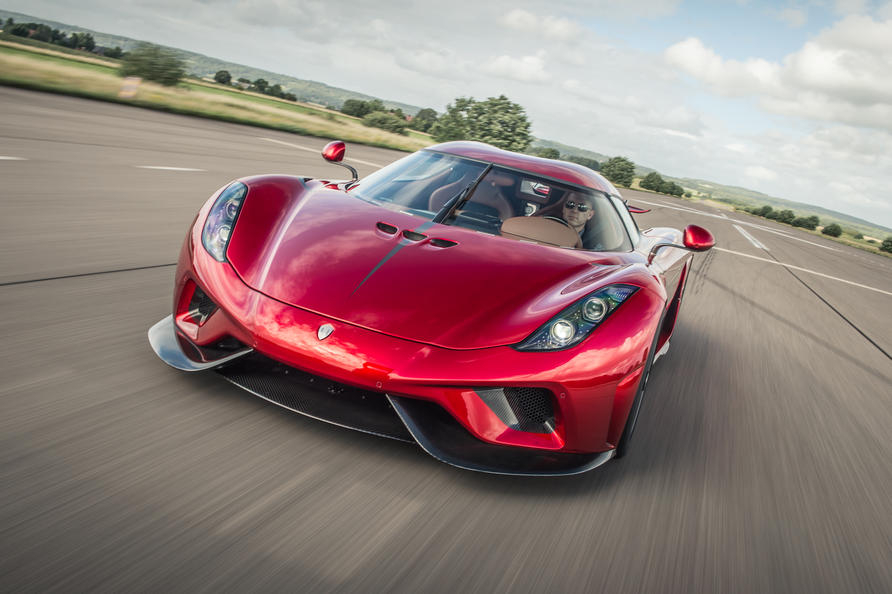 Jeepers, what gearbox does it use to handle the torque?
Remember what I was saying about Koenigsegg being more radical than you'd expect considering its size (110 staff at the moment, but expanding all the time)? Christian told me "If we can't find the right partner or solution for a problem we basically bring it in house". Well, Christian's concept for the Regera was not to have a gearbox at all…
Top Gear
Newsletter
Thank you for subscribing to our newsletter. Look out for your regular round-up of news, reviews and offers in your inbox.
Get all the latest news, reviews and exclusives, direct to your inbox.
What?!
It's gonna be easier if I let Christian explain this in his own words. "I bought a Tesla Model S, and what interested me was how fun it was and how little I missed shifting. Even with a double clutch things have to happen before you overtake. So I was getting more and more p****d off – saying 'damn, the Tesla is good'. And conventional gearboxes are wasteful: you're only in one gear at any given point in time, the rest are laying around, adding weight, rattling maybe."
"So what was the answer? CVT? No. Horrible. You have heat generation and it's continuously slipping so inefficient where a gear is efficient. And the feel - I haven't driven one that feels good."
Ultimately he couldn't find what he was looking for, so true to his mantra, he brought it in house and did it himself. The basic problem is how to combine petrol and electric powerplants in a non-wasteful way. Electric motors don't need a gearbox, while due to their torque delivery and rev bands, petrol engines ideally need several ratios.
What was the solution?
Koenigsegg Direct Drive (KDD). At its heart is a simple torque converter ("but that sounded like something from 1922, so we call it Hydra-Coup) that allows clutch slip. So both electric and internal combustion powerplants are managed by one, slightly flexible gear pushing through a 2.73:1 final drive, with the whole lot, a combined 1479bhp and 1475lb ft, controlled by your right foot.
How fast did you say it was?
I haven't yet. Christian's projections are for 0-62mph in 2.8secs and a top speed a little over 250mph. But that's not the half of it and it's what he told me next that colours the picture. "The thing we've realised is that chasing the ultimate top speed is starting to become a nonsense, so our philosophy is more like this: whoever gets to 250mph first wins".
Firstly that's a philosophy I can get on board with. Secondly, a single gear car that can hit 250mph isn't going to really hit its stride until that gear is in the meat of its rev range…
The other figures he quotes are plain bananas, and the one that truly blows my mind is the 3.2secs it takes to accelerate from 90-155mph. The projections show it will hit 250mph in around 20 seconds, having passed 186mph (300kmh) in around 11 flat. The One:1 currently holds the world record at 11.92, but Christian is confident the Regera will be faster.
Koenigsegg intends for the Regera to rain on the Chiron's parade, to make you question why Bugatti hasn't done something this radical for the Veyron's replacement. Perhaps in line with that, the Regera is intended to be a gentler experience than the Agera. The engine is rubber bushed to lessen vibration, the rear wing whirrs up and down hydraulically, as do the doors and front and rear clams. It's superb to watch. The cabin is a work of art, the side sills massively wide, the carbon shelled, memory foam seats built here from the ground up, the F1-spec batteries tucked away in the transmission tunnel.
Is it still based on the Agera RS, then?
Broadly speaking, yes. The bodywork may be new, shaped to be more aerodynamic, but underneath the carbon tub is near identical and besides using slightly smaller blowers, the engine is the same, too. In fact, we shouldn't skip over the engine – it's a very impressive thing, and its specific output of 220bhp per litre (on regular pump fuel) is, as far as I can work out, the highest of any current production car.
OK, enough facts already. What's it like to drive?
Well, it's very simple to operate. The handbrake is automatic, so all you do is pull the right paddle to engage forwards or left for reverse (the electric motors are reversed). Pull both together for park. So that's straightforward, but the driving is weird initially. As we pull out of the factory onto public roads it feels most like a lazy American V8 muscle car. The noise throbs and rises, but drive takes a second to catch up. That's the torque converter doing its thing.
Then, at 30mph, if you're only driving gently, the torque converter stops slipping, locks and gives you direct drive, the V8 churning away at barely tickover. It's at that moment I start to love the Regera – the connection now feels natural and low rev thrust is unearthly as the electric motors add their bite. "See, like a Tesla, but half a tonne lighter and with another 1,000bhp!" Christian tells me.
It's about then that Christian reminds me that this development car "has no traction control, none whatsoever". I back off and concentrate on how it's behaving. The steering is heavy, but delicious to use. It's hydraulic, with no slack, but real meat and reward. If anything the ride is even better. Long wishbones, in-board dampers and reduced unsprung mass thanks in part to the carbon wheels (made from 750 individual pieces, it takes one man a week to build one rim), mean the Regera rides beautifully, feels remarkably precise and polished on the road. How does it manage that? Look at the wheelarch clearance – where do the wheels go?
I admit I'd expected a car that felt compromised by its vast v-max, that failed to come to life until well into three figures, but the Regera is instantly alert, corners flat and tenaciously, actually feels like it wants to attack a good road. Christ knows how you approach full throttle on a twisty road with this much twist on tap, but the car feels keen even if this particular driver feels moderately... apprehensive
What about at higher speeds?
A public road is not a place where you can get a feel for the actual capabilities of a single-gear car that can hit 250mph. Handily, Koenigsegg has its own runway…
The force… oh my god. It just builds and builds, pushing, pressing, the noise guttural and savage through the Twenties-style flattened Akrapovic pipes. It's mind-blowing. I'd driven a McLaren P1 a few days before I went out to Sweden. I still can't get my head around how fast that is, but I do know the Regera is vastly faster. Christian believes it might wheelspin up to 150mph.
I have never experienced anything that bonfires its tyres like the Regera
Speed is one thing, but the manner of delivery is another. At the moment it's not quite there. But Christian knows that and is working on it. At the moment if you're tickling along at 50mph with the clutch locked and put your foot down, the clutch opens, the revs rise faster than road speed and you have a slight CVT feel. The disconnect between noise and speed disguises the rate of progress – it feels like the clutch has slipped and you're not accelerating that fast, but when you look down at the speedo you realise that all 1479bhp has found its way to the wheels...
Try this at lower speeds and – well – you've seen the smoky video right? I have never experienced anything that bonfires its tyres like the Regera. Anything. Despite the best tractive efforts of the vast 345-width rear Michelin's, they're as nothing in the 1465lb ft torque deluge. It's another world first for Koenigsegg – the first land-based cumulo-nimbus production facility.
Smoke and speed aside, there's still development work to be done?
Yes. I think the electric motors need to do more work from the word go, to hit harder and faster so you get a real sense of the 700bhp kick they provide. At the moment the work is done jointly and, with the slipping clutch effect, it's not making the most of the e-motors, which are naturally better suited to low down acceleration, while the internal combustion struts its stuff much higher up.
But it's a difficult balance to hit, and it may be that Koenigsegg could tune each car individually based on how the owner will use it. Some might not want the 250mph top end, so could have a shorter final drive, or modes in the system might allow it to alter the Hydra-Coup lock-up characteristics and how the handover between electric and petrol works. Like the Model S, the Regera has on-board 4G permitting over-the-air updates and downloads, and during my time with it, laptops were occasionally plugged in and settings altered so I could try it with a more electric influence low down, different throttle response etc. The system is very tunable and controllable.
I'll tell you something. When I first drove the Porsche 918, the thing I loved about it above all was putting it in a high gear at low speed and feeling the instant shove of electricity and then the gradual handover to internal combustion as the revs rose. It was mesmerising and highlighted the strengths of both electric and petrol power.
But, boy, does the Regera feel special. It looks sensational in candy apple red, there's real beauty in its long tail and taut curves and like all Koenigsegg's the roof panel removes to store under the nose. Do so and the car's look changes totally, but sitting inside I prefer it with the roof on: it exaggerates the wrap-around widescreen view forward. The A-pillars are tucked right round the sides and you sit so far back that I doubt the tips of my toes reach to the base of the screen.
So what are your final thoughts?
Firstly, well done for reading this far. I know I've banged on a bit. In all seriousness though, everyone at Koenigsegg needs a big slap on the back for having the courage, foresight and ability to bring this uniquely complicated car to life. That's a massive, massive accomplishment for a small firm, no matter how creative and driven it might be. And while some tuning is needed, the mechanical package is complete and it works. That's another massive achievement, leaving aside the fact it's refined and comfortable enough to drive every day. The concept works, the detail will be made to work. Because this is Koenigsegg, and they do hypercars their own way.