Bond Cars
Bond special: driving SPECTRE's very evil Jaguar C-X75
Ollie Marriage plays henchman in Jag's villainous hypercar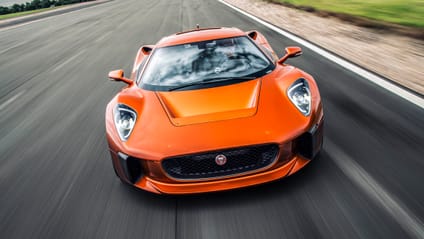 This Jaguar C-X75 does not contain electric motors. Nor does it have a carbon monocoque. It doesn't have micro jets. Not even a super-turbo 1.6-litre engine that can rev to 10,200rpm. It is, in short, not a Jaguar C-X75. Your eyes deceive you.

That's how it's meant to be, of course. Because this car is the double of the Jaguar C-X75. The stunt double.

Just in case the blanket global coverage has passed you by, a recap is called for. James Bond drives an Aston Martin in the new film, SPECTRE. A DB10 purpose-designed for the film. This Jaguar? That's the baddie car, driven by a chap called Mr Hinx. The two have a chase through Rome.

This feature was originally published in the November 2015 issue of Top Gear magazine

Advertisement - Page continues below

This all sounds simple enough: borrow car, go skidding about a capital city for a few days, return car in what's sure to be pristine condition (because no stunt cars ever crash into rivers or career down flights of steps, do they?), congratulate all concerned on a job well done, pack up and head home.

Er, no, it'll come as precisely no surprise to you at all that things aren't that simple where the film industry is concerned. For starters, there's no point Jaguar risking a 'real' C-X75. Too much value and technology involved, plus, being 4WD, it might not be able to do what is required for the cameras or – crucially – last the course.

So instead they build the car you see here – the not-a-C-X75. Only they don't build one. They build seven. Two are 'star cars', cosmetically perfect specimens with proper glitzy interiors; the other five are grafters, used for skidding about and doing the fun stuff. One of them even had a pod built on the roof so the actor could be inside looking like he knew what he was doing, while on top the driving talent could do the real twiddling.

Think of the effort and expense needed to make that happen. To build seven bespoke cars. A company like Jaguar, used to sending cars down production lines by the thousand, isn't used to building a tiny batch. But it knew a company that was. A company that already had experience of the C-X75: Williams Advanced Engineering. The F1 team's offshoot lent Jaguar its expertise in aerodynamics, carbon composites and hybrid technology for the C-X75, precisely none of which was of any use for this project.

Advertisement - Page continues below

I like to think there was a phone call from Jaguar to Williams sometime late last year that went along the lines of: "Hello, Williams, you remember we cancelled the C-X75 project? Yes, sorry about that. Good news – we'd like to resurrect it. There will be a few changes, though…"

So last November, a team of 12 people at Williams set about building stunt cars. The demands are somewhat different to building a hybrid hypercar.

"First thing is, it had to be tough," Williams's Wes Partridge tells me, "so we designed a steel frame made from 60mm diameter tubing. It means the car isn't exactly light – I think it weighs a bit under 1,500kg, although weight didn't matter too much – but what we were happy about was when the cars all came back from filming, we put them on a jig and none of the frames had moved or bent so much as a fraction of a degree."

Considering the abuse it got put through, included piling down a set of steps, crashing into the River Tiber and jumping over another car (not all intentional, apparently), this is an achievement the car's designers, engineers and builders can feel rightly proud of. You have a feeling that if put through the EuroNCAP crash test, it would be the offset deformable barrier that would come off worse.

Into the frame was inserted Jaguar's familiar supercharged 5.0-litre V8, a six-speed sequential GT3 racing gearbox from Ricardo and WRC-spec suspension. Big set of carbon shell seats with five-point racing harnesses, plus a pukka hydraulic handbrake and eminently replaceable fibreglass panels, and you've got the essence of a stunt car. Something with the ability to take the knocks and come back fighting night after night.

Because those were the timings. Filming for the night chase was from 6pm to 6am, and with all the pressures around that, the team had from 8am to 2pm each day to make any adjustments and repairs.

Sending the car down a flight of steps? Simple, just whack those world rally suspension units up by 40mm. A replacement clutch? Pretty much a nightly occurrence, and by the end, Wes and his colleagues could get the job done in under 90 minutes.

Bodywork, set-up changes, wheels, tyres, driveshafts – the stunt driver inflicted the pain, then Williams (working under the direction of Bond car specialists Action Vehicles) made it better again.

The stunt driver of the C-X75s was a chap called Martin Ivanov, a Russian who drove for the Bourne films, but might be better known to you as the brave soul who piloted the Renault F1 car under the jumping truck for last year's most outlandish viral video.

But today he's not here, so I get to have a play. We're at Fen End, Jaguar's shakedown facility. It's pretty grotty here: the Bloodhound XJ that Andy Green stuffed into the hay bales during the Goodwood Festival of Speed sits forlornly outside the barriers and, inside, the security staff seem more concerned about the protection of local newts than about testing cars.

Concerns are raised about the noise and speeds, and the man chaperoning our car points out that if I interface his Jaguar with so much as a newt, then Tokyo is going to be without a car for the film premiere.

I suspect Mr Hinx might have a more direct and combative answer to this issue than our promise to be very, very careful. Can't see him agreeing to wear a hi-vis tabard, for starters. Wes takes me to one side and tells me, "The car's awesome at drifting." I decide to wait until later before testing that theory.

Advertisement - Page continues below

The car itself looks tremendous and is convincing right up until you start prodding panels and peering in through windows. I open a door. It rises unsteadily. I don't think door ergonomics were at the top of the to-do list. Down near the bottom of the leading edge, I can see straight through to the outside.

Harnesses strapped on, switches flicked. It looks and feels a lot like a rally car in here – no insulation or panderings to comfort, just a tool to do a job, the job being to do cool stuff in front of cameras. It fires up with an impressive sonic bark, and as it does so the digital dash blinks into life, the word 'SPECTRE' flashing bright red. It seems like a warning. But hey, it's not like we've had enough of them already.

I can see why the noise police might be uneasy, though. It's clear Jaguar didn't want the C-X75 to be out-shouted by the Aston in the chase scenes. Outside it's loud – purposeful, growling and hard-edged. Inside, it's just noise, bordering on the white. The fuel pump whines, gearbox chatters, engine howls – the full thrashing metal mechanical cacophony.

So the car doesn't care about the stuntman's ears, and trusts that he will have a very delicate right foot. Because there is no traction. None. The rear boots might be as broad as oak barrels, but on a slippery, almost entirely decayed old runway, all they know how to do is slip about. Which is tremendous fun.

Pick any gear. Seriously, do, because they're all the same.

Advertisement - Page continues below

Obviously a stunt car has no need of hitting 200mph, so all the gears are designed to fit into an operational range from about 20 to 70mph. This allows me to boast about doing a massive drift while flat in sixth and not be telling a massive porky.

Factor in the vast torque being inflicted on those rear wheels by a not-that-standard supercharged V8 (600bhp is the rumour), and you have the best recipe for oversteer since Mary Berry took up ice driving.

There's just one paddle, to the left of the steering column, that you push and pull for shifts. Just one paddle, because on the other side is the other method of skid infliction: a hydraulic handbrake. What this adds up to is the most terrifically accurate drift machine I think I've ever encountered. It's positively Caterham-esque. The nose turns, the rear breaks loose, and you play with the throttle.

But that's what a stunt car needs to do, isn't it? To be unbreakably tough and slide on a sixpence. Simpler than building a hybrid hypercar.