British
Everything you need to know about Bowler
Click this way for the full download on Bowler, Britain's endurance rally raid specialists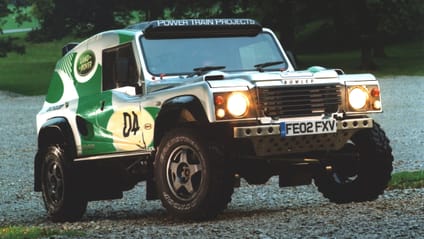 So go on then: who is Bowler?

Simple answer – it's the company that convinced Richard Hammond he was a 'driving god'. It's a British engineering firm and creator of some of the world's most hardcore off-roaders. Think of it as Blighty's answer to the Baja desert racers. Like those cars, they'll cope with being driven across boulder fields at over 70mph for days on end, all without emitting so much as a rattle of protest. In fact, the weak link is often the fleshy thing behind the steering wheel. Bowler is based in Derbyshire and was founded by Drew Bowler, a blacksmith by trade, who decided to convert one of his barns into an engineering workshop to build his own rally raid specials. That was back in 1984 and endurance rallies have remained the shop window throughout.

Sadly, Drew passed away in 2016, but the company carries on his legacy and his son, Sam, continues to work there.

Advertisement - Page continues below

What's in Bowler's back catalogue?

The Tomcat was the first and was based on a Land Rover Series 1. The link between the two companies has always been a strong one, so it's little surprise that Land Rover bought Bowler back in December 2019. More on that later.

Anyway, onto the cars. In 2000, Bowler launched the Wildcat 200, the first 'proper' Bowler that was a ground-up creation. To date, and with 67 sold, it's still the most successful model. Next came the Nemesis, the first Bowler with independent suspension and designed to endure the harshest of all rally raids – the Dakar. They were built for the 2008 race but sadly it was cancelled due to various terrorist alerts along the route. It was a mark of the company, though, that Drew Bowler paid back all his customer's lost deposits.

From Tomcat to Wildcat to Nemesis to the EXR-S. Yup, we can't figure out the naming of that one either. It arrived in 2010 and seven were built. And then along came the Bulldog in 2017.

Much better name. Is that the current choice?

Yup. It comes with either a 3.0-litre V6 diesel (for the rally raid fans) or a 3.0-litre V6 supercharged petrol (for the on-road brigade), both borrowed from the Range Rover Sport along with that car's eight-speed ZF 'box. And it still looks very much like a Land Rover on steroids.

But don't be fooled. This is a largely ground-up creation by Bowler and represented a massive investment when it was developed, as Bowler spent three years developing its own chassis, called Cross Sector Platform. This platform is a clever thing and is so adaptable that Bowler are hoping that it's got multiple uses, maybe even the military.

Crafting it isn't the work of a moment. It starts with flat sheets of steel before a CNC laser cutter and CNC folding machine get to work bending it into shape. The result is a chassis that is three times as stiff as a Defender but 200kg lighter in vehicle mass.

Everything at Bowler is done by hand. There are no robots involved at any point in the production process – even the wiring loom is put together by a person gifted, presumably, with very dextrous hands and a lot of patience. Imagine losing your thread on that job halfway through. In total, then, the car takes about 15 weeks to construct. Once it's finished, it'll set you back £137,500 plus VAT (this is classified as a commercial vehicle).

How fast is it? Bowler doesn't quote 0-60mph times – that sort of stat really isn't relevant when you're worried about hidden cliffs and 50 degree heat. Customers are more interested in that it has a 225-litre fuel tank so will manage 1,000 miles between fills. Vital when you're on a 6,500km rally raid. Or that its suspension has got up to 290mm of travel.

You can even spec it with two sand shovels. Handy.

Advertisement - Page continues below

Presumably the mechanics on these rally raids are well versed in ingenious fixes and late nights?

Oh yes. From standard ones like fixing a collapsed rear upright with ratchet straps, to more extreme ones like the time that both cars competing in the Rallye de Maroc missed a triple caution in the dark and plunged off a seven metre cliff. Into each other…

GPS coordinates were sent, a support crew was mobilised to the crash site on the Algerian border (not an ideal place to spend the night), and the cars were repaired where they lay. The next day, both drove into the service park at 4am, before they were fully prepped for the day's 400km stage. The exhausted mechanics fell asleep on the sand where they stood as the cars drove off to tackle whatever the next day threw at them.

Bowler reassures us this is all part of the 'Bowler spirit', although we're not sure the mechanics would thank you for it.

There seems to a Land Rover theme here…

Quite right. The two companies have always had strong associations. For instance, Bowler built the cars for the Defender Challenge, turning a series of stock Defenders into rally cars, and even though the current Bulldog is Bowler's own creation, there's no getting away from the similarity in the car's styling and borrowed bits of hardware.

As of December 2019, the tie-up has gotten even closer as JLR bought Bowler with a view to absorbing it into JLR's Special Vehicle Operations (SVO) arm. Hopefully, though, Bowler will still be allowed to go off and do the madcap engineering they're currently world leaders in.

So rally raid will continue to be a part of the Bowler make-up?

Hopefully. The details are still to be worked out with JLR, but Bowler has built its worldwide reputation on these ultra hardcore races and it's an enviable reputation at that. Take this stat – in 2000, Bowler entered its first Dakar. By 2005, it was the second largest factory team on the rally and had the highest number of finishers. Even this year, Bowler entered two cars into the Africa Eco Race and one was driven from the team's base in Derbyshire to the start-line in Monaco. It then did the 6,500km race all the way to Dakar, competing over 12 days of gruelling conditions, and was then driven back to the UK under its own steam.

That sort of endurance reliability needs cherishing.