Top Gear Advice
The beginner's guide to Alpine
Lightweight, giant-humbling sports cars. Where have we heard that idea before?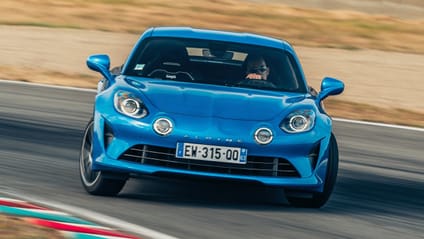 Who's Alpine, and when did it start making cars?

In many ways, Alpine is a bit like a French AMG. Both started off as an independent concern, taking the solid mechanicals of a major home-grown manufacturer and extracting something special enough for the whole world – and indeed said major manufacturer – to sit up, take notice and team up. And eventually buy the smaller company outright, come to think of it.

But the more obvious apples-to-pommes comparison is that Alpine's pretty much a French version of Lotus... which makes them Lavender?

In any case, choosing finesse and fibreglass over figures and brute force is a mirror image of Colin Chapman's modus operandi. And Alpine was doing it both independently of Lotus and concurrently. No cribbing of notes going on here.

Also, for anyone snickering about the whole 'solid mechanicals' bit, do remember that this is the company behind the unkillable Renault 4, as well as the 4CV. In fact, it was Alpine founder Jean Rédélé's success with modifying, rebodying and racing 4CVs that kick-started Alpine back in the 1950s.

Logic dictates that you can't win a race that you don't finish because your car has broken down. And that goes double in the car-killing world of rallying. So when Renault mechanicals propel a car to a World Rally Championship win, we'd say they're probably solid enough. And we'd definitely say that Alpine knew how to make the most of them. 

Advertisement - Page continues below

Where are Alpines built, and how many does Alpine build a year?

Alpines are built on the outskirts of Dieppe, in Normandy. And for those of you who aren't British, a) sorry for invading your country that time, and b) Normandy is the northwestern part of France that faces the coast of southern England. The distance across the English Channel is so short that there's actually a direct ferry from Dieppe to England, making port in a little place called Newhaven. If this is the first you've heard of Newhaven, it's also likely the last you will hear of it.  

Moving on. Alpine has always been a low-volume manufacturer, and for a long time was hand-building every last bit of each car. Even now, with the entire Renault Group's automation on offer, Alpine has still chosen human hands and brains for anything a robot can't do demonstrably better.   

In 2021, Dieppe mostly hand-built just over 3,000 cars. That's well in excess of the 800-odd cars they managed across the A610's entire four-year production run, but still not anything in the league of, say, the Porsche Cayman. Which we like, but then we're weird like that.

What cars does Alpine build?

In terms of an Alpine you can buy today, it's just the one car: the A110. For a little variety, it's offered in three basic flavours – standard, S and GT. Opting for either S and GT rewards you with more power, as well as a more aggressive setup in the S and a gentler one in the GT. Full credit to Alpine for being logical there.

Advertisement - Page continues below

What's the cheapest car Alpine builds... and what's the most expensive it builds?

The A110... and the A110. At least in terms of road cars. More on that in a bit.

What's the fastest car Alpine builds?

Well, that rather depends on how you define 'Alpine'.

See, Alpine took over reins of the Renault F1 team a few years back, which makes the Alpine A522 Formula 1 car the absolute fastest Alpine. And Alpine did build it – albeit in Enstone, rather than Dieppe. But chances are you can't buy one, or drive one, or even sit in one.

So at least in terms of an Alpine you have a hope of driving, the A110S is about as quick as you can go with a factory-fresh road car. And, depending on your skill, bravery and location, that's actually much quicker than you'd imagine. The A110's low weight and small size mean you can be faster into corners and faster back out, while the S suspension – albeit less forgiving than the standard car – handles surface imperfections rather than smashing through them. Point to point in anything narrow and twisty, chances are anything up to a Porsche GT3 would struggle to walk away from a well-driven A110S. As if to prove our point, there's a video on YouTube of a standard A110 on Michelin PS4s actually claiming the scalp of a newish GT3 RS at – where else – the Nordschleife.

With that said, there is an A110 GT4 that delivers as much as 360bhp and weighs just 1,080kg – with 95 litres of petrol onboard. We're now quietly contemplating the size of the scalp it could claim at the Green Hell. Any guesses?

What's been Alpine's best moment?

There's a decent argument that right now is the best moment for Alpine – being handed the reins of Renault's motorsport endeavours shows it's finally getting the recognition it deserves in the Renault Group.

And this moment would never have happened without some of Alpine's best motorsport moments – world rally wins in 1971 and 1973, as well as an outright Le Mans victory in 1978.

For us, nothing beats the sight of the original A110 in the Monte Carlo Rally in 1973, kicking off the inaugural World Rally Championship with a 1-2-3 for Renault-Alpine. By the end of '73, Alpine would have nearly twice as many championship points as second-placed Fiat, and it took the full might of the Stratos HF to unseat the king.

What's been Alpine's worst moment?

That'll have to be the two decades or so, when Alpine wasn't really a thing. From 1995 to just a few years back, Alpine was so out of the limelight that a decent chunk of us forgot they were in the theatre at all.

Speaking at least from a modern viewpoint, most car people (or those with access to a copy of Dirt 3) know about the original A110, the modern A110... and not a whole heap besides. If you're from our wet and windy part of the world, you might know of a couple from the Eighties and early Nineties – A310, A610 and so on – but chances are that's about it for 99 per cent of you.  

Now, neither the A310 nor A610 sold particularly well, which is just the way of things sometimes – what's unique and idiosyncratic rarely pays off as well as the same-same and straightforward. Call it the Marvel effect.

Different bosses have different ideas about how to do things, of course, and what makes sense to us as rank outsiders might not make sense when it's your job to steer the ship. So for Renault to set Alpine on ice for two decades, only to bring it back, give it enough rope to build a second seminal sports car (that also just happens to be called the A110) and give it the keys to the Renaultsport kingdom? Might not have been the way we'd have done it, but you can't really argue with how it's panned out for both us and Alpine.

Advertisement - Page continues below

What's Alpine's most surprising moment?

Well, much as Chris Harris would suggest the time a pre-production A110 spontaneously combusted while he was driving, we should probably take a wider view.

And our view is... well, appropriately wider. For us, the biggest surprise is that we're able to talk about Alpine in the present tense.

Just to be clear, we're not saying Alpine was ever bad, unworthy of success or a force that only had any real impetus in a certain time and place. We're saying that when it comes to any human creation of real merit and niche appeal, there's the very real danger that success will be an inconstant and mercurial companion.

Think about it – how many times has Lotus been on the brink? Or Aston? How did the literally world-conquering Lancia plunge into obscurity, seemingly immediately after creating a rally-dominating, world-captivating masterpiece?

As a species, we haven't exactly been flush with victories over the past decade, but for Alpine to resurface, swing for the fences and, crucially, hit them on the first try? Yeah, we'll take the win.

Apparently, Lancia's coming back too, but we're unlikely to be that lucky twice.

What's the best concept Alpine built?

If you recall when we talked about Lotus, we said that fanciful concepts weren't really its style. Even the Etna was supposed to go into production.

Alpine really did take the same approach as Lotus here. It's hardly the first or last time you could do some pretty like-for-like comparisons between the two – using local engines, extracting maximum performance by minimising weight, sweating the small stuff until their cars can embarrass much bigger machinery...

Anywho, combining the fact that Alpine tended to build cars to race rather than show – and the whole 'we disappeared for a couple of decades' does narrow the field a bit. To just two, in our book – the A110 SportsX, which speaks to us in ways we should probably consult a specialist about, and the A110-50.

Did it evoke the original A110, like they claimed? Um, no. Not really. Did anything from the concept carry over to the A110 we eventually – and thankfully – got? Well. You're perfectly capable of forming your own opinions, but we think Jerry Lewis and Lennox Lewis have more in common. They're the same basic species, at least.

So why call it the best concept? Well, because it announced that Alpine was finally coming back. Not consigned to the past, not a historical article in a motorsport magazine, not a badge applied to upspec versions of mediocre cars, its significance as anything more than a trim level lost on its audience. And when that comeback comes in the form of the current A110 – a car that manages to have the measure of a Cayman GTS and a brand-new Lotus – we frankly wouldn't care if the A110-50 looked like a hot rod styled by H.R Giger.

Advertisement - Page continues below

Tell me an interesting fact about Alpine.

So, Alpine now runs all the motorsporty things that used to come under Renaultsport's purview. Which, in a weird way, means that Alpine now runs itself. We'll explain.

If we have our facts straight at all, Renaultsport came about in the Seventies as a merger of the Gordini and Alpine motorsport departments. And, as two independent concerns, both working as Renault's go-faster divisions... you can kind of see where there'd be friction. Apparently, engines were Gordini's job and the rest was up to Alpine, which did play to each outfit's strengths, but the toe-stepping was sustained and severe enough for Renault to create a whole new division, with all employees (at least ostensibly) pulling in the same direction.

Now, with Alpine taking over Renaultsport, it's now in charge of itself... and, as you may have gleaned, Gordini. Which again, really does make sense – Gordini was all about engines and tuning, and Alpine was a practised hand at building astonishing cars, regardless of how uninspiring the powerplant might be. So, which one would you want at the helm for the electric revolution?