British
Is this the most fun you can have with 8bhp?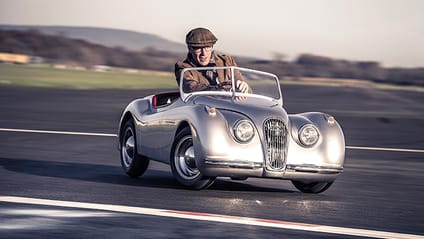 My colleague Oliver Marriage is a gentleman of some distinction. He does his flies up every morning. Takes his hat off indoors. And in the past three months, he has cursed just once, and even then it came out as "shoot". Today, he's dressed in a moleskin jacket that previously belonged to his father, and if there happened to be a lady nearby he would hold open the door and definitely not goose her on the way through.

Pictures: Rowan Horncastle

This feature originally appeared in the February 2015 issue of Top Gear Magazine

Advertisement - Page continues below

He is also an arse. Because while I came here today for a spot of cultured motoring in a couple of classics, he has found a slippery corner on which to perform lavish skids. Clearly, a chap should not indulge in such disgraceful behaviour at the wheel of a pensionable Jaguar. The XK120 was, after all, the fastest road car of its day and should be treated with the dignity its years deserve. It should not, under any circumstances, be handled so roughly. I hope his flat cap slips off his low-friction head.

As a matter of fact, it does. This is because his head is positioned some distance above the windscreen and exposed to a stiff breeze, so about halfway down the runway at Dunsfold it flies off - the cap, not his head - and swirls around like the last leaf blown from a bare branch. Serves him right. Because although his old Jag might not actually be a Jag, nor especially old, it deserves the same respect.

Advertisement - Page continues below

If you're blessed with the gift of perspective, you'll have noticed it's also a touch on the small side, as is my AC Cobra with white stripes. And that's because both are miniature versions of their big brothers - cute little pygmy cars with shrunken bodywork and snug cabins with just enough room for an adult human. And, instead of their traditional chunky engines, they make do with 110cc, single-cylinder petrol engines usually found in a Honda Cub. Both have about 8bhp. Steady on.

They have proper suspension and Brembo disc brakes, although presumably one has a man to take care of such things. They have scooter tyres wrapped around 10-inch wheels - the same size as those fitted to the original Mini, believe it or not. Each has a three-speed sequential transmission connected to the rear wheels via a chain, also from a scooter. Made by Vietnam-based, British-run Harrington Specialist Vehicles, they're sold in the UK by Pocket Classics. The price? About £13,000 for the Cobra; £15,000 for the XK.

Unfortunately, neither is road-legal, so here we are on the Top Gear track, where terrible wind can play havoc with one's cravat. I know this, because mine has escaped from my collar and is flapping in my face. The solution is to hunch over and rest the brim of my hat on the top of the windscreen, which might look silly, but it's the first time in history a flat cap has been used as active aero, very much like the drag reduction system in an F1 car. Not so stupid now, eh?

You sit centrally with your legs astride a transmission tunnel, with a foot on each pedal, although the pedals are actually metal bars like you'd find in a go-kart (essentially, they are go-karts, with added posh bits). No need for a clutch. The seat is padded in rumpled leather, the wooden steering wheel feels cold in your hands, and the gearstick pokes up between your legs and dresses slightly to the left, if you see what I mean. You nudge forward to change up and back to change down.

Advertisement - Page continues below

I'm in the XK now, which makes a surprising racket when you turn the key and fire up the engine - something between a large lawnmower and a small propeller-driven plane. First gear engages with a clunk, and we're underway. It takes a while to get up a head of steam, but on the limiter, in third, it's an absolute weapon. Honestly. You can reach out and touch the tarmac, like skimming the water over the side of a boat, although I don't recommend this because, at the 40mph top whack, it's like putting your fingertips on a belt sander.

In fact, from the driver's seat, you can reach both ends of the car, making it one of the few vehicles you could hand-wash without getting out. Which is good, because I don't want to get out. Now look, I don't want to come over all road-testy, because that would be absurd, but you should know there's plenty of grip and when you spin you won't fall out, despite an alarming lack of seatbelts. The steering is quite sharp. And you can go through almost every corner flat-out, which feels mildly heroic. Although not as heroic as dabbling in walking pace oversteer should you lift off the throttle in the middle of a bend.

Advertisement - Page continues below

While we're giving them a rather ungentlemanly seeing to, it seems only right to see how fast they go around our track. You might think they'd be the slowest vehicles ever to attempt such a thing, but remember, Hammond once went around in a pedal-powered Porsche in 18 minutes, 37 seconds. So, unless they run out of fuel (with 1.5-litre tanks, it's not entirely out of the question), they should be safe. Over to Ollie and the Cobra, which for some reason feels more sprightly than the XK. After the customary three/two/one/go, he adopts his go-faster hunch and toddles off at some speed.

By the time he approaches the Hammerhead, the Pagani Huayra - currently the fastest car around the Top Gear track - would have already finished its lap. In fact, its driver would have parked and had a cup of tea before the tiny Cobra completes its circuit in three minutes and seven seconds. Much faster than Hammond's pedal-car lap, but still the slowest petrol-powered lap time by some margin. Of course, this doesn't matter at all, because it's not road-legal, so the time goes in the bin.

Besides, we're getting carried away. We came here for a gentle drive in the English countryside, not for squealing tyres and lashings of smoke. As a wiser man than me once said, "A gentleman would be ashamed should his deeds not match his words." (Confucius, Top Gear's preferred Chinese philosopher, is criminally under-quoted in car magazines. Not any more.) And you must admit, the man had a point. So, Mr Marriage, please do behave yourself and stop those silly skids. We've a reputation to uphold.

Now where's my hat?