British
Progress report: Lotus Elise S1 vs Elise Cup 250
The Elise has become harder and faster over its 20-odd years. But better?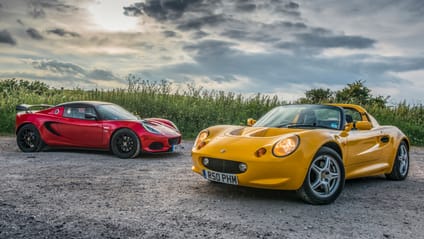 Without the Elise, it's doubtful there would actually be a Lotus any more. It was a gamble that paid off, a reimagining of the original Lotus Seven, only with added habitability. You could conceivably, if you were small, agile, had few friends, even less baggage and were a bit masochistic, run one as your only car. Possibly.

Photography: Rowan Horncastle

Advertisement - Page continues below

It was simple (a two-seat, mid-engined, rear-drive roadster) yet radical (all aluminium, box-section tub, glued together). None of that has changed, but the philosophy has.

The original Elise was nippy, affordable, fun and plain magic to drive. It was aimed purely at B-road enjoyment, but as time has progressed that's changed. The Elise has become more extreme.

You can still have a relatively simple non-supercharged model, but most buyers these days opt for the hardcore Cup versions. The market has shifted, and Lotus has had to shift to match it.

It doesn't help that Lotus has been through a few upheavals, none of which has added stability or boosted cashflow. The Elise has only had one significant update in its life, and that was back in 2001. Since then it's all been evolutionary tweaks that make it hard to keep track of what's changed.

Rumour has it we'll see an all-new Elise in 2020, but what form will it take? Which direction will it take?

Advertisement - Page continues below

That's an interesting thing to ponder, but, in the meantime, let's cut away the knotty middle section of Elise history. These two are the bookends: an original, 118bhp Series 1 and the latest Cup 250. They are clearly pitched at different audiences.

The original Elise was a nudge under £20,000 when it was first launched. The Cup 250 is £47,400, and that's before all the lightweight parts are added (titanium exhaust, carbon trim) saving 24kg, but adding another £18,400. Ouch. So equipped the latest Elise weighs 860kg.

The Series 1 weighs 755kg. And it dances down the road. There's nothing complex going on here, just a long gearlever with a short throw, an engine with just enough thrust, a gorgeous Stack instrument cluster, elegant bare metal and perhaps the most delicious steering ever devised.

The perfectly formed, small-diameter wheel writhes gently in your hands as the Elise feels its way along the road. It's dainty, yet eager to turn, and tingles with feedback.

It glides along, light over the roughest patches and, as an experience on a summer's evening, there's nothing to touch it.

Advertisement - Page continues below

Of course, taken to a track it would soon run out of grip and ideas, and we all want to go faster and harder, don't we? Don't we?

Personally, I'm not sure. On the road, the Cup 250 feels clumsy after the Series 1. There's still a detectably Elise feel to the way it goes down a road and it's still small and light, but the nuanced feel and dexterity have been smothered by fat tyres, harder suspension and more power. Gone, mostly, is the sense of flow.

Now, this is only in relation to the original, because by any modern measure, the Cup 250 is accurate, light and a brilliant communicator, but it's a notably more aggressive, harsher car than it used to be. It is fast, and the open-gate gearlever is a thing of wonder and joy, but the wing, the attitude – I'm not sure they sit that easily on the little Elise.

Advertisement - Page continues below

The sales figures can't be wrong – they are the reason we have an Elise at all – but I can't help hoping that the next Elise will be a return to the radical simplicity that marked out the original as one of the greats.