British
Top Gear's best (and worst) Mini moments 2001-2021
It's 20 years since BMW rebooted the Mini. Here are TG's highs and lows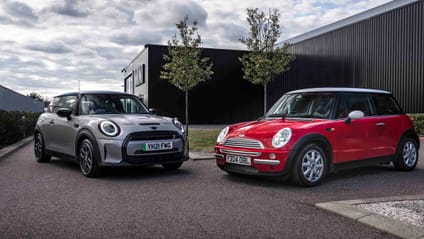 The original Mini 'R50' game-changer

So, here's where the new era of Minis began, with the reborn 'R50'-codenamed car that rolled off the Oxford factory line in 2001.

Revealed to huge acclaim and massive demand, the car was actually a bit of a hotchpotch, as the concept had been designed without thought for trifling details, like what size the engine might be, or how people would fit inside. 

Top Gear's Paul Horrell remembers the Mini's impact, and how it won out over the early critics' protests: "It rewrote the rulebook for a small car, which said make the driver sit squiffy, throw in cheap suspension, and sell it cheaply.

"It was actually just an awesome coupe disguised as a hatchback. BMW insisted the driver's bum was low and they were to sit straight, just like in a 3 Series. It was huge fun, yet very refined. Sure, the ride was lumpy because of the obsession with handling. But it didn't have that crazy-arse French hatch lift-off oversteer.

"Then there was the interior, the brave red upholstery, the toggle switches, the customisation. Lots of people moaned 'oh it's too big to be a real Mini' because it had the same tracks and wheelbase as a Mk1 Range Rover, but they missed the point. It wasn't a car about practical packaging. It was a car all about the driver, but drew on that affection for the original in its styling and in its agility." 

Amen to that.

Advertisement - Page continues below

The clay model finished off with a drinks can

The man credited with the all-important design of the first BMW Mini was Frank Stephenson, the mind behind the pen that drew the first-gen BMW X5, the equally cute'n'retro Fiat 500, and the likes of the Ferrari F430, Maserati MC12 and McLaren P1. Quite the portfolio then. But that doesn't mean Frank doesn't like to improvise.

The story goes that as the BMW bosses arrived to take a look at the clay styling model for what would become the new mini, Stephenson realised no-one had thought to put an exhaust pipe on the car. After all they had no idea if the car would be signed off, let along how the engine and exhaust would be configured. 

In order to make the car look more finished, Stephenson allegedly picked up a discarded drinks can (different versions of the tale say it was a Coke can, or a beer can), hollowed out the end, and rammed it onto the clay model's backside to give it the stumpy, stout tailpipe that made it into production. Cheers to that.

JCW GP: the first extreme hot hatch

The first BMW Mini morphed into the Cooper, Cooper S, John Cooper Works and eventually this run-out final edition hot hatch: the Cooper S Works GP. Mini ditched the back seats, added a strut brace (actually there to stop your luggage sliding forward during hard braking), and dished out visual goodies like the four-spoke alloys and that jutting roof spoiler. 

Of the 2,000 built, a hefty 450 were set aside for hot hatch-mad UK buyers, who were set to enjoy 218bhp of supercharged fury and the ride comfort of an office chair being pushed down a cobbled lane. 

Advertisement - Page continues below

The inevitable remake of The Italian Job

A new Mini was always going to mean a new version of classic 1960s British heist caper The Italian Job. Except, the new Anglo-German car had its gold-stealing, tunnel-running antics relocated from Turin… to Los Angeles. 

And instead of the cockney stylings of Sir Michael 'you're only supposed to blow the bloody doors off' Caine, we got Mark 'say hi to your mother for me' Wahlberg and Charlize 'J'adore' Theron. Ah well.

The car chase sequences of the remake were obviously the best bit about it, and resulted in the creation of the first electric Mini Coopers, dontchaknow?

See, the grown-ups who run the Los Angeles metro system weren't very happy with the idea of some petrol-spitting hot hatches tearing about in their tunnels and potentially filling them with noxious fumes. So, for the underground sequences, battery-powered stunt cars were knocked together, with the screaming supercharged engine notes dubbed in afterwards.

The magic of Hollywood, eh?

Mini's electric future (before it was cool)

You'd be forgiven for presuming Mini's first battery-powered adventure was the Mini Electric launched in 2020. Not so. In fact, there was an EV-version of the previous-gen Mini… but you've probably never seen one. 

Here it is then: the Mini E. Its 35kWh battery took up the entire back seat and boot. The range was a claimed 150-odd miles, but real-world endurance was more 90-100 miles. And if it was cold, try halving that. 

Only a few hundred were ever made, dealt out on subscriptions to interested early-adopters who fed back on their driving habits to Mini. The E gave Mini loads of intel on how to develop electric cars, and is the ancestor of today's Mini Electric. Which has back seats. And a boot. And 100 miles of real-world range. 

Oh, and it was the first EV ever to lap the Nürburgring in under ten minutes. Howzat for a pub fact?

The £41,000 Mini 'Inspired By Goodwood'

One of the ways the BMW Mini changed the car landscape was proving small cars didn't have to be cheap cars. People would pay big numbers for a little hatchback if it was expensively put together. That's what lead to the Audi A1, Abarth 500 and Citroen DS3.

Mini itself decided to see how far it could push that tactic, by calling in a favour from fellow BMW brand Rolls-Royce, based near Goodwood. Yep, as in Festival of Speed and Revival. That Goodwood.

This special edition justified its enormous £41,000 price tag with thick carpets, lush leather, and of course, some (wait for it) really smart, well-polished wood. Good wood.

Heh. We're here all week. 

The Mini monster truck

Well, sort of, eh? 

More of a reborn Mini Moke, the 2010 Beachcomber concept was a doorless, pillarless beach buggy with a wipe-clean interior (ooh) and a built in 'MP3-player' (ahh), whatever that is.

Yep, Mini previewed the not-at-all off-road capable Countryman SUV with a lifted, knobbly-tyred microtruck that had about as much chance of making it into production as asymmetric Union Jack taillights. Oh.

Advertisement - Page continues below

The outrageously awesome Mini JCW GP2

Mini stormed the 2012 Paris motor show with its fastest ever car: the new GP. Power – some 215bhp, all through the front wheels – now came from a turbocharged engine, while the adjustable coilover suspension was tuned at a German racetrack no-one's ever heard of. The Nerd-burp-rong, or somewhere.

Anyway, with its two-seat cabin helping towards a kerbweight of just 1,160kg and stickier tyres developed specifically for the GP using lessons learned in Mini Challenge racing, the hardcore, cheeky, feisty GP2 was the best-ever hot Mini.

Come to think of it, it probably still is…

The Mini Challenge, accepted

Well, since we mentioned the Mini Challenge, we ought to celebrate the fact the rebooted Mini also sparked a fresh one-make race series. Since 2002, the Mini Challenge has been tripoding around British racetracks.

Plans for the grid to do battle in Turin city streets, storm drains and disused metro tunnels were quickly shelved, as were thoughts of dishing out the prize money in stolen gold bars. 

Advertisement - Page continues below

The infamous wonky-door Mini

Hey! We're Mini! We're quirky! Look at our enormous circular speedo and our estate car with clappy-hands cupboard doors! Don't worry, we put an extra backwards-hinged door in the side of the longer, more practical Mini so your children can get in and out easily! Why yes, said door is only on the right-hand side of the car! So if you have one of these Clubmans in the UK, your babies will clamber out directly into the road, not the pavement! Das ist spiffing old bean, jah!

The Mini that wanted to be a mini Rangie

Remember the Paceman? Mini's Evoque, sort of.

The three-door crossover stepped into the boxing ring with Land Rover's baby SUV back in 2012, but was down and out by 2016.

Why? Well, it was pretty pointless, and that's putting it nicely: there was already a regular and perfectly good Mini three-door hatch, and if you wanted a taller SUV-Mini, there was the Countryman. So the Paceman served no purpose. And that meant it went out of fashion faster than Google Glass.

The new Mini that was actually small

Revealed back in 2011 at the Geneva Motor Show, the Mini Rocketman wasn't an Elton John special edition, but instead a teeny Mini, similar in size to the much-loved tiny Alec Issigonis-penned original, produced from 1959 to 2000.

Standing at just over three metres long, about a foot shorter than the Mini hatch, it failed to reach showrooms despite initial promise, with the project abandoned a year later. However, the Rocketman re-emerged from the black hole in 2019, with Mini announcing plans for a compact electric model that's set to lift-off in 2022. Let the countdown commence… 

Rad! The 2 kool 4 skool Mini Coupe

In an effort to be down with the kids, as all the kids are saying these days, Mini's next wheeze was to design a coupe with a roof inspired by a back-to-front baseball cap. Which is well cool, and hip. Yeah. Funky. All the groovy kids wear it like that. Wicked.

A year later, Mini tried to restore its street cred with a Roadster version – featuring a fabric roof in place of the hardtop baseball cap. Like a bandana, yo!

Both iterations were consigned to the bin in 2015.

Spy shots-gate

Hell hath no fury like a motoring press office with an internet leak on its hands, as the saying goes. Mini was so infuriated at leaked spy shots of its upcoming Cooper S, it sent out a tongue-in-cheek press release attacking the media.

"Absolutely unaware and without make-up, the youngest member of our family was caught by sensationalist photographers in a highly private moment," Mini said, going on to add: "As every celebrity knows, those extra long telephoto lenses have the devastating ability to negatively distort all surfaces, lines and angles." Yeah, that's our excuse too. Mini concluded the release by stating that the Cooper S was soon to be released.

And when it was… it got a tonne of online stick for being just as lumpy and gormless in the official press shots as it had looked in the spy snaps. Whoops. 

At last! Mini gets on stage again

Mini's illustrious rallying history is no secret, so we were as excited as anyone when it announced it was to return to the world rally stage in 2011. And just as shocked when it revealed that the car it had chosen to compete in was the Countryman SUV. Er, what?

Working alongside Prodrive, the project sounded promising, with the team setting itself the target of winning the World Rally Championship in 2013. It didn't. And then it pulled out of the series. But that wasn't the end of the modern Mini rally story. Oh no. Stay tuned for the glory days. 

The gorgeous Mini speedster that never happened

Who knew Mini could build such superb-looking supercars? Revealed back in 2014, the Superleggera Vision, designed in collaboration with legendary coachbuilders Touring Superleggara, blended modern Britishness with traditional Italian design flair. Like Downton Abbey, but made of pasta.

Sitting on top of an alloy spaceframe chassis, the aluminium body displayed plenty of modern Mini design quirks including oval shaped headlights, Union Jack flag rear lights and go-faster bonnet stripes, while the interior was typically coachbuilder minimal. Sadly, the concept never made it past the Villa d'Este's pristine lawns. It hasn't aged, though. There's still time… 

What will Minis look like in 100 years?

The future called, and it wants its Mini back. Or that's what we were supposed to believe when Mini revealed its Vision Next 100 concept back in 2017, anyway. 

While the design certainly looks futuristic, the premise is actually pretty simple, with shared mobility at the forefront. In essence, you won't own your 'own' car, but instead every time you get in, the like-for-like cars will adapt to your pre-set preferences – appearance (via projectors), cabin ambience, driving preferences, and the like.

Oh, and it'll be fully automated so it can come and collect you at the touch of a button, much like an Uber with less vomit in the footwell. 

The bulbous Mini Urbanaut

This spacepod-ish vision of the future is actually designed for planet Earth, and it's called… the Urbanaut.

Notable features include a full-length sliding door, a windscreen that can open outwards, and a dashboard that turns into a daybed. 

Central to the concept is the idea of "Mini Moments", meaning the Urbanaut has three pre-programmed modes: Chill (relax), Vibe (socialise) and Wanderlust (drive). The exterior and interior change to reflect the moment.

But what if you have road rage, or you're just really dying for a wee? How does the Urbanaut reflect these moments? We demand answers, Mini. 

The fastest road-going Mini ever (and the maddest looking)

They say good things come in threes, right? Sadly, however, the third-generation John Cooper Works model didn't quite live up to the billing of its predecessors. 

Yes, it's got one of the most outrageous body kits – just look at that huge wing – ever seen on a road car. Yes, there's plenty of power – 302bhp and 332lb ft makes this the most powerful, fastest Mini ever made. But the rest of the spec is decidedly oddball. An automatic gearbox. Suspension made from 'concrete'. Hmmm. 

A Mini John Cooper Works GP shouldn't just be a track weapon, it should be a fizzy B-road blaster, too. And this just isn't. Next!

The gnarly Dakar rally-conquering 'Mini'

When is a Mini not a Mini? When it's a monstrous JCW X-Raid Buggy designed to compete on the Dakar Rally and looks more like a tank than a road car. Yep, that.

Mini won the Dakar four times on the bounce from 2012 to 2015, before plumping for this rear-drive monster to lead its charge. Why not 4x4? Because by ditching front driveshafts, Mini is allowed more suspension travel according to the rules. And when you hit a hidden rock at 90 miles an hour, you want travel more than you want traction. Apparently. 

Wrong call? Erm, nope. Very much nope, in fact. The 335bhp turbodiesel. JCW buggy won the Dakar in 2020 and 2021. Hurrah for rear-wheel drive!

Now, special edition road car, anyone?