Modified
Top Gear and Honda's 134mph+ lawn mower: the build
We no longer hold the record for the world's fastest lawn mower. Time to put that right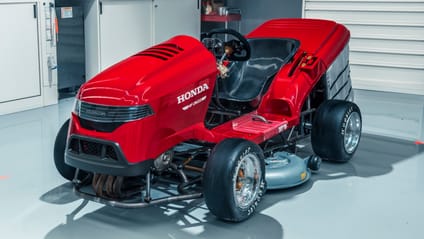 Records are there to be broken, right? Even more so if it's grabbing your own record back off someone else. Scroll back four years and Top Gear and Honda earned a place in the Guinness Book of Records by driving a mower at 116.575mph. We'd obliterated the old record, scared ourselves witless in the process and, a bit like Bloodhound is hoping to do (in our minds at least), thought we'd moved the game on so much that no-one would ever dare challenge us.

Ah. Not quite. We didn't bargain on some blokes from a Norwegian tuning firm who, only the following year, went and smashed our record. Using a V8 out of a Corvette - the lunatics - they did 134mph on a modified Viking/STIHL T6. The cheek.

Well, now it's payback time.

Advertisement - Page continues below

And so it is that I find myself back at Team Dynamics - of Honda BTCC fame, and the same guys who built the last mower - staring at various bits of metal and plastic arranged around what looks suspiciously like a very powerful motorbike engine. Groundhog day.

But this time I won't be driving the mower. Jess Hawkins has the unenviable task of taming this beast, and with her background as a stunt driver in Fast and the Furious Live as well as numerous karting and car racing successes, she's far better qualified than me. Frankly, I'm delighted she's on board. There's a new target speed and I've simply not taken the necessary brave pills to set this particular record. Honda isn't saying what the exact aim is for the time being, but all the body language from the engineers suggests something epic. 134mph and then some. Thank god for Jess.

There's a lot more raw intention this time around, a steely determination. Last time, it was almost by luck that we got the record - mower got built, Stig drove mower, mower broke internet, mower then got record. But this time, actual computers are involved, along with spread sheets, CAD machines, 3D printing, slick tyres, bespoke parts, titanium and all sorts of other exotic materials. This thing has real engineering integrity, a confident swagger about it.

So scroll through the gallery to learn how Honda is aiming to get its revenge.

Might as well start with the most important part – the engine. It's an SP1 Fireblade engine that has upped the game considerably from Mean Mower I. As in nearly double the power. 190bhp+ at 13,000rpm, 999cc, flat shift on the way up, auto blip on the way down. Relatively compact and only weighing about 100kg, it's still a tight fit, but we'll come back to that in a tick.

It's got six gears with a long first ratio. In fact, the mower should be good for about 90mph in first. Sub 3.0sec 0-60mph? It's probably not going to be far off. The other gears are packed tighter together, with the advantage being a small rev window between each cog so the load through the chassis shouldn't be as great.

And that can only be A Good Thing when Team Dynamics tell you that they're aiming for a 200kg dry weight. Scroll up a couple of paragraphs – yes, you've read that right. 200kg, getting on for 200bhp. One-to-one: the holy grail of power-to-weight. Take that, Aston Martin Valkyrie.

The great thing about a 'Blade engine is all the clever electronics it comes with. Team Dynamics are hoping to fit traction control and ABS, and it should also have the anti-lift system you'd get on a bike. So no wheelies.

I can hear you scoff. 'A wheelie? On a mower? Don't be daft.' But that's exactly what would have happened if the guys had stuck to their planned original layout, with the engine in the grass box behind the driver. That's right – Mean Mower II would have been rear-engined. It would have pulled wheelies all day long.

But much as that would have been amusing/scary depending on whether you were watching/driving, it wouldn't have been all that great for high-speed stuff. So it got ditched and the engine's gone up front. 

Advertisement - Page continues below

Honda being Honda, engineering is everything and integrity is key. In other words, it still has to look like a mower. See that front cowl? That's a standard part. As is the grass box – they've both been pinched off a completely normal mower, the HF2622, which you or I could buy. In fact, the grass box still has actual, real-life grass in it – it's not even been cleaned out since it was last used.

But that fastidiousness means engineering headaches in places. As we said before, the engine's a tight squeeze and the 'Blade's standard airbox doesn't fit under the mower's cowl. So Team Dynamics' crew chief, Jason Cull, is 3D printing an all-new one. Just like that - all that CAD work, all that R&D, just so a bonnet looks like a bonnet. Like a Jack Russell on the hunt for a particularly tasty bone, these guys are committed.

The steering wheel – another bespoke part. Pulling those carbon paddles is the moment I realise this is a whole different ball game from Mean Mower I. It's a quick shift system on this mower, like you'd get on a drag bike, and not an air shift system. The reason being to save weight.

There's a heft and solidity to the wheel, and the paddles click with all the satisfaction of a proper racing shift. There is no slack.

It feels this good and it's not even connected to anything yet. If touch points are indicators, this thing is on its way to the record books already. 

Metallurgists – pay attention. That chassis might look like ordinary steel to the uneducated amongst us, but it's actually T45. The stuff that they made the Spitfire chassis out of. The reason Team Dynamics have chosen this stuff, and not something like chromoly (favoured by rally raid types on account of it being as indestructible as cockroaches), is because T45 flexes more. Remember, Mean Mower II has no suspension. So the chassis needs flex as well as strength. There's logic at play here.

Brakes. Slightly important. Four-pot discs at the front, six-pot at the back. Titanium coated pistons, and vented. Vented pistons. On a mower.

Honestly, it's extraordinary how much effort Team Dynamics and Honda are going to. Kevin Ridley-Walsh, the guy who's doing a lot of the building work on the mower, is a Superkart hand and knows a thing or two about doing ludicrous speeds with your arse two inches off the ground. And it's him that's decided decent brakes are vital.

Advertisement - Page continues below

Fun fact – the rear tyres are exactly the same size as the front tyres of the Tyrrel P34, the achingly cool six-wheeled F1 car. Not so fun fact but still important – the Hoosier tyres are incredibly sticky. Vital for doing 134mph+.

This time around there's an inboard pedal box. Better for aero. And as I lower … and lower … and lower myself into the sculpted seat, I'm left in no doubt that this has solved one of the key issues of v1. The weak link in the aero package last time – lumpy old me – is gone, tucked away behind other, more slippery things. Yes, the last sounded one terrifying and spat blue flames – so only an idiot wouldn't guess what it was meant to do – but Mean Mower II improves things in the way only a v2 can.

It's a proper bathtub seating position and I'm sitting so low that the front cowl almost obstructs the vision forwards. I find myself subconsciously peering around the bonnet, trying to imagine what it's going to feel like with the scenery whipping past at 130mph. With the grippy steering wheel in my hands and the buttons for all the various settings filling my vision (controlling things like the five different settings for the traction control, or the engine mapping), there's a fantastic sense of purpose to the mower. For something that's meant to be multi-talented (big speeds, also cuts grass), it's a remarkably single-minded machine. 

Advertisement - Page continues below

Cutter deck - it's as close to the real thing as possible. Kevin had to sculpt one section out of it to get the chain running to the rear tyres, and another to fit in the two batteries that will power the electric motors for the blades. Unlike last time, there shouldn't be any issues with that most fundamental of mower attributes – cutting grass – because Team Dynamics are hoping to fit two carbon fibre blades, like a brush cutter on a strimmer.

Last time around, the mower aspect worked, but you couldn't cut grass at silly speeds. This time, there's no reason why you shouldn't be able to mow the lawn at 100mph. Honda – answering a question no one has asked since 1948.

Jess Hawkins is the brave soul tasked with bagging the new record this time around. Her qualifications for this are two-fold. One, she actually has a proven track record at driving very fast and very well, unlike any of us from TG. And two, she's not going to adversely affect the power-to-weight ratio of the mower - unlike some of us at Top Gear, who are carrying too much winter weight. Godspeed, Jess.