Chris Harris Drives
TG Speed Week 2016: the super-coupe mega-test
Audi TT RS, Porsche 911 R, Merc-AMG C63 S, BMW M2 and Jaguar F-Type SVR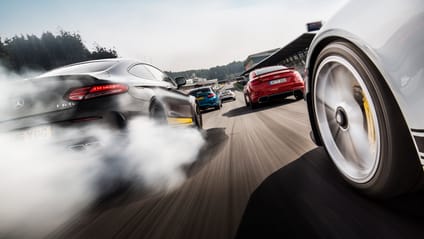 Being a male of the species, I am a creature of habit and therefore find any upsetting of the status quo badly destabilising. The keystones of stability are assumed knowledge: that politicians will disappoint, that Lewis or Nico will win and that the Audi TT is a Golf-based fashion item for those who have no idea about, or interest in, motor vehicles. And the TT RS is just an unpleasantly fast and harsh version of it.

Selfishly, Audi has taken it upon itself to completely unbalance the firmaments by making a TT that people who like driving might actually like driving – but looking at what VW manages to make of the same platform with the Golf, I suppose we shouldn't be too surprised that even Audi's patchy RS department has delivered something a bit special.

Test 1: Alfa Giulia vs Abarth 124 Spider vs Focus RS

Test 2: Ferrari 488 vs Honda NSX vs McLaren 570S

Test 3: Renault Clio RS16 vs Ford Fiesta ST200 vs VW Golf GTI Clubsport S

Advertisement - Page continues below

Rarely is a modern car so dominated by its engine, and rarely is that engine so impressive and enjoyable. I thought TTs were supposed to mince about with 200-odd horsepower, but this thing has 400bhp – that's more than a Ferrari Testarossa. And it feels like four hundred too – the boost surges from around 2,500rpm and then it shrieks to the limiter doing a passable impression of Hannu Mikkola's quattro S1 from 1986. It's one of the best noises in the car world, and it seems slightly odd emanating from a TT, but the world is a better place because of this engine.

The TT understeers less than the RS3, its optional carbon-ceramic brakes are very strong and the pedal isn't over-sensitive in the Audi tradition. I find it very strange that a company as expert in managing the core DNA of its individual brands as Volkswagen now makes an Audi TT with the most exciting engine in its class, and a Porsche Boxster with the most dreary motor imaginable. Shouldn't it be the other way around? Either way, I viewed drivers of the last TT RS with the suspicion I reserve for oversized wristwatches; this time I would advise anyone looking for this type of car to go and try one immediately. Wonder if the ride is OK on UK roads?

Advertisement - Page continues below

For similar money, BMW won't sell you an M2 – which is a crying shame because, as you probably already know, it's a crackerjack of a car that embodies all that is right about driving and BMW's ability to make stuff for people like you and me. 

It felt a little underpowered at times around the Red Bull Ring, but only in the perfectly pointless context of trying to instigate and maintain a third gear 75mph uphill drift. Otherwise this car competes with the Golf and Fiesta for sheer force of personality. The inherent rightness of the package – size, potency, orientation, grip – makes for a driving experience that leaves you wondering what more you could possibly want. Actually, I'm a fussy git, so I'd ideally like bigger brakes, more poke and a more supportive driver's seat. And BMW would tell me to buy an M3.

And despite this being such a fun machine, I think I would still have an M3 instead. People are paying a premium for M2s in the UK that makes them more expensive than the faster, even more capable M3, and that's just silly. But unlike the Focus RS, the M2 does live up to all the hype.

Jaguar is charging £111,000 for its new F-Type SVR, which does seem an awful lot of money for something that looks so familiar, doesn't offer that much more performance than an R and is tainted by one of the more laughable aerofoils seen since Richard Grant shut up shop. It's a heavy car too – it may be all-aluminium, but this thing is 230kg heavier than the 488, which is a significant amount.

It hangs together pretty well on the circuit – a 2WD version would be more amusing for bonfiring the rear rubber, but those early F-Type Rs were laughable in traction zones and hopeless on wet roads. I don't often say this, but I think a set of front driveshafts has transformed the Jag – yes, it was amusingly sideways before, but now it has real all-weather pace and it will scoot around this circuit impressively fast, lap after lap without cooking its brakes. 

There's no great sense of connection though, the brake pedal is pretty numb, as is the steering, but I'm not sure that matters. It isn't a track car, nor does it pretend to be one. But were you to ask me which car I'd most like to drive back from Austria to the UK, this might well have been it. Luckily you can delete that nasty little spoiler.

Advertisement - Page continues below

While I was in a deleting mood, I'd probably remove the first-edition matt paintwork on this C63 coupe, but wouldn't need to alter much else. Merc-AMG is on a roll at the moment and I think a good part of the reason why is that the C63's charms are more obvious and accessible than an M3's. It's a small muscle car that makes a great noise, fires itself along with startling speed and can hustle a fast, accurate lap whenever you require it. 

Trouble is, you won't require such civilised behaviour very often once you've sampled what this thing can do with the traction switched "off". If there was a favourite drift machine for the children of the Top Gear office, then this was it. The C63 was constantly and spuriously being used to ferry photographers and videographers to points on the circuit, so that its helpful driver could then skid the sizzle out of it on the way there and back. It's that kind of car. Straightforward, charming and very very fast. Daily life with one would be a pleasure.

So is it any good? Has Porsche delivered on the hype surrounding the 911R, or does it just remind us that the GT3 RS with its paddles and wings plots the more sensible and enjoyable path forward for fast road and track cars? Of course it has. The 911R is a masterpiece. It's a simple car that delivers simple thrills, but does so with the finest ingredients: in a sea of turbocharging and self-shifting transmissions, it is a joy to be testing a new 911 in the year 2016 that offers three pedals and nothing more than atmospheric intake pressure. 

Advertisement - Page continues below

The engine is a masterpiece, but we already knew that from the RS. Removing grip and adding some compliance has made the car more playful on a circuit, but that outcome was also no great surprise. No, what comes as a real shock is how much more accelerative the car feels in the gears than an RS – proving that the power loss in the dual-clutch gearbox must be significant. I just didn't tire of lapping this wonderful car. Like all 911s, it wants to understeer in the first phase of a turn, but you have so many options to neutralise that behaviour, deliberately rotating the rear or adding a decent scoop of power, that you find yourself constantly playing with it.

The driving position is spot-on, the retro touches are perfectly blended with the modern 911 notes and, on account of the rear steering, the turning circle would shame a Fiesta. But they're all sold, and I fear those who are fuelling a crazy overs market for these cars might get a little burned when the facelifted GT3 arrives next year. And, yes, I am still mighty sour that they wouldn't sell me one!