Chris Harris
Chris Harris and a garage full of Porsche 911 GT cars
Mr Harris goes to dreamland: a room full of Porsche GT models
Andreas Preuninger is the boss of Porsche's GT car division, in charge of stripping weight and applying wings (and stickers) to 911s for over two decades. No one knows more about hardcore rear-engined sports cars than Preuninger. Except maybe Mr Chris Harris. Before the new 911 GT3 was revealed, Harris took a trip to Germany to see every generation of Porsche 911 GT...
Andreas Preuninger: Chris, welcome to our Noah's Ark. One of each kind of GT-series Porsche 911 ever.
Advertisement - Page continues below
Chris Harris: You know normal people dream of either beautiful women or beautiful men? I dream of a room full of Porsche GT3s. Where do we start?
AP: Without me, actually. The gen-two 996 was the first GT3 I worked on. I missed the very first edition.
CH: So, because you didn't develop the original, I can say a couple of things, OK? I remember coming to Weissach, collecting the first GT3 ever to go to the UK, in July 1999. It was very cool, but it wasn't perfect. We took it to a track – it wasn't as quick as I expected and it ran out of brakes. The gen two you developed claimed another 20bhp horsepower, but it felt like it had 50 more to me and the brakes worked. Your magic had begun... How did that evolve into the first GT3 RS?
AP: That was my dream project because I always had a Carrera RS 2.7 poster above my bed when I was 10 years old. It happened because we needed to homologate new wheel carriers for the 996 RS racecar, but I wanted to pay tribute to the 2.7 RS. So we added a carbon bonnet, and what was, for the time, a huge wing.
Advertisement - Page continues below
CH: It looks tiny now.
AP: Did you know this was the first Porsche street car ever upholstered with Alcantara? Just on the steering wheel, gear shifter and the door handle. It was the first time we had a polycarbonate window.
CH: That's nerdy. The steering in this car is incredible, isn't it? It's totally alive.
AP: BMW had just done the M3 CSL, which I loved: it was a good competitor. We had Pirellis, they had the Michelins and that influences the steering feel a lot.
Top Gear
Newsletter
Thank you for subscribing to our newsletter. Look out for your regular round-up of news, reviews and offers in your inbox.
Get all the latest news, reviews and exclusives, direct to your inbox.
CH: Right, to the 997. This car gets a bit forgotten, because everyone wants the gen two, but actually this engine is spectacular, isn't it?
AP: It was a very special car, very successful, it had Michelin ultra-high performance tyres for the first time. We offered it with ceramic brakes and only a manual gearbox. That's all the sports car you ever need.
CH: How many times did you go out in these things to remind yourself of the DNA of what you're making?
AP: I think it's very important to touch base with the old cars, to reset the internal button because in the memory, you tend to glorify the past and forget the new. My whole team drives these cars to make sure that the new car will fit its line of ancestors correctly, so the GT3 values, virtues and DNA remain.
BMW had just done the M3 CSL, which I loved: it was a good competitor
CH: Aha, the 997 gen two. I probably did more miles in these than any other GT3. This for me felt like your GT division had really established itself. Everyone wanted one.
AP: Because we knew we'd sell enough cars to pay back our investment, we went to town. New brakes, centre-lock wheels, a 3.8-litre engine, different cams, more revs, more horsepower.
CH: You once told me about a new coating on these grilles that allowed more air flow through. I remember thinking, "Come on, really?" But you were adamant. And the people that buy these cars care about the details.
AP: We like to concentrate on details because the sum of the little things make the whole more desirable.
CH: Poetic. Now, over here is the one that everyone still talks about: the GT3 RS 4.0. I remember you having an ashen face explaining how much it costs to make a wider indicator repeater to fit the flared arches. How much was that piece of plastic again?
AP: I think it was €250,000 before we even made one part. These were our first carbon bumpers. Inside, the car's stripped. The whole package is still in some regards benchmarked for today's cars. I've driven this a lot because of the new GT3.
CH: Which is right there under that cover. Can I...?
AP: It's too early to show it off. You will have to be happy with looking at it with a veil on top, like a bride.
CH: You flew me out to Germany to not see a car. You sure you're not Ferrari? Right, let's have a look at the 991 GT3. I seem to remember the first time I drove this was in Barcelona. It quickly became clear that the Spanish police weren't very pleased with us being there.
AP: They were chasing us with helicopters, Chris.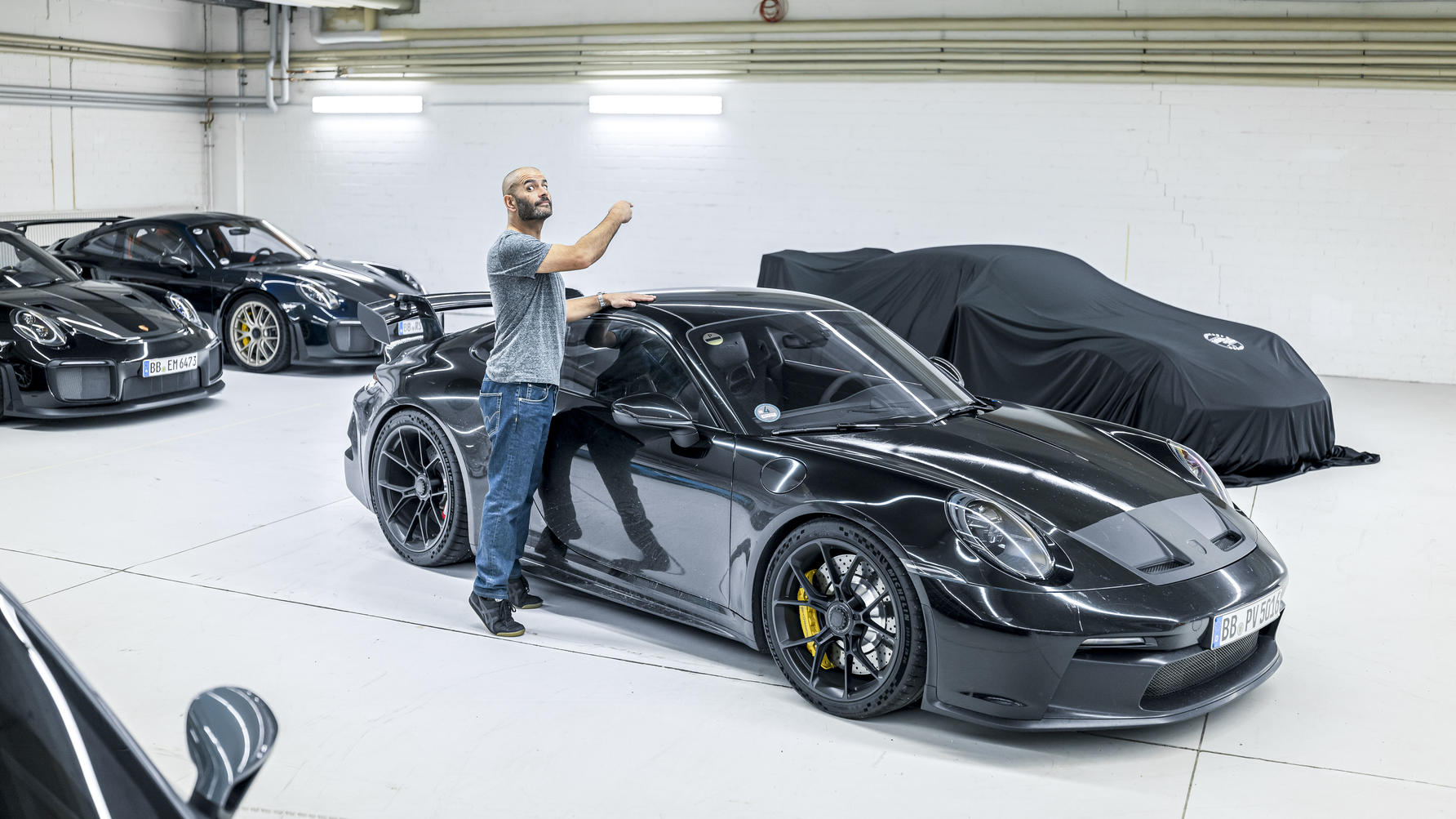 CH: That's right. It was like a bad episode of The A-Team, and they landed a helicopter on the road and they just said, "You need to go now".
AP: We were concerned about that camera standing at the roadside with all that footage of us drifting there.
CH: I put the SD cards in my sock. Anyway, the car. This was your most controversial step. Rear steering, electric power steering, and it was PDK only. All the internet forums caught fire.
AP: The phrase I attached to this car was 'shut up and just drive it'.
CH: So, what you've got is a load of journalists like me saying, "Oh, it's not got a manual gearbox". What do you do in response?
AP: The 911R. I have to be honest, the 991 GT3 was such a big project we had to hold the manual gearbox for later, and introduce it on the 911R. A star was born and we had the gearbox on the shelf for the next-gen GT3.
CH: I know I'm an old man, but I just love them without a wing, and a houndstooth interior. I'm not going to stand here for too long because I might get wobbly knees. Can we take the cover off the new one now?
AP: I told you, I'm not allowed to do it. If I lose my job, I can't build any more of these cars.
It's like a car James Bond would drive if there weren't any Aston Martins in the world
CH: I'd have to go into hiding. Ooof, I've just seen a 991 GT3 RS.
AP: This was a game changer when it comes to track ability. We never had such an extreme car. We had class leading downforce. There were other companies claiming their cars generated as much, so we put them in the wind tunnel. It was not even close. Our RS really makes 350kg of downforce at top speed.
CH: I'm going to ignore the GT3 RS gen two for a minute because of what's next to it: the GT2 RS. From which weird part of your brain did this 700 horsepower monster come?
AP: I wanted an engine that sounded like a Nineties 911 Turbo without the lag. If I could keep just three cars I've helped make, the GT2 RS would always be one of them. The list changes with the mood I am in, but there's always a GT2 RS.
CH: Now talk me around some details on this this 992 GT3. The power step isn't big over the last car, but 500's enough on the road, isn't it?
AP: A car that size and that weight with 500 horsepower is enough to put you in jail in minutes. We concentrated on drivability and confidence. The car is a lot quicker on the 'Ring, so that pays off despite having only a 10 horsepower upgrade.
CH: The noise is good. I was fearing that with the new regs it was going to sound a bit dull inside. It really doesn't.
AP: It sounds maybe a little mature, a little more mature, but inside it's even louder than the old one. But it's not only about the engine. For the first time we have a double wishbone front axle, totally new for a 911.
CH: There's a whole load of Porsche racing drivers out there at the moment going "thank God, we've been waiting for that for 20 years".
AP: It really helps the car. The car has got a little bit bigger but it has advantages. It has wider tracks, brand new front suspension, and it's lots better on track now.
CH: So, 992 GT3 is available with a manual and a PDK?
AP: You have both options because I'm sick of telling people what is the right combination.
CH: Will there be a Touring?
AP: A little later after we put this on the market, yes. You could go to the opera with that. It's like a car James Bond would drive if there weren't any Aston Martins in the world.
CH: How cool would that be? James Bond driving a GT3 Touring. Now we're talking. Will there be a convertible?
AP: Nope.
CH: Will there be a diesel?
AP: Pffft. Yes, Chris.
CH: Will there be an electric one?
AP: Oh, absolutely.
CH: Joking apart, seeing all these together makes me feel a bit old.
AP: You feel old? That orange 997 GT3 RS is the very car I brought my son home from hospital in when he was born.
CH: It's an amazing legacy and it's taken a few years, but it's 20 years of good gear now, isn't it?
AP: And yet, we still have some ideas for what's next to come...
Check out the brand new Porsche 911 GT3 right this way. Want to know Harris's top five GT Porsches? Pick up a copy of Top Gear magazine today