Classic
A brief history of the Mercedes C-Class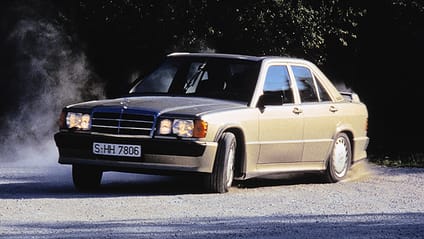 Thirty years ago, Merc took three identical 190 E 2.3-16s to the small Italian town of Nardo, set up shop on the 12.6km circular test track - yes, the one visible from space - and proceeded to take man, moustache and Merc into unknown territory. It was the greatest endurance run in history.

For 201 hours, 39 minutes and 43 seconds, the cars - virtually standard production 190 E 2.3-16s barring a few modifications - covered a distance of 50,000km non-stop, pausing only for small maintenance stops and, we imagine, the occasional moustache comb. For 201 hours these hardy Germans averaged an astonishing top speed of 155mph (250km/h), and broke twelve records in total: three world records for distances of 25,000km, 25,000 miles and 50,000km, and nine more records in its class.

And these records remain intact to this day, proving beyond doubt that Merc's little 2.3-litre four-pot engine in the 190 E so beloved of James May (remember the budget sports saloon episode?) was a trusty, hardy unit.

Don't forget, this was actually a very important little car. It was the first time the brand renowned for its Big Luxury Cars had entered the small saloon segment in the modern era, plunging MB into direct competition with arch-rival BMW and its uber-cool E21 3-Series.

So at the 190 they threw lots of technology and innovation, and crossed their German fingers for the best. This being a Mercedes, though, meant while it was the smallest car they'd produced for a long, long time (there were a couple of compact concepts in the '50s and the 1894 Benz 'Velo'), it still had to feel like a Benz; safe, reliable, brimmed with tech and good to punt around in.

The 190 got a new patented multilink rear suspension setup - in which each wheel is supported by five independent links - that later underpinned a lot of Merc's bigger cars too. Safe to say they were happy with that one. It was also as safe as the S-Class of its day, too, thanks to the forked-beam structure in the front section of the car that met some rather strict passive safety regulations.

And here's why it matters. The 190 kick-started the C-Class story: its successor, 1993's 'W202' saloon, was the first to get the C-badge. And seeing as we've driven the new Mercedes C-Class, we thought we'd offer you a brief history of compact Benzes. Warning: contains much AMG...

Photos: Mercedes-Benz

Advertisement - Page continues below

The first 'Baby Benz', as it was known in the States - and model number W201 for Merc nerds - came complete with a weedy little inline 2.0-litre four-pot producing a heady 90bhp. Horrendously wobbly by modern standards, but a lovely, bulletproof little motor, and an icon of design, too. Bruno Sacco - head of MB's design from 1975 to 1999 - was the man responsible, creating a clean, elegant car. Mini-cabbists around the world, you owe him your allegiance.

Though this car arrived under increasing pressure to conform to strict fuel consumption regulations in the USA, a key MB market, it was the Clean Air Act introduced by President Jimmy Carter that prompted Mercedes to launch a smaller, more efficient car. Which is ironic, considering the tangent this little Benz will take, as you'll find out later...

W201 Mercedes Benz 190 D 2.5 Turbo

A five-pot turbo-diesel makes its debut in the W201 - initially for 'Mericans - producing 122bhp from its inline 2.5-litre engine, and capable of a 0-62mph sprint of 11.5 seconds.

Advertisement - Page continues below

W201 Mercedes Benz 190 E 2.5-16 Evolution

Now we're talking. This monster arrived in 1989 to up the ante against the all-conquering E30 BMW M3, built for homologation for entry into DTM. The engine had been increased over the 'standard' 2.3-litre four-pot - it had a shorter stroke, too - with improved chassis and brake systems. Oh, and 16in wheels, a flat nose spoiler and that lovely, 80s-spec rear wing all made it that more DTM-esque. The wing on the 235bhp 1990 'Evo II' was even bloody bigger. Obviously for aero, you understand.

W202 Mercedes Benz C36 AMG

And so we come to the first ever 'Compact' badged Mercedes, the W202 C-Class, unveiled in May 1993. Not that you're paying much attention with that picture above, but though it wasn't much larger over the W201, it was bigger inside and available as an estate for the first time. There was more boot space too, and - oh ok, you don't care about boot space. You care about the AMG models.

This was the first time Mercedes Benz and AMG came together to jointly develop a car (they signed a co-op agreement in 1990), first borne out in the C36 AMG, above. As the name suggests, a 3.6-litre straight-six (yep, a Merc inline sixer) produced a whopping 280bhp, powering the rear wheels to a limited top speed of 155mph, becoming the most powerful C-Class...in the world.

W202 Mercedes Benz C43 AMG

That was of course, until the advent of the C43 AMG W202 series C-Class came along in 1997, to become a) the most powerful production C-Class ever built, b) the first ever V8-engined C-Class Mercedes, and c) really rather quick. An all-aluminium block and head, magnesium intake manifold and forged con-rods were just some of the highlights of this engine; 302bhp and 302lb ft of torque is of course, the highlight.

0-62mph took just 6.5 seconds, though Merc quickly realised that yes, putting a V8 inside a small-ish Benz is indeed sehr reizvoll, The C55 AMG with an even bigger V8 (5.4-litres) arrived in 1998 in the W202, producing 347bhp natural horses.

W203 Mercedes Benz C-Class

2000, and another C-Class arrives, proving that Mercedes really rather liked this whole small saloon malarkey. This third generation offers up 20 new technical innovations not seen before for a small Merc; things like adaptive airbags for the driver and front passenger, headlamp assist, a multifunction steering wheel, and fibre optic cables. Plus, it looked pretty dandy too, with its double headlamps and neat detailing.

Sadly, the BMW 3-Series had absolutely hit its stride with the E46 model, and was taking no prisoners. And to make matters worse, Merc thought it prudent to launch a tinier version of the C, in the C-Class Sports Coupe (against the BMW 3-Series Compact), which we won't show on these pages again. Sorry.

Advertisement - Page continues below

W203 Mercedes Benz C55 AMG

No matter about that pesky 3er, thought Merc, we'll just make really powerful AMG models and hope nobody notices. First came the C32 AMG, producing a lovely 354bhp from its V6, then later – following the 2004 face-lift that included sportier suspension and steering tuning – came the supercharged 5.4-litre V8 in the C55 AMG, producing 367bhp. We tried this car in estate form, in the shape of the 2004 Formula One medical car – and it is stupendously loud, proud and a bit mad. Also really, really quick.

W204 Mercedes Benz C-Class

Ah, and so we come to the pinnacle of the C-Class, the peak of the Baby Benz's long evolution and, at last, a proper, proper rival to that dastardly, apple-polishing 3-Series BMW. It's great to drive, is a classy thing to behold, boasts lots of luxury and feels well sorted from the ground up. A quality item. Though you'll want the faster versions…

Advertisement - Page continues below

W204 Mercedes Benz C63 AMG Black Series

…like this one. The 517bhp version of a small saloon car that pinches engine technology from a £165,000 Mercedes-Benz supercar. Yes, the C63 Black takes the pistons, con rods, crankshaft and oil cooler from the SLS, crammed into that 6.2-litre V8, to produce more power than is strictly necessary. 0-62mph takes just 4.2 seconds, via AMG's Speedshift MCT seven-speed gearbox, with many modes. Also, the exhaust noise is worth the outlay alone. Just listen to it, and we guarantee you won't care about the price.

Funny to think how the humble 190 from all those years ago evolved into this. Which was your favourite C-Class from the ages?