Classic
Exclusive: the story of the last ever RHD Porsche 2.7 RS
Here's how a tatty Porsche 911 found in the Caribbean could be your ticket to over a million quid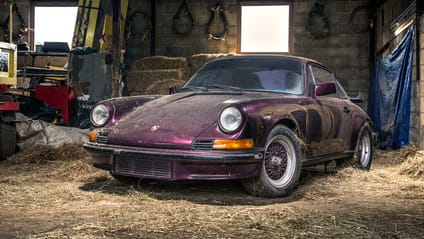 9113601576 is a collection of numbers that equals big money. No, they're not the new combination to Hatton Garden's safe deposit, or Mark Zuckerberg's phone number. Rather, they're a very significant set of digits if you're fluent in Porsche and see a car as an investment instead of transport.

Those ten integers makeup the VIN number for something special. To break it down, '911' denotes the model, while '360' is the spec, namely the 1973 2.7 RS, arguably the greatest 911 of them all. And '1576'? Well, that's the chassis number for the final, rare-as-they-come right-hand drive homologation special.

They're currently tattooed all over the main components and chassis of that rather tatty-looking, purple 911 above. And that makes this Porsche 911 2.7 RS a 'matching numbers' car. And that means it's excruciatingly valuable.

Words and Photography: Rowan Horncastle 

Advertisement - Page continues below

How much are we talking? Well, even though it doesn't exactly look like any of those other 2.7 RSs you've been dribbling over in glossy magazines, it really doesn't matter.

Because all of its internals match up to its body, it currently has a value of around £500,000. Yep, even while being cooped up in a barn with chickens aimlessly roaming around its wheel wells. After a restoration (a meticulous process costing somewhere in the region of £150,000), it could be worth in excess of £1million.

You have permission to pick your jaw up off the floor. 

Aside from the brain-freezing worth attached to its history and mechanical DNA, this car also has a story. A story that includes a tropical life in the Caribbean, mystifying spec options, suspect modifications and, er, a murder. We're the first people to have wrapped our ears around it, and seen the car with our own eyes. So pull up a chair, grab a cup of tea and let's begin. 

Advertisement - Page continues below

First, a history lesson. In the early Seventies the European GT Championship was created. This was good for Porsche, as the 911 would be eligible for Group 4 racing, which would once again pit the Germans up against Ferrari.

More specially, it would put them up against the 365 GTB Daytona 'Competizione' – a gorgeous car that had a displacement almost twice that of the 911's. A fact that put the men in Porsche's motorsport department in a bit of a pickle. In order to be competitive, they had to get creative.

Using a Porsche 911 S – a car that'd been dominant in rallying and the original Tour De France motor race – as a base, the aim was to strip as much weight out of the car and up the power. To save weight, lighter materials were used, panels and glass were thinned out, and what could be stripped out, was.

The 2.4-litre engine was increased to 2.7-litres, giving 210bhp. That, in combination with taller gearing for 4th and 5th, pushed the top speed to 152mph and saw a 0-60mph time of sub-6.0sec.

Compared to the standard Carrera, the new car featured an airdam, wider flares to accommodate Fuchs alloy wheels with wider back tyres than fronts (a first), stiffened suspension and a gorgeous ducktail rear spoiler.

To mark this momentous new model, a fresh badge was also sourced and pinned onto the back of the car. It read 'RS'. Renn Sport. By now you should know that those initials mean good things on Planet Porsche, as they denote track-honed road cars. But the 911 2.7 RS was the first of them.

In order to get on track, 500 road cars had to be made. Launched in 1972, all 500 examples of the initial batch were sold within a week of the car's international debut at the Paris motor show.

That's when the money men thought, "if we built another 500, we could homologate them into Group Three racing".

So they built 500 'Lightweights', homologated them, then put some back down the production line and trimmed them out as GT-freindly 'Tourings'.

Those were all snapped up, too. So Porsche decided to make one final batch, but this time down the normal 911 production line. That means they were fully under-sealed, fact fans…

The first 2.7s were very different to the last. Things like gearbox oil pumps, lightweight panels and other parts were being homologated as the production increased. That makes the early ones the desirable ones. But the very late cars (which included all right-hand-drive cars) had the rear end from the upcoming Turbo, and a rather unique fancy Silumin alloy crankcase.

Advertisement - Page continues below

A total of 1,590 RSs were built – that includes prototypes, Tourings, Lightweights, homologation cars and RSRs – and 111 right-hand-drive cars came into the UK (17 Lightweights, 94 Tourings). Only 16 'Royal Purple' RSs were ever made and seven were right-hand-drive.

That's one of them above – the paint has changed since, which we'll get to later – complete with all the special bits of the later cars, so we know it's genuine.

It's currently residing in an undisclosed barn in one of the greener parts of England and owned by walking, talking Porsche 2.7 RS Wikipedia page, Josh Sadler. He's also the former owner Porsche specialist Autofarm, and the man who rescued it from a life of neglect in a garden on a small Caribbean island. 

Josh is also quite the detective. His skills make an episode of CSI Miami look like Balamory, and he's retraced the car's tyre marks all the way back to the start to work out that it was bought and registered in the UK in 1973. In 1978, the car was bought by a Trinidadian businessman who spent time in the UK but shipped the right-hooker back home… without an engine cover.

How does Josh know this? With Porsches being his day job, he has a complete record of pretty much every 2.7 RS ever. Plus a good nose for sniffing out details. He's deduced that the car was sold new with an aluminum engine cover without the signature ducktail.

That's because if you wanted a rear wiper on the car, you had to have a rear deck with no spoiler. Since then, Josh has seen the engine cover from this car – remember that all-important ten-digit number? – doing the rounds on Porsche forums along with documentation, original service book and other valuable stuff. 

Advertisement - Page continues below

While in Trinidad, the 911 was sold on twice. First to a man in 1989 – who re-sprayed the car in that Japanese JDM-style metallic midnight purple – before being sold on to a chap named Leon Paria in 1993.

At some point during this phase, modifications (body-coloured BBS wheels, whale tail spoiler, US-spec headlights, window tints, late seventies impact bumpers, and 80s Porsche raised brake lights and hi-fi) that disguise its innate RS character must've been made.

Leon owned the car for seven years before parking it up behind a wall at his house due to a mechanical problem. Tragically, Leon – the owner of an air-conditioning company – was killed in a shooting on his way to the shops in 2002, so the car sat abandoned at his house until late last year. That's when a contact of Josh's located the dilapidated car, bought it, and then shipped it to Florida. 

Not having the money to restore it, or much use for a right-hand-drive car in America, he called Porsche aficionado, Josh.

"I was racing at Daytona and in a flukey perfect storm, I got a call from my contact saying the car was just down the road," Josh says. "But having seen some pictures beforehand, I thought it'd be an absolute shed!"

It wasn't. Unlike a lot of RS that have been ragged to death racing, having been sat in the sun for over 16 years, the purple car had all the hallmarks of a genuine car and all the stamps in the right places while also being solid and straight underneath. 

Admittedly, there's a bit of rot at the front – where the batteries always cause a bit of corrosion – and a tiny bit around the back of the door shuts, but that's it. There's no sign of it ever having been damaged. And the front spoiler's in a desperate state, but original. There's even the original spare wheel in the Porsche's front boot. Unfortunately, that didn't escape the pimping process, as it's now gold.

"It doesn't look like an RS." Josh tells us. "But underneath it's such an honest, solid car. I had to have it." 

Now back in the UK, Josh is assessing what to do with it. He'd like to get the chattering engine back running, and with 2.7s being his bread and butter, he could dress it to look like all those other RS' in a few hours if he wanted to.

But, ultimately, he could dress the car like Dame Judy Dench and it wouldn't make a diddly squat of difference. The market is currently so obsessed with this matching numbers business, as long as they're not played with, people will be biting Josh's arm off for it. 

The way prices of 2.7 RSs have risen has been nothing short of stratospheric. In 1980 you would've paid £9,000 for a tidy one. In 2004, an RS Touring would've cost you about £65,000. By 2011 they were worth upwards of £200,000, and at an auction in 2014 one sold for £976,674. It's got even crazier since. There's rumors of a car recently going for over £1million.

Being right-hand drive, this car is rarer than others and placed perfectly for our more defined classic car market. But Josh doesn't want to undergo a full restoration.

"A lot of RS cars have now been sanitised. If I strip this car back and restore it, it's lost its entire story. It'll lose all its patina and soul. It'll just be another new RS. Boring."

To be honest, we kind of agree with him.  Unfortunately, the market is being driven by a number people who buy these cars yet don't know or care about them. They just want them to be a solid investment like another decent bottle of old plonk.

However, if you do have a wheelbarrow full of money, and want to continue to the trend of potty prices for early Porsches by securing a genuine number matching investment, you know who to call.