Classic
A Ferrari Enzo, Porsche Carrera GT and McMerc SLR are all for sale
Welcome to your one-stop shop for the mid-2000s hypercar big three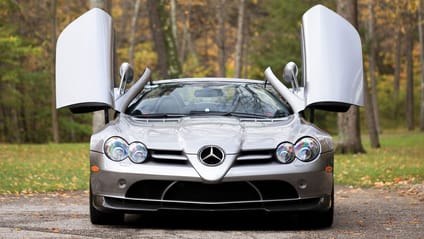 We're approaching Christmas, and the loathsome business of Black Friday is almost upon us, so we'll take just about any opportunity to make shopping easier.

In that convenience-hungry spirit, here's an auction where you'll be able to snap up all three of the original hypercar 'holy trinity'. The forebears of the LaFerrari, Porsche 918 Spyder and McLaren P1.

Advertisement - Page continues below

Yes, here we have a 2003 Ferrari Enzo, a 2005 Porsche Carrera GT, and a 2005 Mercedes SLR McLaren 722 Roadster. The ultimate expressions of mid-Noughties performance from Italy, Germany, and Germany-via-Woking. Quite the line-up, no?

And what an interesting comparison they make to today's ultimate supercars. The Enzo is perhaps the most obvious, natural springboard to the LaFerrari: both are carbon, both have F1-inspired aero and both have six-point-something litre V12s driving the rear wheels.

The LaFerrari moved the game on from the Enzo's 660bhp to 960bhp, with electric power and a dual-clutch gearbox, but the lineage is clear.

Advertisement - Page continues below

On the other hand, the lukewarm reaction to the McMerc SLR was a catalyst for Mercedes and McLaren parting company, with McLaren going on to build its own bespoke range of 3.8-litre, bi-turbo V8 carbon missiles, the current flagship of which is the slightly crackers P1.

By contrast, the SLR, with its big boot, relatively lazy 5.4-litre supercharged V8 and five-speed automatic gearbox looks positively relaxed. Actually, make that 'seems' relaxed.

It looks like a lunatic, all edges, beaky nose and blobby lights. A Cruella DeVil car made real, if ever there was one.

Porsche, meanwhile, gave the world perhaps the ultimate analogue supercar in the shape of the Carrera GT. A screaming naturally aspirated V10 good for 612bhp found happy marriage with a six-speed manual gearbox, rear-wheel drive and infamously grown-up handling.

And having created perhaps the most exotic go-kart ever, Porsche's next effort at a hypercar was the tech-obsessed, plug-in hybrid 887bhp 918 Spyder. The three cars here are shining examples of just how quickly the automotive arms race marches on.

The Enzo, an ex Tommy Hilfiger-owned car, is likely to go for upwards of $4m, while the Carrera GT is set to command about half that, and the 722S will be the bargain of the group, as SLRs often go for under half a million dollars. 

Advertisement - Page continues below

It's the perfect Christmas gift set, except for one small issue, besides the costs involved: the Scottsdale Arizona auction doesn't actually start bashing hammers until 19 January 2017. Hmmm. Anyone up for an IOU?