Classic
Gandini's greatest hits are now a museum exhibit
Finally, an exhibition you don't need a rollneck jumper to appreciate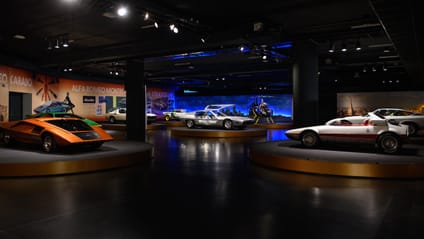 In an era where bad news seems to multiply in scope and complexity like mops in Disney's Fantasia, let us soothe you with something very simple and very lovely: a new exhibition celebrating the works of Marcello Gandini.

The gist of the exhibition is that, even though Gandini's standout cars... well, stood out, there's so much more to his artistry than creating beautiful lines for thrusting supercars. In fact, some of Gandini's favourites are also some of his most unassuming.

It's all in the name of the exhibition – 'Marcello Gandini: Hidden Genius'. It's not that Gandini himself is anything approaching hidden; rather, it's an exhibition that celebrates the hidden genius that can be overpowered by the sheer jaw-dislocating beauty of his designs. Moreover, it takes time to showcase his lesser-known moments of genius, hidden inside the seemingly simple and utilitarian designs that can too easily be taken for granted.

That's not to say there's any lack of almost salaciously attractive metal in the mix, though – have a look at some of what's on offer...

Photos: Margherita Borsano for National Automobile Museum in Turin

Advertisement - Page continues below

Lancia Stratos Zero

How can you begin anywhere but here? The Stratos Zero is both visionary and a vision. It spoke to the angular future of car design – and not just supercar design, but the ruler-edged surfacing of mass-market cars – that wouldn't lose momentum until the bubbly nonsense of the Nineties. Not bad for something that first met the public in 1970.

The thin edge of the wedge

"But wait," you might be thinking, "didn't the Alfa Carabo do the straight-edge wedge thing first?"

OK, a) you're quite right, and b) you're a massive nerd. And, nerd that you are, you'll already know that Gandini was the man in charge of the pencils for both the 1968 Carabo and 1970 Stratos Zero. Not that he was driving towards a specific stylistic expression, or anything. 

Advertisement - Page continues below

Alfa Romeo Carabo

So, the Alfa Carabo. It takes a special kind of bravery to use the underpinnings of one of Alfa's all-time most beautiful cars – the 33 Stradale – and entirely replace the svelte, flowing lines with enough sharp edges to rival a Swiss Army knife. 

But replace he did, to absolutely stunning effect. In fact, it's at least one TG staffer's all-time favourite concept car.

Lamborghini Countach

The Carabo and Stratos Zero may be the leading edge of the wedge, but it's hard to think of a car that better defined the sharp, angular mid-engined movement better than the Countach. 

By now, you know all the Countach tropes – its name, PIedmontese for... er, let's say 'wow', its place on any number of bedroom-wall posters, its eventual wing that offered all the aerodynamic benefits of a tennis net, the open-the-door-and-sit-on-the-sill reversing technique. But for us, it became the very definition of supercar – wide, low, menacing, rear-engined, fat-tyred and about as comfortable as bikram yoga with a hangover. Creature comforts and tech may have come on by leaps and bounds between then and now, but it's hard to say that any have outdone the Countach in terms of sheer, beguiling pageantry.

Lamborghini Marzal

Now that the Countach elephant in the room has been recognised and genuflected before, we can move on to another Lamborghini, equally able to elicit a "countach!" reaction from your local Piedmontese-speaking neighbour. Hey, you probably have one. 

Yes, it's the Marzal, a concept that basically redefines "glasshouse". It also had four reflective seats (it gets hot in Italy, after all) and a sideways-mounted straight six. Weirdness truly abounds.

Alfa Romeo Montreal

The Montreal is a bit of a weird fish. An undoubtedly attractive and wondrous fish, but weird all the same. 

First, it debuted at the Montreal auto show without a name. And, like the Countach, it kind of picked one up from the aether like a nickname. 

Second, it was an already wonderful 105 Series Alfa Romeo, of original GT, GTA and GT Junior fame, to say nothing of the Mrs Robinson-approved Duetto Spider. And while the 105 Series chassis was transcendent with a high-revving straight-four, it may not have been all the way up to the job with the race-bred V8 from the Alfa 33 Stradale.

Third, those vents on the side are non-functional, because the Montreal is front-engined. 

With that said, we must admit that we don't care about any of these trifling facts. It looks great, it sounds great and it swims in a sea of Gandini magic, weird fish or no.

Advertisement - Page continues below

Lamborghini Miura

On the other hand, The Miura is a car that needs no introduction, no contextualising and no laboured metaphor to quantify its brilliance. 

It is simply the corporeal manifestation of perfection. Also, phwoooooaaaaar.

Lamborghini Espada

Time to set the stylus to the rare groove, folks. Put aside its cruelty-infused name (Spanish for the sword that kills the tortured bulls in the corrida de toros) and it might be one of the coolest Lamborghinis of all time. No, really – the Countach is too obvious a choice, but a two-door, four-seat coupe with the same 3.9-litre V8 as the original (and we think the best) Countach, the LP400. 

It's also probably the consumate grand tourer – all-round independent suspension and disc brakes, a perfectly smooth V12 and twin fuel tanks with a combined volume of 95 litres to feed its thirst. The guiltiest of pleasures...

Advertisement - Page continues below

Lancia Stratos

If the Stratos Zero (and yes, Carabo) redefined the shape of supercars, then the road and race-ready Stratos redefined rallying. It was perhaps the first car to be custom-designed to be quick out in the middle of the wild blue yonder, with a short wheelbase to ensure incredible manoeuvrability in the corners and Ferrari Dino power to ensure unmatched speed out of them. 

Lancia remains one of our favourite manufacturers, regardless of earning a wolf ticket from Fiat at the end of the Eighties and becoming little more than off-brand Fiat-Chryslers by the end of it. Let's remember the good times together, shall we?

Innocenti Mini

Well, we promised you some more prosaic stuff, didn't we? 

Yet even this seemingly humdrum Euro-box has genius hidden in its flanks. And something of a story, as well. 

Underneath Gandini's straight edges lies an entirely unchanged, Sir Alec-designed Mini. See, BMC-owned Innocenti had been building Minis in the original spec since the mid-1960s, until the chaps in tweed back at head office gave Bertone, where Gandini was working, the green light to reimagine the epoch-shifting city car for the first time since the 1950s. 

And here's the result – more interior space, a proper hatchback, a front-hinged bonnet, better aerodynamics and a bigger boot, while still retaining the same basic proportions. 

Then, as your pipe-smoking great uncle will tell you, British Leyland went bankrupt. What he might not say is that Innocenti was sold to De Tomaso, of all companies. It then, despite typically 1980s-Italian-car-company developments, managed to sell in the tens of thousands a year, even spawning an up-spec sporty version called the Innocenti De Tomaso. If grooves get any rarer than that, the World Wildlife Fund has to get involved.

Citroen BX

While overshadowed by the DS (and perhaps rightfully so; it still looks like a spaceship), the BX deserves more love than it gets. 

It's one of the first cars designed with the help of a computer, and Gandini's design managed to reduce the number of body panels and parts from 531 in the GS predecessor to 334 in the BX, thanks in part to extensive use of large plastic panels. Underneath, Citroen's left-field suspension and drivetrain choices remained, but Gandini's squared-off aesthetic represented a seismic shift from the rounded lines of Citroen's past. 

Fun fact: this is actually a concept car Bertone made for Volvo! Funny how life works out...

Time to book a flight to Italy, then?

Want to see all this in person? Well, it involves a flight to Turin. Unless you already live near Turin. If that is the case, Buongiorno! Can we stay at your house in August?