Classic
Here are 11 baby off-roaders that'll make you smile
The Suzuki Jimny is proof that you don't need a full-size off-roader. You need one of these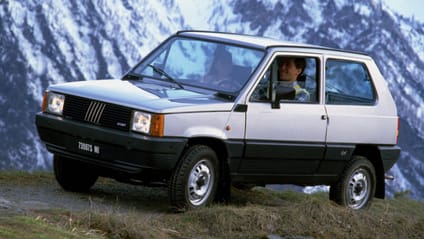 Funnily enough, Suzuki does ok here. Apart from the modern Ignis (brilliant little thing that comes with AWD in top spec trim), it had the Jimny's grandad, the boxy and much modified Suzuki SJ/Samurai. Born in the '70s, it had the same idea as the new Jimny, and although there were some very bad wide-arch things done to them in the late '90s (along with Vitara), I've seen plenty at off-road courses shaming much bigger machinery, even with the SJ413's plucky-but-little 1.3-litre motor.

Advertisement - Page continues below

You knew this was coming. But Guigiaro's Panda, slightly jacked-up and with a Steyr-Puch AWD system from 1983, is perhaps the original autogoat, and the first small, transverse-engined car to feature drive to all the wheels. It even works today in the modern version, because modest dimensions make for easier off-roading. Very popular humblebrag cars for rich people in the Alps.

Another Steyr-Daimler-Puch-equipped car, the Cross Country was based on a Mk2 Golf with Synchro AWD, but jacked up 21cm, and featuring a swing-away rear tyre carrier and bullbars. What's more honest than a hatchback with 4x4? The ones to have are still the Country GTi cars - made with the GTi engine, but only for employees involved in the CC project.

Advertisement - Page continues below

AvtoVaz's Russian (former Soviet) small off-roader for farm use - 'Niva' is the Russian word for 'field'. Square, innovative in its day (unibody rather than body-on-frame, coils, indie front suspension), it's pretty much the definition of honest. In 1977 it's designers wanted to put 'a Renault 5 on a Land Rover chassis' and kind of did, except better. It's still in production.

Fun fact: in Uruguay its called the 'Bognor Diva'. This pleases me more than it should.

AWD short pickup/coupe thing of legend, the BRAT, or Bi-drive Recreational All-terrain Transporter, first appeared in '78. It was called the Brumby in Australia, and all of them came with earlier EA-71 (1.6-litre) or EA-81 (1.8-litre) fours. They are not fast, but on the right tyres, they will literally go anywhere. Oh, and if you need to change a wheel, the spare is under the bonnet.

Basically a people carrier plonked onto a smaller version of the Pajero chassis, the AWD variants of the Delica are blobby boxes on wheels. That's not to say they don't work, though - with the cab-over-engine design and decent space, they're useful workhorses. And because underneath is basically a Shogun/Pajero, all the accessories fit…

New Duster looks set to appear in full 4x4 in the UK for under £12k (£9,999 for the 2WD), which makes it an honest bargain if you need something rugged and useful for not much cash. They do surprisingly well off-road with the right tyres - and that definitely has something to do with the psychological armour of knowing that if you happen to scratch it, it's not a Range Rover.

Advertisement - Page continues below

Land Rover Lightweight/ 1/2 ton

Honest? It's a Land Rover IIA stripped back to the bare essentials originally so that it could be airportable for military use under a Westland Wessex carrier 'copter. Also narrowed by 4-inches over the standard LR, the Lightweight would fit on a standard pallet for transport, and gained some serious angles instead of bodywork. Still works.

Another car with flat panels is the AWD version of Citroen's Mehari. Totally stripped back, the Mehari had plastic bodypanels, a soft top and a small 602cc flat twin. But what makes it amazing off road is the 2CV-derived suspension and 535kg kerbweight. You can tell the 4x4 because there's a spare on the bonnet… if you can find one.

Advertisement - Page continues below

Russian ATV with a snowmobile engine that is basically some wheels with a place to sit. Amphibious, utterly all-terrain, the Sherp is for those people that very much need to get to places: rescue squads, extreme sheep farmers, that sort of thing.

Renault Kangoo Trakka /X-Track 4x4

A bit niche, this. A van-based small MPV with the 4x4 system originally nicked from the bigger Renault Scenic RX4's underneath, the Kangoo Trakka was a shortlived attempt to get some of the same sort of halo as the Panda 4x4. Or just tempt people who wanted an SUV but were on a budget. With a 1.9-litre turbodiesel, it did pretty much everything a Kangoo did, except it could do it down a farmtrack or through a riverbed. Renault still makes it, badged the X-Track. Same idea.