Classic
This might just be the finest E30 BMW M3 you'll ever see
Redux reveals the first of 30 totally revamped E30s. Price? On application…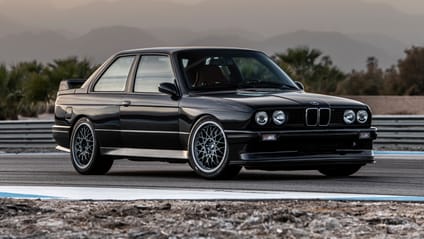 Allow us to (re)introduce you to the E30 BMW M3. One that's been totally revamped from the ground up into a perfect, shiny example of why BMW ruled the Touring Car series back in the Eighties.

It's been built by a company called Redux, and in short, it looks quite magnificent. The idea is to take a 'regular' E30 M3, and restore it using lots of carbon fibre, Alcantara/leather, and a reworked S14 four-cylinder turbo engine. Sound familiar? It's like a Singer-ised E30.

Advertisement - Page continues below

What exactly have they done to it?

You either offer up your own E30 M3 to Redux, or they'll source a decent one for you. What happens next is a thorough inspection… followed by a complete tear down; every single component is removed. Even the shell's paint is blasted off, rusty sections are repaired, and new mounting points are fitted.

Same goes for the engine, I guess?

An astute assumption. The donor M3's 2.3-litre four-pot is stripped down and bored out to 2.5-litres (like the later E30 M3 Evos), with custom rods, pistons and a BMW Motorsport crankshaft. Redux also fits a Motec ECU, a larger radiator, a bespoke engine loom and – if you option the turbo version – a custom intercooler. This one gets 387bhp, and 390lb ft of torque. You don't need any more than that in something weighing less than a shoe.

Advertisement - Page continues below

Wait, there's a turbo option?

Correctomundo. "The decision to offer a turbocharged S14 was not taken lightly," Redux explains. Yes, turbos offer more power and torque, but Redux also made sure each turbo engine was reliable and efficient. The thinking is thus: if BMW had continued developing the E30 M3, this is what it'd look like.

Plus, this little nugget: "This option corresponds with BMW's current range of turbocharged engines whilst also paying tribute to the F1 world championship winning 1.5-litre 'Megatron' turbo engine". Yes, the MEGATRON, people.

So, with said turbo fitted, you get an overhauled gearbox and custom flywheel, heavy duty driveshafts, an upgraded diff, and a hand-fabricated steel exhaust. This car uses a six-speed manual, but future Redux cars will get a five-speeder.

What about the springy things?

All new. EXE-TC Competition Suspension developed a set of three-way adjustable dampers for the 'new' E30. Those are the ones on this particular car, the first of 30 set to be redeveloped. If you want, you can option four-way adjustable EXE-TC dampers. Four is more than three and therefore you must go for four because four is more.

AP Racing six-pot calipers with 330mm discs up front, paired with four-pots and 304mm discs at the back. Again, that's what you see here. Other options include bigger discs, or even ceramic ones if you really want to go wild.

The finish looks great, too.

Once the engine and drivetrain is ready, and all the other dirty oily bits ready, Redux test-fit it all to make sure it… works. Fits properly. Then it's all removed again, and they get to work on the shell of the car.

Everything's primed and block sanded, followed by the application of a water-based 'Glasurit 90' paint scheme. Sandpaper removes any "minor imperfections" – drips and so on – before it's all polished so finely you could eat your Wurst off it.

Advertisement - Page continues below

The owner of 01/30 wanted a track special – it'll spend most of its life at a private members' circuit in Southern California, we're told – hence this first car's track-honed interior. There's a full roll-cage, Alcantara trim over the headlining/door cards/dash/pillars/bench, wool carpets, and a BMW Motorsport golf ball gearknob. Even an AP Racing floor-mounted pedal box. Look closely, and you'll spot a digital dash. Hmm.

As mentioned though, future owners can option a more road-friendly interior, with regular bulkhead-mounted pedals, normal seats, the option of leather or cloth, and so forth. Maybe analogue dials, too...

Those wheels look special.

They're DTM-style aluminium monoblocks, and you are correct, they look special. These are shod in racing slicks, but – again – road cars will get Michelin Sports.

Advertisement - Page continues below

The price is 'on application'. Which likely means quite a lot. Consider the price of regular E30 M3s, and then consider just how much work is involved – each car is said to take between 18 to 24 months to prepare.

Then also consider the rarity. Only 30 will be made: one's already on its way to its new home (this one), and four more have been accounted for.

Plus, it's an M3. "Redux subtly enhances the E30 M3's iconic box-flared silhouette, aiming to capture how BMW might have continued to develop the motorsport legend after the Sport Evolution model.

"In spite of its age," Redux adds, "the E30 M3 continues to be used as a performance benchmark against the latest generation of ever more powerful M2s, M3s and M4s."

On a scale of 1 to 10, how much of an 'oh-god-just-take-my-money' is this?