Classic
This one-off Ferrari 'Uovo' is up for grabs – for about £4m
The 'uniquely styled' racing Ferrari comes from the golden age of road racing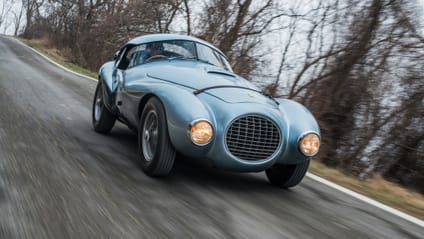 This quirky little slice of Ferrari racing history is the 166MM/212 Export 'Uovo'. Yes, that's its entire name, and each bit is important. If you're game, we'll explain why with a trip down memory lane. 

Photos: RM Sotheby's / Remi Dargegen

Advertisement - Page continues below

Or, if you're impatient, it's because it's a mashup of the 166MM (named after the Mille Miglia) and the 212 Export, crafted in a shape that resembles an egg, or 'uovo'.  

It was built for Count Giannino Marzotto, who was the youngest heir to a massive fortune from his father's fashion and textile business. Since the late 1940s, the Marzotto family was on a first-name basis with Enzo Ferrari, and had bought a number of race cars from the fairly famous car builder.

Advertisement - Page continues below

In the 1950 running of the Mille Miglia – the 1,000-mile race from Brescia to Rome and back – Marzotto won, driving a Ferrari 195 S. It's a fairly infamous victory in Mille Miglia history, but not because, at 22, Marzotto was the youngest driver to ever win. Nor was it because he beat a certain Juan Manuel Fangio to the finish line by more than 20 minutes. It's because he did it all while wearing a perfectly tailored, double-breasted suit. 

The story goes that ahead of the 1950 race, Marzotto was testing the Ferrari 195 and found it slow compared to his old 166. After consulting Enzo Ferrari, Marzotto found out that a Ferrari engineer by the name of Luigi Bazzi had throttled the engine's performance on purpose, to protect him from being overcome by the extra power in the 195 and binning it. With power restored, he went on the beat the fearsome Alfa Romeo 6C Competizione and Jag XK120. 

Giannino's older brothers Umberto, Paolo and Vittorio also competed in the 1950 Mille Miglia – Umberto and Paolo drove 166MMs, while Vittorio drove a 195 S to ninth place with co-driver Paolo Fontana. Now, Fontana was pretty handy, not only as a co-driver and mechanic, but also as a coachbuilder. 

Carrozzeria Fontana is one of the lesser-known Italian coachbuilders but, in the 1940s and '50s, it was responsible for a bubble-topped take on the Lancia Aurelia and a run of Ferraris. Further back, it built a cabriolet based on the famous Alfa Romeo 6C 1750. But we digress. 

Advertisement - Page continues below

Apparently, after winning the 1950 race, Giannino Marzotto went to Ferrari to have a chat about the aerodynamic properties of the current Ferrari race cars. Marzotto thought they needed a bit of tweaking; Ferrari was indignant and said that they were perfect. So, pretty much a standard conversation with Enzo, then. 

And here's where the whole lot comes together. Marzotto decided to show Ferrari the power of aerodynamics, turning to sculptor Franco Reggiani and builder Paolo Fontana to make an ultra-slippery race car to compete in 1951. Combining the 166MM chassis with the larger, 2.6-litre Colombo V12 of the 212 Export meant power was up from about 140bhp to around 165bhp, and aluminium body panels took the weight down. The slippery flanks and wraparound windscreen made it more aerodynamic than its Ferrari-built competition – even though neither were using wind tunnels yet – which meant it was a very competitive car.

Advertisement - Page continues below

In the 1951 race, the 'Uovo' was apparently in the lead by about 10 minutes after 370 miles, when a series of troubling noises forced its retirement. The story goes that it was only a delaminated tyre (they still used cross-plys back in the day) and that the car was in fine mechanical shape. 

This was proven later on, when the Uovo, by this point making around 185bhp, won the Giro di Toscana (Tour of Tuscany). It went on to compete across Italy, and then in California. Since then, it's toured in the Mille Miglia Storica (a slow road tour along the old Mille Miglia route, showcasing the cars that raced) and spent a while in the Ferrari museum. 

And now, you can have it – provided you can scrape together about £4.4m by the time the RM Sotheby's Monterey auction rolls around in August.