Classic
Progress report: BMW 3.0 CSL vs M4 GTS
From the famous Batmobile to the fastest M4, we look at the diet end of Bimmer performance cars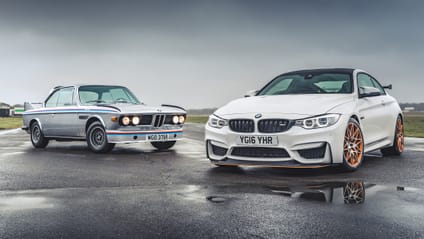 In 1972, ex-Porsche works driver and Ford's former racing manager Jochen Neerpasch – plus a few other brainy people – had one intention: to make fast BMWs. 

Over a few steins, they bashed their big foreheads together until some engineering magic spilled out. It arrived as a single letter: 'M'. 

This gang were the founding fathers of BMW Motorsport GmbH, a go-faster division that's gone on to fill trophy cabinets with umpteen race wins and birth some of the coolest, most iconic road cars ever. 

But before M could go racing, it needed to jump through some legal hoops. The company needed to make a homologation special E9 that superseded the CS, or Coupe Sport. The 3.0 CSL was the result.

Advertisement - Page continues below

If you're not fluent in BMW, you'd assume "L" would mean "long" as for most other makers, but actually it's "leicht", or light. And the CSL's diet was comprehensive. The steel used for the panels was thinner gauge, and the doors, bonnet and bootlid were all formed from aluminium. The window glass was swapped for Perspex, and most of the trim and soundproofing was simply chucked in the bin.

But people don't remember the 3.0 CSL for its lack of weight. They remember the way it looked. The final 3.0 CSLs to be homologated had a – now infamous – illegal aero package that was handily left in the boot for you to screw on yourself. 

Thanks to a huge air dam, blades running down the front wings, and not one, but two rear spoilers it became known (unofficially) as BMW's "Batmobile". 

It's as interesting to drive as it is to look at. But not for the reasons you'd think. Crazy aero and decals denoting lightness often default your brain to think a car is compromised and hardcore. Not the Batmobile. 

Advertisement - Page continues below

The engine doesn't mind being revved out – and sounds good for it – but with the wayward handling, uncommunicative steering and ageing rubber, it's best mooching along as you soak up the world through the four pillarless windows.

Same can't be said for its modern-day incarnation: the M4 GTS.  

Even though the acronym may be different, the GTS takes the same lightweight principles of the CSL but now resides in the land of hardcore.

With a turbo 6cyl engine (with water injection to condense the air for more boost) pumping out 493bhp and 442lb ft, and RWD, the GTS isn't quite the cruiser. The roll cage, fire extinguisher, adjustable suspension, adjustable aero appendages, carbon body panels, straps for door handles, McFlurry cupholder-style door cards and orange paint are a fair warning that this is to be handled with care. 

In the dry, the GTS has a crisp and delicious front end and a rear that bonfires its tyres. In the wet, it's a maniac. Snappy, shouty with wild Hadouken booms from the Akrapovič exhaust, you really need your wits about you. 

We can't help but think it'd be better for more Batmobile injection rather than water. Remember the BMW 3.0 CSL Hommage R concept from a few years ago? That's the modern-day Batmobile we really want. So go on, BMW, make it a reality.