Concept
This 2007 Ford concept makes us want to drive across America
Though it would take ages on account of having to polish it every five minutes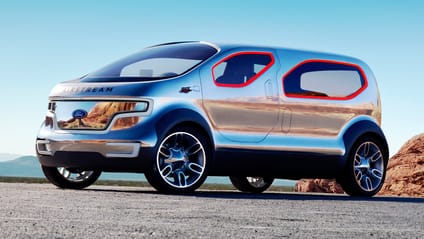 Oh, that's a bit shiny.

It is, isn't it. You'd definitely need sunglasses if you were stuck behind this on the motorway. Although at the same time it would probably help with visibility at junctions, because you could see if any other cars were coming. Fun fact – this concept car was overseen by Peter Horbury, who went from Ford to Volvo to Geely and has just joined Lotus.

Advertisement - Page continues below

What even is it?

It was supposed to be a new type of crossover from Ford – not a fusion of car and off-roader, but rather a blend of family MPV and caravan. No, really. This is the Ford Airstream concept from the 2007 North American International Auto Show in Detroit. It was supposed to evoke a great spirit of adventure and the American dream. Another fun fact – Airstream caravans are nicknamed 'silver bullets' in the US, which is what carmakers have long hoped crossovers would be for their profits.

Was the concept made of aluminium like a real Airstream?

Sadly not. Where proper Airstreams (the really expensive caravans) are made of riveted aluminium, the Ford Airstream (the concept, unknown price) was instead made of concept car-friendly fibreglass, which was slathered in a specially developed paint that made it look like shiny aluminium. There were a few pretend rivets on the car, but they were added as a little easter egg for motor show goers – all 12 of them. Rivets, not visitors, the 2007 NAIAS show was very well attended, with 760,000 people going along to look at things.

Advertisement - Page continues below

Were there any cool concept touches?

There was nothing too conventional about the Ford Airstream concept, but nothing too exciting either. It was an odd three-door van thing, albeit with a giant long powered 'clamshell' door down the passenger side. The interior was said to have been influenced by sci-fi movie 2001: A Space Odyssey – either inspired to look like it, or the designers wanted to watch it and had to hurry and finish their concept before the popcorn was done in the microwave.

What was the interior like?

You would think that a concept with the Airstream name plastered (figuratively) all over it would feature a bed, expensive kitchen and some elegantly appointed soft furnishings, but this Ford effort looked very much like a car inside. Bright red fabric inside made it look like a dessert cafe, with lounge seating and pod-like chairs for the driver and passenger up front. Beating Tesla to the novelty by a number of years, the tall 360-degree screen in the passenger compartment could play a log fire, to help occupants pretend they were warm. A delightful 2007 feature was a screen on the dashboard for the front passenger to "view DVDs and post mobile blogs".

What was under the bonnet?

The powertrain was probably the most excitingly futuristic part of the whole concept – the Airstream featured an interesting plug-in hybrid hydrogen set-up that offered you 25 miles of electric range after charging up the lithium-ion battery and then another 280 miles on top of that thanks to a hydrogen fuel cell that would generate electricity on the move. And all that would come out of the exhaust would be tasty water. Perfect for driving through the desert, although you'd have to dangle out the back with a cup.

Why didn't the Ford Airstream concept go into production?

There were rumours that following extensive testing the car was discovered to be so shiny that it was setting owners' front gardens on fire. Actually we just made that up. At any rate, the Airstream was always more of a concept than anything that hinted subtly or otherwise at an upcoming production model. We'd like to see the idea extended in future concept cars from Ford though – collaborations with Gulfstream and Sodastream await. 

Advertisement - Page continues below

But what if I wanted to get a car like this?

The Airstream had more than a hint of Ford's 2010 Edge SUV facelift about it – that car was only available in certain markets, though. The second-generation was broadly similar and sold in the UK between 2016 and 2019, when it was canned because of poor sales. If you fancy one you'll have to take a careful look round your nearest stockist of largely unloved family carts, where you'll probably end up going home with something cheap and French instead.