Concept
From the archives: a closer look at the Peugeot Onyx
October 2012: hands up who remembers Peugeot's wild copper concept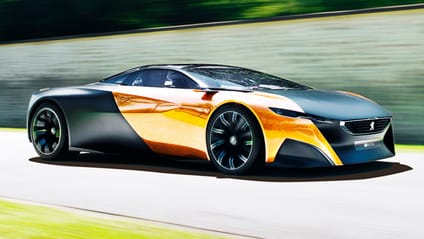 Concerns are being raised about the heat. There are fears that the newspaper might start to lift and peel, that the felt could come unstuck and slip around on its own molten glue, that the poly methyl methacrylate could bend dangerously as it expands. Ripples of heat haze rise from the copper, a wispy warning that the burnished surface underneath is currently at gas mark six and will not look kindly upon a misplaced finger.

No, we haven't accidently stumbled into Beelzebub's craft workshop or a particularly extreme episode of Blue Peter. This is a concept car. One that really is made from paper and felt and copper, and is now in danger of melting back into its constituent elements under the sun's punishing attentions.

It's a bit harsh, considering this is the first time the Peugeot Onyx has ever been outdoors. OK, that's not strictly true. It's the second time.

Words: Ollie Marriage
Photography: Lee Brimble

This feature was originally published in the October 2012 issue of Top Gear magazine

Advertisement - Page continues below

The first time was yesterday, when Peugeot's new supercar concept put in some laps of the test track here. Really. "It did 180kph [112mph] yesterday. I was trying to follow, and I did follow for a while, but he was still in first gear, and then on the straight he was 'pffft' gone. And 180kph is only half what it can do." Gilles Vidal is director of style at Peugeot, and the man in overall charge of the Onyx project. Yesterday was a good day. "Actually, it's got the hybrid V8 and gearbox from the Le Mans car, and it drives... like hell!"

Let's pause there for a second, because you'd be forgiven for assuming at this juncture that, since it pulled out of endurance racing last year, Peugeot has just found something creative to do with its old Le Mans cars. New bodywork over racing underpinnings, et voilà, a supercar concept. Back to Vidal: "The mechanics are from the race car, but the tub is bespoke to the concept car. I think it's the first time a designer has designed the chassis with the engineers, with the idea of making it look beautiful everywhere. I could say for this car that there is exterior design, interior design and chassis design."

Advertisement - Page continues below

In the show-but-no-go world of concept cars, this is called going the extra mile, but it still raises the question of what Peugeot is doing mucking around with supercars in the first place. "It's still a fantasy for everybody, even though we are in an era of city cars and green cars," Vidal tells me. "It creates a buzz, and it's a strong area for innovation, so it's legitimate for Peugeot, and the engine we stick in it is ours."

But it won't go into production - after all, how on earth would it slot into a range that currently peaks with the RCZ? Instead, see this as a test bed for new ideas and directions. And, yep, although this is a bum-lower-than-feet supercar, that includes the styling.

Is it readily identifiable as a Peugeot? Personally, I'm not sure. I see occasional hints of Honda NSX, but, aside from that, it's not readily identifiable as anything. The car's exterior designer, Sandeep Bhambra, puts it into context: "The first thing you see is the silhouette. For us, this is not a Ferrari silhouette, which is a bit more soft with a wavy shoulder; it's not a Lambo silhouette, where the roof continues all the way to the back; it's a Peugeot silhouette. So, if you go back to the Oxia or to the RCZ today, there are links between this and those cars. The big deck at the back is a Peugeot feature, and you see the bonnet, the way it goes straight and then dives down? That's a Peugeot feature - the 504 had it, and that's a long time ago."

Overall, it's a clean shape: modern and unadorned. There are few scoops, holes or ducts in the bodywork, although the team insists there's enough cooling for the car to be able to run properly without the V8 turbo-diesel cooking under the carbon rear deck.

Advertisement - Page continues below

Moreover, it points to a new direction for Peugeot design under Vidal's leadership. But what direction is that? Clean, unadorned lines might suit a supercar but, translated on to a supermini - Peugeot's bread and butter - might they not come across as rather plain? There are undertones here, though. The Onyx certainly isn't a shouty, brash supercar. It's more considered, cleverer; the shaping is elegant - it has confidence in itself. And that makes it typically French.

Still, were it not for the copper, I suspect much of the car's visual impact would be lost. And it really is copper. Untreated, raw copper, 0.8mm thick and handbeaten by a craftsman ("We got a guy in from outside - a real genius," says Vidal) into the complex shapes that contain both gentle curves and sharp creases. It's not painted or lacquered and, over time, its colour will change as it oxidises with the air. It might end up green. All part of the plan.

Advertisement - Page continues below

Just look at the size of that door panel, too - big enough to necessitate a whole new method of opening. The designers didn't want to break the copper panel with a vertical door shutline behind the front wheel, so the panel progressively detaches itself from the frame as the door is opened, overlapping the 20-inch, carbon-spoked wheels. It's a neat trick, one that demands your full attention and has you opening and closing the door a few times before you actually bother clambering into an interior clad largely in felt - boiled wool to you and me. Glued in place with no visible joins, it's another natural touch in a car that clearly values such matters, although gripping a woolly steering wheel that seems to be developing alopecia under my sweaty palms isn't my idea of a good contact patch.

The newspaper is much more successful. You won't spot it because it looks like wood, right down to the grain and texture, but there it is, forming the dash and door tops, newspapers that have been pressed so hard together they've been reconstituted back into wood and can be cut into blocks, milled and carved, just like real timber. Only with a past life as a tabloid.

These are materials that Peugeot is actively looking to use, Vidal admits, just as they're using the Onyx to demonstrate new methods of presenting data and information to the driver. "Amalgamating digital and analogue" is how Vidal pitches the pop-out 3D keys that surround the instrument binnacle - as speed and rpm rise, so more buttons pop out. Elsewhere, though, button count has been kept to a minimum. The heating controls are like silver torpedoes - you push, pull and twist them to change the settings, and they're handily mounted on the centre console, either side of a large crystal tank.

This contains fuel. Being a concept car, this is not a lie. You can see the liquid sloshing around in there, the rest of the fuel tank is concealed down behind the seats. Peugeot has also developed a scent for the Onyx. Again, this is not a lie. It's a concoction of all the natural materials that have been used in the car, formed into a perfume and held in a separate reservoir within the crystal, from where it's blown through the cabin to tantalise your nostrils. How tantalising, I can't say, as the scent has yet to be added to the blown-crystal tank.

When we see it, there are one or two other tweaks the design team need to make before the car is presented to the public at the Paris motor show. Right now, it's far, far away from prying eyes at Peugeot's 'fortress within a fortress' - PSA's La Ferté-Vidame facility, two hours west of Paris and the largest enclosed estate in Europe. At the centre of this parkland is the design team's second home - a glass-walled studio that looks out over a secretive acre of gardens and trees. It's bliss.

The Onyx sits comfortably in this secluded environment, just as I suspect it'll sit comfortably under the lights and pizzazz of the motor show, lights that will pick out the carbon-fibre frame through the transparent one-piece roof and test people's perceptions of what Peugeot stands for.

It's a big step, a Peugeot supercar, but this one has been executed with real skill. It looks achievable rather than outlandish and, because the exterior styling isn't overpowering, the materials and interior have a chance to make an impression. It's all rather complementary. Vidal terms it "coherence", and it's one of the things he's most proud of. If it were me, I'd be happiest that the car had proven itself able to cope with the past couple of days: being wrung out on the test track, then left outside and baked senseless in 35°C heat. That speaks volumes for the depth of engineering - never mind design and styling - that has gone into the Onyx.

You get the sense it's important that this car works and can prove itself to be something more than a styling exercise. Despite its detachment from the current model line-up, the Onyx shows aim and purpose, and has a clear sense of direction. In that, this concept car can be seen as a metaphor for the future of Peugeot as a whole.