Concept
This BMW M3 pickup was the best car-themed April Fool gag ever
But was BMW the bigger fool for not putting it into production?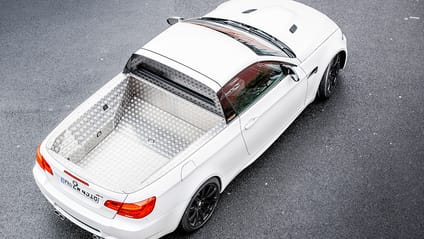 What's this crazy looking cut 'n' shut?

It might well look like someone has taken an indiscriminate hacksaw to an otherwise perfectly serviceable BMW M3, but this is actually an officially sanctioned project, emerging from deep in the bowels of the M division in 2011, shrouded in much secrecy. There was a bit of fanfare around its launch, but it all turned out to be a bit of a joke. 

Photo: Florian Jäger

Advertisement - Page continues below

A joke? There's no need to be mean.

No, it was literally a joke. An April Fools' joke, in fact. It was put together by a wacky team of engineers at BMW M GmbH development centre near the Nürburgring, where every car has to be driven before going into production in order to get its official 'goes round corners' certification from the government. 

Chuckling the whole time, those M-badged funsters then proceeded to hollow out the back of an M3 saloon like a Halloween pumpkin, carving out space for a pickup bed. The cheeky scamps nicknamed it Piccar, because it was a pickup, but a car.

It was something of a tribute to a similar hack job on a 1986 BMW M3 that engineers created for carrying stuff round the factory. 

Photo: Florian Jäger

Does the M3 Pickup actually drive?

It's a fully operational vehicle – in fact, Top Gear took the car out for a spin (not literally, but it was close) back in 2013, wrenching it up to 150mph on the autobahn, but not before a stern warning from the engineers to take it easy. Apparently removing all the weight from the back end of a rear-wheel-drive car isn't particularly helpful in traction-limited situations. Or even traction-plentiful situations. 

Photo: Florian Jäger

Advertisement - Page continues below

What's under the bonnet?

Perhaps the most exciting part of the M3 Pickup to modern tired eyes is its 4.0-litre V8 petrol, pumping out 414bhp and 295lb ft of torque sufficient to reach 62mph from rest in a mere 5.1secs. Presumably without a load of crap in the back. Rather sensibly top speed is limited to 155mph. Fuel consumption of 24.6mpg is nothing to crow about, but actually marginally better than a 3.5-litre V6 Ford F-150 truck. The BMW might have a smaller payload, but we know which one we'd rather have.

Are there any nifty M touches?

Cementing the fact that this is a fanciful vehicle is the presence of a six-speed manual gearbox. A self-shifting M car! That's when most people would have twigged this was in fact a spot of leg-pulling from the Bavarians. BMW was actually quite proud of the fact that the Pickup was 50kg lighter than the M3 Convertible. Indeed, you could shave a further 20kg off that by removing the targa panel over the cockpit. 

Photo: Florian Jäger

Can it actually carry stuff?

BMW says that the M3 Pickup could manage 450kg on its rear axle, which for reference is the equivalent of 450 one kilo weights. You know, like you used to use in school. Alternatively, there's space for 20 golf bags if you're into sport – this is M division's most practical ever vehicle, and the first to emerge from its sporting depths with a towbar as standard. The pickup bed is covered in high-grade aluminium sheeting, for maximum practicality and peace of mind. 

Why didn't the BMW M3 Pickup go into production?

While many farmers and countryside dwelling folk tend to appreciate the practicality and go-anywhere ability of a utility pick-up, there's no indication that the M3 Pickup would have been particularly useful, or indeed able to go… anywhere. Take one of these to a farm and you'd be doing helpless donuts in the top field until the inside of the windscreen was covered in the stodgy remains of your cooked breakfast.

Advertisement - Page continues below

Whatever happened to the BMW M3 Pickup?

Like its infamous predecessor, the M3 Pickup has been relegated to a life of hard labour at the BMW M factory, acting as a workshop transport. Actually, that was the plan all along, someone just thought it would be sehr witzig to publicise the car on 1 April. The 1986 car was wheezing along and someone thought it would be useful to create a new version. The M3 Pickup was officially certified for the road as part of its factory job, cementing its status as M's first and so far only truck model. Fingers crossed, eh?