Concept
Concepts that time forgot: the Toyota RV-2
Weekend getaways have never been so beige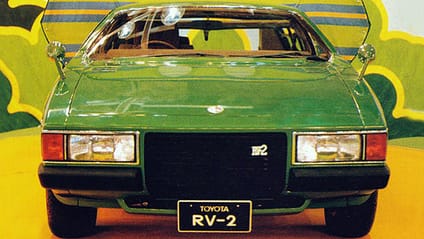 What is this magnificent slice of Seventies heaven?

This is the Toyota RV-2 concept, a sleek camper van the likes of which you've never seen before. It was first revealed at the 1972 Tokyo motor show, and in a timely demonstration of how far the industry has progressed in nearly 50 years, the theme of the show was 'emission reduction'. Phew, glad we've solved that problem.

Advertisement - Page continues below

It certainly doesn't look like any Toyota I've ever seen...

Indeed – this doesn't look like anything you've ever seen. One popular publication described it as a 'jazzy-looking station wagon', a phrase never associated with Toyota since. 

The clamshell roof in the rear section of the RV-2 opened up to create recreational space for the four passengers, with stripy green canvas fitted for maximum practicality. It really did look jazzy. Toyota reckoned four people could sleep in the RV-2, but you'd imagine they would have to know each other very well. It was the Seventies, after all.

What was the point of the RV-2 concept?

Toyota has long been seen as a staid supplier of white goods, despite many and varied attempts to provoke a racier image. There were some particularly racy attempts with the RV-2, such as a 1973 feature in Penthouse magazine detailing the 'perfect recreation vehicle' illustrated with a couple enjoying a trip in the car in just their pants. 

Advertisement - Page continues below

What's the interior like, could I take it on holiday?

Well, why not? This was the era of free love, disco beats and the global oil crisis. No wait, ignore the last bit. As well as the four onboard beds, the furniture could be yoinked out during waking hours to provide a delightful table and bench set for meal times. Strangely there's nowhere to cook any food, but someone has probably got some sandwiches in their bag. 

What's under the bonnet?

In keeping with the racier image the RV-2 was trying to convey, Toyota fitted the car with a 2.6-litre SOHC straight-six pumping out a heady 130bhp, paired with a five-speed manual transmission. The RV-2's top speed was said to be 118mph, although this was of course a vehicle designed to be enjoyed at a standstill.

Any fancy concept car touches?

The RV-2 was an eminently practical concept car – no nuclear engine underneath the bonnet, no seats that transform into other cars. The steering wheel doesn't even detach to make up a five-place dinner set. Bit of a missed opportunity there, actually. 

You might think that the brown interior (complete with shagpile carpet) and green striped tent canvas are a bit wacky, but it turns out that's just what people were into back then. You can only wonder. 

Why didn't the Toyota RV-2 go into production?

The car appeared at the Tokyo motor show in 1972 and then the following year's New York motor show, with Toyota poised and ready to nudge the RV-2 into production if it got a warm reception. The firm even printed up a nice brochure for the US market, but it seemed that the cheque books weren't quick enough to seal the deal.

Toyota did try another toe in the water in 1987, with the slightly more practical Camp Mate, based on its third-generation LiteAce van. It had 4WD, an expanding living room and a toilet, but the Camp Mate didn't get the production nod either. 

Advertisement - Page continues below

What if I wanted a Toyota camper today?

Sadly you have to look a little beyond a strictly Toyota offering if you want some camper action these days – as far as Kanagawa in Japan, in fact. There you'll find the Carinterior Takahashi, where the workshop wizards have come up with a tumourous add-on for your Prius they call the Relax Cabin. Excitingly, especially in the light of 1972's hot topic of emission reduction, this is possibly the world's first hybrid camper van, too. But yeah, we'll take a hotel thanks.