Concept
The Corvette could've been much cooler based on this 90s Chevrolet concept
Sadly all the high-tech kit was too expensive for the US sports car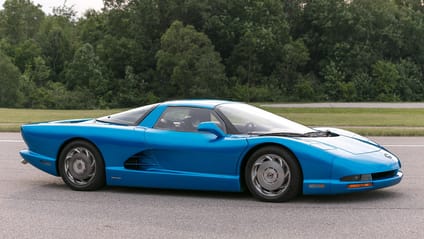 What is this fancy car of the future?

This is Chevrolet's CERV III, which stands for Corporate Engineering Research Vehicle Three. One of those 'does what it says on the tin' jobs. It was unveiled at the Detroit motor show in 1990, as cars started to move past the angular, wedgy designs of the Seventies and Eighties into something a bit more fluid and high-tech. 

Advertisement - Page continues below

CERV III? What about the other two?

CERVS I and II were test vehicles from 1960 and 1964 respectively, the first one for an open-topped racecar vibe and the second one more of a prototype sports racer. There was even a CERV-4 in 1992, which was a test mule for the 1997 Corvette C5, but that stood for Corvette Engineering Research Vehicle, so it really should have been CERV-1. That said, the first two CERVs were actually Chevrolet Engineering Research Vehicles, and it all gets confusing. Clearly in 1990 someone realised that the Chevrolet Chevrolet Engineering Research Vehicle was just too strange, then whoever named the Ferrari LaFerrari asked them to hold their prosecco.

What were the CERVs for?

Number one was designed by the clever fellows at Chevrolet Engineering Center in Warren, Michigan. It was supposed to be a pure sort of car from which the engineers could test all sorts of handling traits and work out how to put a performance car together. Number two was more about performance, its meaty V8 taking it to 60mph from zero in less than three seconds and then on to a top speed of 210mph. The third research vehicle was about bringing together a package of the latest high-tech features to create a Really Fast Car. 

Advertisement - Page continues below

Was there exciting tech under the CERV III's skin?

CERV III was a smorgasboard of exciting tech – it had rear-wheel steering, computer controlled active suspension (very early Nineties F1, that) and used such exciting materials as aluminium honeycomb-reinforced carbon fibre, Nomex and Kevlar for light weight. The suspension was even made of titanium. Someone was going all out to win the exotic materials round of Top Trumps, but the ultimate concept car touch is, as we all know, the scissor door, and the Chevrolet CERV III featured not one, but two of those. The show-offs.

What was it like inside?

The CERV III was dare we say it rather dull inside, reinforcing its prototype engineering chops. These guys weren't going to let designers ruin their fun with all their premium materials and pleasing lines. The CERV III had dials and it had buttons, but that was really it, nothing to see here. Which, had the CERV III been planned for a production run, would have really put the pressure on the driving experience to distract you behind the wheel. 

What was under the CERV's bonnet?

Now this is more like it – the CERV III wasn't just a pretty face. But the engine wasn't under the bonnet – gasp – it was toward the back of the car. The Chevrolet engineers were going a bit crazy with this one and thought they quite fancied making a Corvette that was mid-engined. They shoehorned a Lotus-fettled 5.7-litre twin-turbo V8 behind the seats with its 650bhp and bad attitude, and the car was tested from 0–60mph in 3.9 seconds with a top speed of 225mph. In your face, Jaguar XJ220. The CERV III had some fascinating details – it was four-wheel drive, to get the power down, and featured dual disc brakes on each wheel, for added stopping power. The six-speed auto gearbox seems normal on paper, but was actually Chevrolet's three-speed Hydramatic box linked to a custom-built two-speed transmission, all controlled by computer. Bonkers.

Wouldn't this have made a lovely Corvette?

Yes indeed, it would have made a delightful Corvette. In fact, when the CERV III project was started, the C5 Corvette was supposed to be arriving in 1993. You can see some of the C5 in the roof and bonnet of CERV III, but the production date slipped back further and further as Chevrolet suffered financial woes and the engineers were forced to strip back all of the fanciness from the Corvette and it ended up looking much like the fourth-generation model. In fact, Chevrolet's flagship sports car wouldn't go mid-engined until 2020. 

Advertisement - Page continues below

Can I drive a Chevrolet CERV III?

The original prototype now sits inside Chevrolet's Heritage Center, which isn't open for individual visits but does occasionally open its doors for group tours and conferences. You've probably missed the chance to drive the car too, because it featured in 1990 videogame Test Drive III: The Passion, which ran on MS-DOS (look it up, kids) and was rated by US mag Computer Gaming World as a 'fine driving simulation'. So if you really want to experience the raw power of a high-tech, mid-engined Corvette then your best bet is to find yourself a brand new model. It only took 20 years, but the future got here eventually.