Concept
The Dacia Manifesto Concept is a rad adventure buggy with airless tyres
It won't make production, but Dacia does say some bits of the Manifesto will live on…
What would happen if you took everything you love about Dacia – the chunky looks, back-to-basics interiors and no-frills fun – and chucked it all into a concept car that had no intention of ever making production? Well, this should give you some idea. Welcome to the wild Manifesto Concept adventure buggy.
Just to reiterate, the Manifesto will absolutely not make production. You didn't really think Dacia's Renault overlords would sanction a doorless, windscreenless dune basher for its bargain basement brand, did you?
Advertisement - Page continues below
It is properly cool though, with chunky airless tyres and lots of unpainted plastic on the wheelarches and rugged lower sections. Said plastic is actually Dacia's newest material Starkle. Rubbish name, but then it is made using actual rubbish. It's essentially lots of old plastic squished together to make new stuff, with the natural fleck left in it to give it a unique finish. It'll be used on the new Duster that'll arrive in 2024 and the production version of the Bigster – scheduled for a 2025 arrival.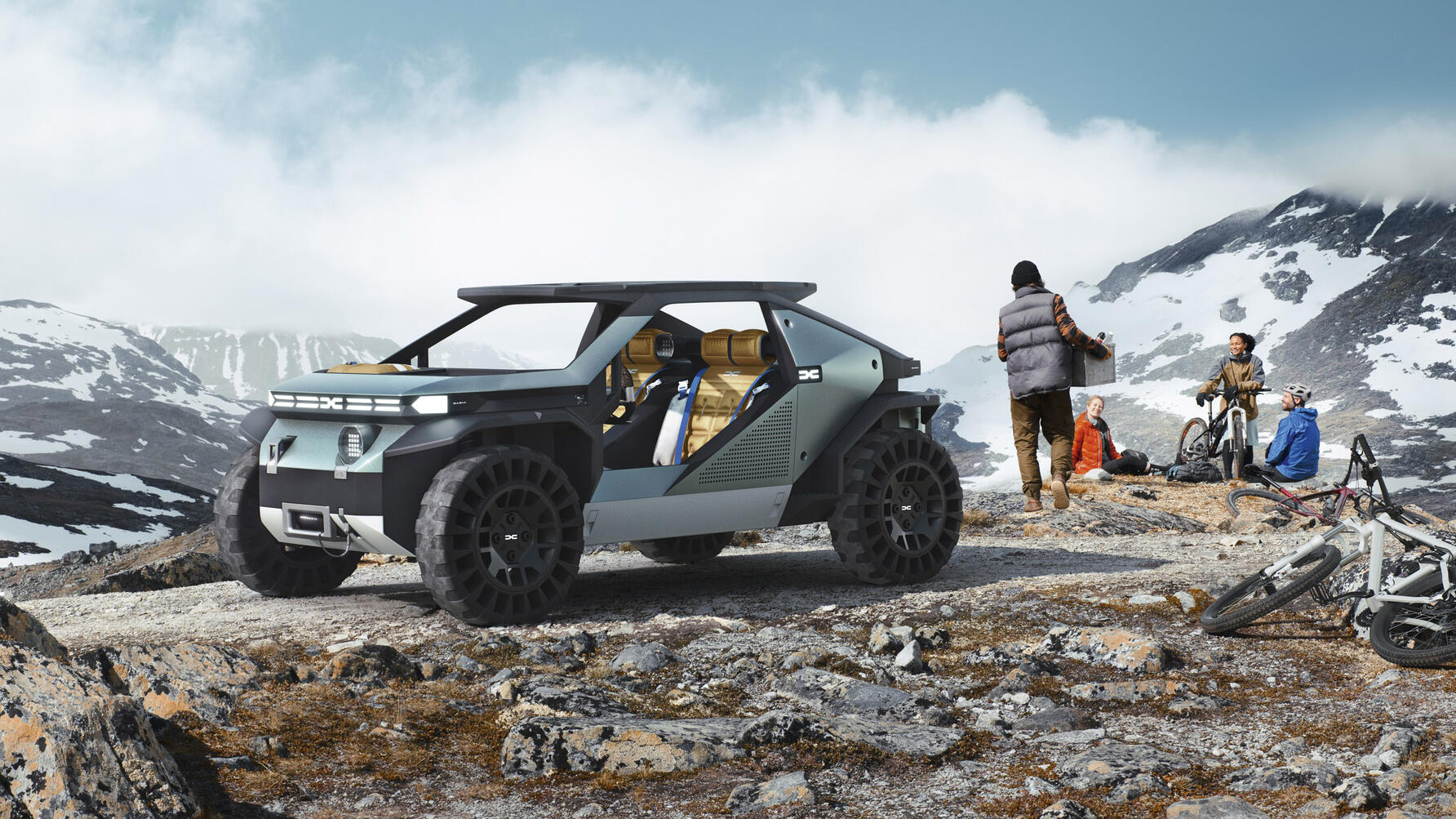 What else on the Manifesto will make it to market, then? Well, look inside and you'll see that there's no big central infotainment screen. That's part of a wider Dacia commitment to continue to get drivers to use their smartphones as infotainment devices (at least in base spec products) and to improve the service they get if they do. There's also something called the YouClip that can be used to attach a number of different interior accessories/cupholders. 
What won't be seeing production? The airless tyres are definitely a long way off, and the single stripped-back headlight (that can also be removed and used as a torch) probably wouldn't please fellow motorists who mistake you for a motorbike in the dark. The interior is futuristic too, with a recycled cork and rubber dash that you can pin maps too in case you want to go really remote. It's completely jet wash-friendly too – as long as you remember to take out the brilliant seat covers which double as sleeping bags. The flat rear section can be used as a work bench, with a massive auxiliary battery out back to power tools or perhaps even whole campsite. 
Advertisement - Page continues below
There's no word on what powers the Manifesto itself, but the chief of Dacia's new concept division (known as Advanced Dacia) Romain Gauvin tells TG that all of the company's cars must be designed to take all powertrains, and this is no different. Want a little 3cyl turbo? That should fit. Want to explore in silence? Plug in a few batteries and an electric motor for zero emissions adventures. 
It's worth mentioning the name too. It's called the Manifesto as Dacia reckons this embodies everything the company wants to be. "Dacia is emphatically reaffirming its unrivalled vision of an essential, cool, robust, affordable and environmentally efficient car," reads the release. TG approves. 
Should Dacia actually be putting this Manifesto into production?
Top Gear
Newsletter
Thank you for subscribing to our newsletter. Look out for your regular round-up of news, reviews and offers in your inbox.
Get all the latest news, reviews and exclusives, direct to your inbox.