Concept
Here are Mazda's top eight rotary-powered concept cars
Yup, it's the best Wankel-engined concept cars that never were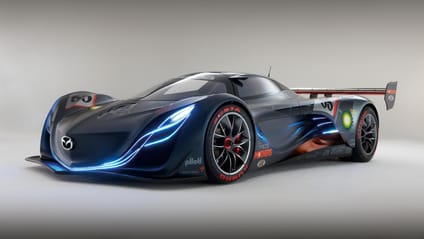 Mazda did not invent the "Wankel" rotary engine (that was a German man called, unsurprisingly, Mr Wankel), yet it is undoubtedly the car manufacturer most associated with this type of motor. Because though the design was licenced to pretty much every mainstream car manufacturer back in the Sixties, only Mazda ended up building Wankel engines in big numbers.

Starting with the Cosmo in 1967, Mazda has built more than two million rotary-powered cars. The last rotary-powered Mazda, the RX-8, went out of production in 2012. But the tech is coming back – the 102-year-old company will build a version of the new MX-30 EV that uses a small rotary engine as a range-extender.

Of course for every rotary-engined Mazda that did make production, there is an excellent car that only ever existed as a concept at a motor show, a development prototype or the figment of a designer or engineer's imagination. These are those cars.

So allow us to present the rotary-engined Mazdas that never were, but really ought to have been.

Advertisement - Page continues below

Revealed at the 1970 Tokyo Motor Show, the RX-500 celebrated the company's half-century. Power came from a mid-mounted 982cc twin-rotor Wankel that could rev to 15,000rpm, while 247bhp and a kerbweight of just 850kg meant a claimed top speed of around 150mph. The RX-500 did butterfly doors long before the Lamborghini Countach, and out back had taillights that changed colour depending on whether the car was accelerating, braking or cruising. You can read more about it by clicking on these blue words.

The MX-03 was as high-tech as cars got in the mid-Eighties. The fully-functioning 2.0-litre, tri-rotor, 315bhp concept had four-wheel steering, four-wheel drive, a head-up display and an aviation-inspired yoke instead of a conventional steering wheel. Super-slippery aero (see the single wing mirror?) meant a top speed of around 180mph, and 0-60mph was dealt with in less than five seconds. 

Advertisement - Page continues below

Shown at the Tokyo Motor Show in 1987, the front-engined, rear-drive MX-04's USP was swappable fibreglass body panels. Said panels meant the MX-04 could be whatever you wanted it to be, from the glass-roofed coupe pictured…

…to a windscreen-less, open-sided roadster. By 1987 development of the MX-5 was already well underway. Just imagine if we'd got this instead of the sports car that eventually emerged in 1989. Would the MX-04 have been as popular as the MX-5? 

By 1995 the RX-7 had become a complicated, expensive item. So for the 1995 Tokyo Motor Show Mazda went back to basics, revealing a front-engined two-plus-two that weighed a little over a tonne. Power came from the nat-asp rotary that would later power the company's last rotary-powered production car, the RX-8 of 2003. In the RX-01 it made around 220bhp and was mounted way back in the chassis to make room for a clever pass-through front spoiler arrangement. 

While the RX-01, MX-04 and MX-03 concepts all actually worked, the Taiki… didn't. The teardrop shape and fared-in rear wheels meant a low drag coefficient of just 0.25, and power was supposed to come from the RX-8's 'Renesis' type rotary. Looks cool in a completely pie-in-the-sky, mid-Noughties concept kind of way.

Advertisement - Page continues below

This, Internet, is the one. Based on the chassis of a Courage C65 LMP2 car and with a 450bhp triple-rotor engine running on pure bioethanol, the Furai was the defining concept car of its era. A total masterpiece. Back in early 2008 Top Gear magazine was the only car magazine in the world to get a drive in the Furai. It didn't end well…

2014's LM55 was among the earlier 'Vision Gran Turismo' cars created by manufacturers for the Playstation sim. And to this day one of the better-looking. Its name comes from the no. 55 787B, which scored an unlikely victory at Le Mans in 1991. No working car was ever built, but a full-size model sat atop Mazda's sculpture at the 2015 Goodwood Festival of Speed. 

Advertisement - Page continues below

One of the most beautiful concept cars ever? Quite possibly. The RX-Vision dropped at the 2015 Tokyo Motor Show, featuring the ultimate expression of Mazda's 'Kodo' design language and built to fit a next-gen 'Skyactiv-R' rotary engine. Last we heard of the RX-Vision it was on track to make production sometime in 2020, just in time for Mazda's centenary. You will have noticed that it is now 2023 and the RX-Vision has yet to appear.

Ever the optimists, we've still got our fingers crossed it, or something that vaguely resembles it, will one day be offered for sale...