Concept
Peugeot concept cars: 21 of the wildest
Peugeot loves a mad design study. Here are its most head-scratching efforts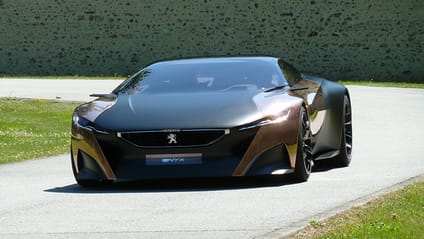 About as '80s as humanly possible, though with less of the fluorescent pink 'n' green stripes and frizzy hair, and more of the 600bhp-turbocharged-four-cylinder-engine and four-wheel-drive.

The Quasar was unveiled at the 1984 Paris Motor Show, and sure, the scissor doors might have been concept fluff, but the mechanicals very much weren't. The Quasar's drivetrain appeared in the 205 T16 WRC car which, as you'll know, was quite a thing.

Advertisement - Page continues below

Built for the 1986 Paris Motor Show, Peugeot wanted to utilise the then-new technology of 'computer aided design'. Yep, this Proxima was designed using computers, with a body made from a "range of composite materials", solar cell tech to power the ventilation system (think about it), and, um, a 2.8-litre V6 producing a nice, round 600bhp.

600bhp appeared to be Peugeot's go-to number for the 1980s. Accounting for inflation, that's approximately a million horsepower in modern money. This Oxia GT car, designed to rival the world's supercars of the time, came with a mid-mounted 2.9-litre V6 producing a heady 600bhp, together with four-wheel-drive and four-wheel-steering.

The body was made from carbon fibre and Kevlar, bonded onto an aluminium honeycomb chassis, while inside it was all leather and aluminium.

Advertisement - Page continues below

Developed in conjunction with the Asphalte for the 1996 Paris Motor Show, and in no way connected to Volkswagen's diesel-engined leviathan, this was an electric off-road vehicle "with respect for the environment". Just look at it's lil' face!

A small roadster designed to give the driver "similar sensations to those found when riding a motorbike", though here with wider front wheels than rear. Right. We'll let the bikers amongst you decipher that one...

The innuendo contained within Peugeot's catchphrase for this 806 runabout - 'pleasure boating' - almost caused a cataclysmic memory overload for the collective Top Gear CPU. While we investigate its childish, smoky ruins, we'll tell you that this car, shown at the 1997 Frankfurt Motor Show, was built around the 806 MPV, as a "future leisure vehicle". There was much teak, and talk of an 'upper deck'. Fnrr.

This concept made its debut at the 2000 Geneva Motor Show, to showcase the new 607. Underneath sat a front-mounted 3.0-litre V6 petrol engine with 210bhp, and the running gear from that aforementioned Pug.

Advertisement - Page continues below

One of four 'city toyz' (yes, with a 'z', for reasons that aren't particularly clear) revealed at the 2000 Paris Motor Show, the hideously named Vroomster was built to reflect the "diversity of the automobile and its potential customers". Underneath sat the engine from a 206, and above? You'll notice that rather revolutionary windscreen concept. Just watch it doesn't TAKE YOUR EYE OUT.

Now we're talking. This small, mid-engined coupe was Peugeot's answer to the four-seat sports car. There was heavy use of carbon fibre and honeycomb panels, all wrapped around a steel shell, along with a 180bhp 2.0-litre 16v petrol engine.

Peugeot reckoned on a 0-62mph time of around six seconds and top speed of 143mph. Inside, you'll find aluminium, leather and steel, together with carbon fibre bucket seats and racing harnesses.

Of course, years later, we'd get the RC-Z...

Advertisement - Page continues below

A Peugeot GT car with a socking great, 500bhp V12: what on earth were they thinking? "As in the time of the great coachbuilders, it combines a large capacity engine within a classical shape," Peugeot noted at the time. Ah, that'll explain it.

That V12 - a 6.0-litre V12 for good measure - was mounted up front, but crucially behind the front suspension, driving that monster power output through a six-speed gearbox to the rear wheels. The kerbweight? A lissom 1400kg.

The shell itself was built from carbon fibre, with side exit exhaust pipes, 18-inch wheels and a digital dash display in an analogue style. It even got a touchscreen.

Aww, it's only a tiny bit adorable, no? The Moovie, unveiled at the 2005 Frankfurt Motor Show, aimed to explore the future of urban mobility and city cars. It looked like a cross between a computer mouse and a Wheelchair From The Future.

This was a three-wheeled roadster featuring the first engine built in co-operation with BMW: a 170bhp petrol engine accessed via a six-speed manual gearbox using wheel-mounted paddles.

The overall design was meant to echo Peugeot's sporting prowess - of which it has much to shout about - and was revealed to the world at the 2005 Frankfurt Motor Show.

Forgive us for a moment, but holy c**p. This was unveiled at the 2006 Paris Motor Show, and fitted with the 5.5-litre diesel V12 from the 908 HDI Le Mans racer, here producing a nice, round, 700bhp. It was mounted in a 'rear central transverse position' and as low as possible, hooked up to the rear wheels with a six speed sequential gearbox on board for good measure.

And the looks? A four-door, 'lion's character', is what Peugeot were aiming for. Bloody terrifying, if you ask us.

This EV'll hit a standing quarter mile in 14.4 seconds, and a mile in 41.09 seconds at a speed of 87.6mph - just two of the six international acceleration records it took for electric-powered vehicles when it was launched in 2010. And it set a 9:01.338 lap of the Nurburgring, which was record-breaking for an electric vehicle back in 2011.

It also looks properly bonkers. The seats are in the doors.

Like any self-respecting modern concept, it's an eco-sports car. The engine is the 1.6 turbo we know well, but hopped up to 218bhp, driving the front wheels. The rear wheels get their own electric drive, which in the SR1 means a combined 313bhp and, of course, four-wheel drive.

Oh, and it looks bloody gorgeous, too.

MPVs aren't the most inspiring things, so Pug decided to have a stab at making them less dull. And tall. The HX1 stands just 1.3 meters high, but measures a huge 1.9m wide, and 4.9m long. Which means nothing, until you compare it to, say, the 1.1m tall, 2m wide, and 4.8m long Lamborghini Aventador...

There are also two extra chairs moulded into the back of the front seats, which can be electrically unfolded and configured into a centre row, based on the same principle as the HR1. This has to reach production one day.

Surely the pinnacle of Peugeot's creative nous? This is a properly astonishing thing. The dashboard's made of crushed newspaper, the seats are made of felt, and all that stuff that looks like copper? Well, it's, er, copper.

This concept is no 5mph special either. Under the steampunk surfacing there's a 600bhp, 3.7-litre V8 diesel engine taken straight out of the 908 Le Mans. Even with all the copper bodywork, the Onyx only weighs 1,100kg, so its power-to-weight ratio is 545bhp/tonne. Slightly more than a 'normal' Bugatti Veyron.

It gets the same 270bhp, 243lb ft 1.6-litre four-cylinder that's in the RCZ R. If you do some Top Gear maths, that equates to 170bhp per litre, just eight bhp short of Merc's A45 AMG. It's linked to a six-speed manual gearbox and uses a Torsen differential to try get that power through the front wheels and on to the road.

Structurally, the roof and boot are the only parts that have stayed the same as the production model. The doors, front wings, sides, sills, bonnet and bumpers are all new and made of carbon fibre.

Peugeot Sport, the people behind the blisteringly quick 208 T16, have also had a hand in developing the car, widening the track by 30mm and lowering the car by 26mm to improve cornering.

This is the follow-up to the 2012 Peugeot Onyx concept we so loved here at TG Towers. It's called the Peugeot Exalt concept, and features sharkskin.

Well, not actual sharkskin, but a textile inspired by sharkskin. Like the Onyx before it, the Exalt utilises many unusual materials in its construction. It measures up at 4.7m long - a little longer than a BMW 3 Series saloon - and is a five-door hatchback-cum-saloon that takes its design inspiration from French cars in the 1920s and 1930s: all bare-steel bodywork and hand-formed. It stands just 1.31m high, too, complete with 20in concept wheels.

Powering it is Peugeot Sport's 1.6-litre four-pot petrol engine, here developing 270bhp and coupled to a six-speed automatic gearbox, and a 70bhp electric motor on the rear axle that boosts power, or harvests energy during braking. No word on performance, but it's not going to be lightspeed with all that weight.

Underneath that striking body sits a 1.6-litre petrol engine with 270bhp borrowed from the Peugeot RCZ R and powering the front wheels, along with a pair of electric motors (one on the front axle, one on the rear). There's a six-speed auto 'box on board too.

So, in 'Race' mode - one of three that includes full EV and 'road', where just the front axle is engaged - this crossover develops a full 500bhp. That's... considerable.

It's all bolted onto PSA's EMP2 platform - which forms the basis of the new 308 and Citroen C4 Picasso - and sits just over two metres wide and 4.5 metres long. 23in wheels, ruddy scissor doors, lens-free headlamps, short overhangs and the two spoilers back up the sporting intent.

This one (sort of) made it intro production, its styling more subtly applied to the Peugeot 3008 SUV.

The latest in Peugeot's mad concept history is this, the Instinct. Perhaps mad isn't the right word - it's pretty, not too obtuse, and its technology is all (reasonably) in the real world.

As is necessary for a concept now, all the talk is of autonomous driving and the Internet of Things. You can read the full story here, but essentially this is a car that will drive you home slowly and comfortably if it senses you're tired, or whisk you quickly to a meeting your calendar suggests is urgent. Eerie, huh?