Concept
Here's what we learned about the 1,360bhp DS X E-Tense
It's a lop-sided, electric, autonomous, front-wheel drive, scissor-doored supercar!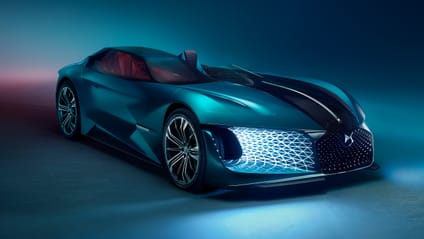 It's DS' vision of 2035

DS – Citroen's posh sister brand – has dusted off its crystal ball and projected its brand 17 years into the future in the best possible way…. with a wild concept car. We actually saw sketches of this monster back in April, but only now has it been turned into a tangible object. Before it debuts at the Paris Motor Show in October, we were summoned to a top-secret military facility near Paris to meet the X E-Tense close up, and experience it in full flight.

As you'd expect from a future-facing car these days, it is both electrically-driven and, supposedly, fully autonomous. These two factors both shape the car's design and its character, but also remind us that much of this car's spec must be taken with a pinch of salt. It's real, it looks spectacular and it moves down the road, but it's hypothetical. For now.

Advertisement - Page continues below

It's a bit wonky

DS prefers to call it asymmetrical. We admit, at first glance it looks a little like it's melted in the sun or been subjected to NCAP's offset front impact test, but the idea is a good one. In a world where fully autonomous cars exist, we won't suddenly lose our driving libidos. No, what you'll want is something equally adept at being a play thing, as a driverless personal shuttle.

As a result, one side is a roofless, focused cockpit containing space for the driver, the steering wheel and an instrument display that looks like a large Swarovski crystal. Your office, if you will, for driving the car hard. On the other side is your "soothing cocoon," a wider, covered compartment where you can kick back, put your feet up and let the computers take the strain.

It's a Formula E car underneath

Co-developed with the DS Formula E team, it is indeed a racing car underneath. Sort of. The chassis is a bespoke design for the concept, but the powertrain is lifted from the 2018 Formula E car and flipped. For packaging purposes (otherwise known as: it wouldn't fit any other way) the batteries are at the back, the motors and gearbox are at the front. So front-wheel drive and with 270bhp, in reality. According to DS' press release, peak power stands at 540bhp for road use, and 1,360bhp in circuit mode. DS also claims that "due to new technology" the body is "capable of recovering its original form after an impact." As we said, pinch of salt.

Advertisement - Page continues below

It actually works

Here's something you don't get in every one-off concept car: this thing actually works at speed. And DS was brave enough to prove it by installing us in the passenger seat, albeit on a wide runway with plenty of run off. The sensation when the canopy closes on top of you is one of claustrophobia, not a soothing cocoon. "This is like being in a motorbike sidecar," I thought to myself, despite having never been in a motorbike sidecar.

The lack of fresh air supply could also be a flash point on long drives, and the lack of seatbelt, but there's no denying its ability to corner. We belted it around for a good five minutes before I tapped out for fear of being deafened by the shriek of the motor. Imagine the whine of a Dodge Demon, minus the V8 backing track and you've got some idea.

It takes inspiration from the Flinstones… possibly

Another unnerving sensation is courtesy of a glass floor on the passenger side. DS assured me it was perfectly safe, but watching the tarmac rip past centimetres from your feet isn't an idea I'd suggest DS pursuing if they want to nail that whole "soothing cocoon" thing.

Still, another idea, another talking point - this car is littered with them. It's official, the French know better than anyone how to cut their imaginations loose when it comes to concepts. This car and most of the ideas contained within it are unlikely to ever see production, but that's all the more reason to go nuts with the details.

Those headlights are coming soon

One element that DS' design director, Thierry Metroz, singled out as heading for production in the next five years, is the X E-Tense's headlights. Called the DS Light Veil, it effectively replaces traditional light units by turning entire areas of bodywork into lights themselves.

Confused? "Today, all cars are built in the same way, with a bonnet, a bumper and wings, and headlights positioned at the junction of these elements," Metroz explained. "In the future, we believe lights will be dematerialised and that the surface of the body itself will instead serve as the light source. It's a visual signature that can take different forms, with varying colours and degree of brightness."

Any clearer?

It's a bit of a featherweight

Not like that. In fact, DS admitted it had no idea how much the concept weighed given they'd only finished building it 48 hours before. Here we're talking about the blue and red goose feathers decorating the headrest on the passenger side. An odd addition you might think, and you'd be right.

According to DS, the collage of feathers – produced by French feather dressing specialist, Maison Lemarie – "are unique and emphasise the sensuality radiated by the cocoon. They also allowed us to explore ideas that extend beyond the notion of comfort as we perceive it today, while at the same time adding a light, soft and magical touch." We'll let you be the judge of that.

Advertisement - Page continues below

There's space for three and fancy doors

Doesn't look like it at first, does it? However, folded down by your feet on the passenger side is a dickie seat that slides backwards and unfolds, giving you space for a third (child-sized) passenger. There are gullwing doors, then there are gullwing doors. This has the latter. Especially on the passenger side where you pull a pop-out handle and tug a huge slab of bodywork from the bottom to reveal an exceptionally generous opening into the cockpit.

On the driver's side is a more traditional, smaller scissor door. Good news for all those young, single-child families on the hunt for a lop-sided, electric, autonomous, semi-convertible, front-wheel drive, scissor-doored supercar! The DS X E-Tense could be the car for you.

It comes with an assistant

OK, not a living breathing one, but something called IRIS that takes the form of a hologram which floats in space in both the cocoon and cockpit sides. DS claims (its nose growing visibly longer by the second) that "occupants can give IRIS the appearance they wish, from a humanoid figure to a sphere picked out by a neutral connection pattern," whatever that is. "In addition to serving as the DS X E-Tense's human-to-machine interface, IRIS is connected to the outside world."

Advertisement - Page continues below

It's perfect for a coffee break and some tunes

When the car can do the driving for you, what on earth will you do with all that spare time? Fear not, DS has you covered. Reach to your left and a Nespresso machine is hidden under the armrest – probably not best to fire this up on a twisty stretch of road, unless you want a crotchful of piping hot Colombian roast.

Ahead of you is a laser-etched wooden dashboard enclosing a sound bar developed by Focal, and there's even the possibility to project TV show and films onto the glass surfaces. Or you could do what normal people do and watch something on your iPad whilst mainlining Minstrels and Starburst. The choice, in DS' future, is entirely yours.