Concept
Stare at this entirely unofficial modern-day Ferrari F40 render
Designer cooks up a personal vision of what today's F40 might look like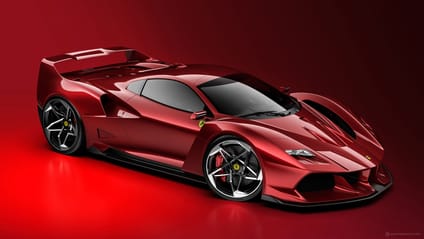 This isn't real, nor is it official. But it is quite something: the work of designer Samir Sadikhov, motivated by a desire to cook up a tribute to one of the world's most iconic supercars. The Ferrari F40.

"For car designers, the F40 is a design icon," he said. He therefore spent a year paying tribute to its 'minimalist' lines and motorsport aesthetic. An entire year on an unofficial project. Talk about passione.

He makes a note that he wanted a resemblance rather than a straight copy. Hence the wheel arches, large rear spoiler, and key aero components dotted around the surface and of course, quad tail lights.

Have a flick through the gallery and let us know what you make of this entirely fictional, unofficial render.

Photos: Samir Sadikhov

Advertisement - Page continues below

That spoiler dominates the rear surfacing, said to be 'generous'. Maybe not the wheel arch clearance.

"The vehicle's tail is broad and muscular in design," Samir said. Yup, box ticked.

Advertisement - Page continues below

'Yes Mr Wayne, it does come in black.'

Silhouette is unmistakable, there. 

Shades of LaFerrari from this angle, which is no bad thing.

The F40's motorsport credentials are carried over on the inside of this render - simple, modern.

Advertisement - Page continues below

Maybe bring your own cushion, though.

Samir even went to the effort of knocking up a monocoque render. So there's his F40 tribute, naked.

Advertisement - Page continues below

And finally, a pic of his creation, alongside the very motor that inspired it.