Concept
TG's guide to concepts: the Volkswagen GX3
In a better world, we would have had a three-wheeled VW built purely for fun. Oh well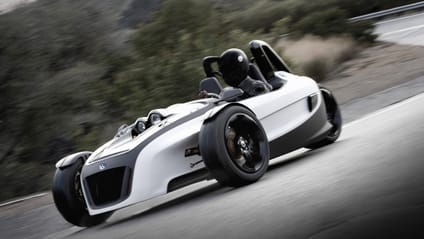 Hey, a futuristic Morgan 3Wheeler!

Well, if you consider "futuristic" to mean "made in 2006". 

But you have a point; the GX3 concept is certainly a more forward-looking design, even if the basic concept does take its cues from the same playbook as the original Morgan three-wheelers from the 1910s to the 1950s. Then again, Lagonda had already made a 'Tricar' by 1904 and Advance was already selling one in 1902. Trumping the lot, however, is the Léon Bollée Voiturette from 1895. 

Advertisement - Page continues below

Enough with a history lesson. It was a flippant remark and now we're pottering down memory lane again.

Indeed. Let's talk specs, shall we? 

And we'll start with the engine. Plucked from obscurity (also known as the VW Lupo GTI) and delivering a heady 123bhp from 1.6 litres and four cylinders, it was good enough to propel a small hatchback from 0-60 in 7.8 seconds. However, hooked up to the single rear wheel via a six-speed gearbox and motorbike-style chain drivetrain, it could reliably fling the GX3 from 0-60 in 5.7 seconds. 

As Caterham, Lotus and Ariel die-hards will tell you (up to and including using their dying breath), this turn of speed is thanks to a low kerb weight. 

Well, go on then. How low?

A mere 570kg, delivering a power-to-weight ratio of more than 215bhp per tonne. And, because that's a largely meaningless figure by itself, it's more than the incredibly fun (and free-revving) Honda S2000 but less than the Lotus Elise Sport 220. So you can see where it was going to land in the scheme of things. Quick, but not fearsomely so. 

But, as anyone who's been near a Morgan 3Wheeler will tell you, figures don't mean fun. And while at first glance, the Morgan's fun seems to be wrapped up in donning goggles and acting like a latter-day Biggles, it's actually from an adrenaline-rich immersion in the sensations of driving, or, as our man Tom Ford put it, "… a kind of multi-platform sensory overload. A physical bombardment." And we get the feeling that, apart from the chugging V-Twin engine and any latent Ginger Lacey fantasies you may harbour, the GX3 would offer up many of the same thrills.

Also, for comparison's sake, the GX3's 570kg and 215bhp per tonne play off against the 3Wheeler's 525kg and 156bhp per tonne. But the bragging rights were never to be claimed – VW never went beyond a working prototype.

Advertisement - Page continues below

Let me guess: it was just another bit of motor show frippery, never meant for production.

Nope. That didn't mean it was smooth sailing into production, mind. 

The story goes that VW execs said they'd gauge public response and decide whether the GX3 was worth putting a) into production and b) on sale for about 17,000 US dollars – about £8000 back in 2006 money. Yep. just imagine how many people would have signed up for a GX3, even if it were £10,000 or £15,000. 

But, even though it'd be cheap to buy, run (it'd do 54mpg) and service (simple VW inline four and chain drive), the GX3 still didn't get over the line. Rumour has it that the GX3 needed extensive work to shield VW from expensive liability lawsuits, which would jack up the price and ruin the entire point of the car in the process. 

So, it's our fault that we don't have the affordable and entertaining GX3 – our penchant for offloading blame, our propensity for litigation and our acrimonious divorce with the notion of personal accountability. Oh, and maybe VW's, for not being brave. So… well done, everyone.