Consumer Electronics Show
Ten things we learned about the new Mercedes-Benz A-Class
TG gets an early look at Benz's premium hatch. Here's what you need to know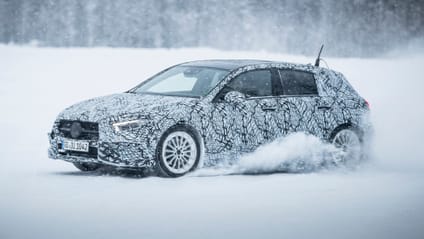 The engineers admit that this A-Class is entirely new, not just a new platform, but also a new engine line-up, too. They're downsized, come in 1.2, 1.4, 1.6 and 2.0-litre capacities, and feature turbocharging across the range. There'll be diesels, despite the current backlash, while EQ Boost (essentially an integrated starter generator) will feature on many models. Mercedes-Benz's staff are keeping quiet about proper plug-in hybrid versions currently, but it's inconceivable that the A-Class won't be offered with an extension lead in time, if not directly from its launch later this year. Incidentally, we'll see it without the swirly wrap at the Geneva Motor Show, in March.

Advertisement - Page continues below

The A-Class has gone all touchy-feely

Mercedes-Benz's most youth-orientated vehicle, demographically, will now feature touch screens inside. That's a huge shift from Mercedes-Benz's usual stance, which has until now revolved, literally, around the 'Comand' controller that sits between the passenger and driver. No more. It's being more conservative elsewhere in its model line-up, retaining the Comand controller - or offering a touch pad in place of it - but initially the A-Class will be the only Benz to offer a proper touchscreen atop its dash. Expect everything to follow soon, Mercedes-Benz so proud of its new touchscreen it's gone to the CES in Vegas to unveil it.

Those touch screens will be standard on all A-Classes

What goes on in Vegas, stays in Vegas. Actually, scratch that. Merc, and most of its rivals, have been using the Consumer Electronics Show (CES) in America's party/vice city to shout about their latest tech for a few years now. That touchscreen is huge news, so they'll be shouting about it from the rooftops, or at least the top of the Stratosphere Tower. Unlike other Mercedes-Benzes there won't be any poverty spec models with conventional dials, so even your 2018 rental A-Class will have a pair of screens - one directly in front of you, and that touch-screen alongside it in the middle. It's unlikely Avis or suchlike will order it with the full IMAX-aping optional dual 10-inch set-up, though, instead going for the standard twin 7-inch set-up.

Advertisement - Page continues below

You can talk to it. And it *should* actually work

Touch, pinch and swipe inputs are all recognised, like your iPhone or Android device, though if you can't be bothered reaching for the screen you can talk to it. Say "Hey Mercedes" and you should be able to do everything you can with that screen by talking to the car. Nothing new there, really, only Mercedes-Benz is claiming its new voice recognition, as well as the Artificial Intelligence (AI) on board means it should actually work - unlike most voice recognition systems we've sampled. We'll wait and see how it deals with regional variances in accents...

It wants to fight against the VW Golf and Audi A3

See all those Audi A3s and VW Golfs out there? Mercedes-Benz wants a bigger slice of that action. And it's fighting very hard indeed to gain it. That slick, modern interior absolutely underlines this, the new A-Class - even in pre-production guise here that we've been riding in - upping the interior stakes to take the fight to cabin specialists Audi. The engineers quietly admit that the A-Class is right up there among Mercedes-Benz's most sophisticated models, with the tech offering not so dissimilar to that of an S-Class if you go heavy on the option-box ticking.

It's bigger inside and out

The current A-Class might have been a huge success for Mercedes-Benz, but even they'll admit it could use a little bit more space. That's underlined with the new car's bigger dimensions, with a 120mm stretch in the length, some 30mm of that being in the wheelbase. Add a lower (by 10mm) rear seat and there's appreciably more room in the back seats, while a 16mm increase in width helps, too. That fancy new dashboard liberates yet more space inside, while those of a carrying persuasion will be happy that the boot size has swelled by 39 litres to a 380 litre capacity, that co-incidentally the same as an Audi A3.

It'll be more comfortable than the outgoing A-Class

Like the tight space of the old car, the ride with the outgoing A-Class was less than satisfactory. Proving that car companies do listen (sometimes), a key goal with this new A-Class was to make it ride more comfortably. That stretched wheelbase helps, as does the wider track, allowing, say the development engineers, the car retain and improve on its agility, while improving significantly on ride comfort. There are a variety of suspension options, the front being a MacPherson set up, the rear being either a multi-link axle, or, for the less powerful models, a less sophisticated (cheaper) torsion beam set-up. Even with that cheaper solution, the engineers claim it's more comfortable and supple - which will be useful when you're driving down a cobbled street trying to type something on that big touchscreen.

Advertisement - Page continues below

There will be a Sport Chassis, as well as the option of adaptive damping

Two different chassis options will be offered: a standard set-up, or a 15mm lower 'Sport' chassis. It's predominantly about looks, admit Merc's engineers, the ride only marginally different with the Sport set-up. We'll wait and see, but even the Sport chassis equipped cars we rode in managed lumpy, snow-covered roads in Sweden impressively. The optional adaptive damping set-up will give a choice of Comfort or Sport, Mercedes-Benz deliberately choosing two settings - over the three on an adaptive damper optioned VW Golf, for example - to better define the differences between the settings. Adding a middling one benefits nobody - they say - and we're inclined to agree.

There will be another AMG

Sure as night follows day, there'll be a hot AMG model to top the range. The current A45 is more super hatch than hot hatch, and the new one will build on that. Expect the power to grow from the current 381bhp then, possibly to a number that starts with a 4. It'll power all four wheels via AMG's version of the 4Matic four-wheel drive system, and 48 Volt electronics will feature, to allow not just boosted output but some chassis trickery, too.

Advertisement - Page continues below

Loads more Mercs will be spun off the A's new platform

The current A-Class brought a proliferation of models in the compact class for Mercedes-Benz, and added a useful 600,000+ sales to Mercedes-Benz's books. Good business. There'll be plenty of spin-offs then. As many as eight different versions are planned, including a replacement CLA four-door coupe (and Shooting Brake), GLA SUV, and a saloon for the USA and China. To that we're expecting a couple of new models - like a slightly larger compact SUV that'll slot in above the GLA - and there's also chatter that the next SLK will be based off the same platform as well...