Electric
Jaguar's E-Type Zero is the only classic EV you will ever need
A few years ago, Jaguar did the unthinkable and electrified the E. And it worked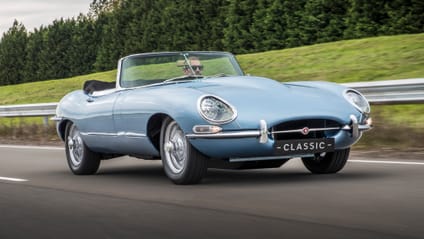 I can see this is a Jaguar E-Type. But why is it special?

We'd proffer that any Jaguar E-Type is special on account of it being an E-Type, but this one's important because it's like a time capsule; a digitised history lesson.

'Project Marmite', as it was known internally, is an electric Jaguar E-Type. An electric version of the car that – as the Nerdy Automobile Act of 1267 requires us by law to write – Enzo Ferrari once described as the most beautiful in the world.

Advertisement - Page continues below

'Project Marmite'. So Jag knew it'd be controversial?

Yep. Jaguar Classic knew that ripping out the beating heart of the car that defined it and refilling that space with batteries would likely kindle a wave of aneurisms not seen since the Great Land Rover Discovery Wonky Numberplate Scandal of 1896.

So… why did they do it at all?

TG spoke to Jaguar Classic boss Tim Hannig a few years ago and put this very same question to him, hence our earlier 'time capsule' comment. Back in 2018 – before restomodding classic cars with batteries was officially A Really Really Big Deal – Hannig noted how urban areas were increasingly clamping down on combustion-engined cars.

"This raised the concern of what classic car owners would do in the future. How do we future-proof classic cars?"

Advertisement - Page continues below

So they butchered old E-Types to what, 'save' them?

Would you rather they sat in a barn somewhere? And anyway, there's very little 'butchering' going on. Hannig told TG he and the team were entirely against chopping up the E-Type's frame to retrofit an electric drivetrain. "We wanted it to be reversible," he told us.

The battery is roughly the same size and weight of the E-Type's original straight-six and therefore takes its place. The electric motor sits just behind it… where the gearbox once sat.

The whole lot is comfortably 46kg lighter than the original car.

Where's the battery come from?

The prototype TG drove back in 2018 featured battery modules from the Range Rover PHEV, and inverters from the I-Pace. All proven tech and basically sitting on JLR's shelves, that latter point making it easier to build. "If we had to design everything new," Hannig told us, "we would never have been able to offer this."

Electric cars are super fast. Is this a super fast electric car?

It's fast enough for a car originally designed in the 1960s. Total power in human terms you understand is 295bhp (220kW), and off the line it'll do 0-62mph in 5.5s, an entire second faster than the original car with a straight-six.

Jaguar reckons on a range of around 170 miles, which is roughly how many miles some E-Types do every year.

Bet it's weird to drive.

Aside from the silence? Nothing weird at all. It's fast. It's got great steering. It rides a little busily but nothing untoward. Because the weight and distribution of it remains broadly the same, and it's not enormously more fast than before, the suspension and brakes remain as per the Sixties.

It's a more relaxed experience, urging you to take it easy and bask in its self-righteous calm.

Though, during TG's first drive of a prototype back in 2018, an enthusiastic passer-by urged us to rev it. You can't duck down in a convertible E-Type to hide, as it turns out.

Advertisement - Page continues below

Not sure how I feel about that interior.

Aside from the new driver display and central screen… and the rotary drive unit, it's exactly the same.

Perhaps those dials and screen are a little incongruous with a cabin that screams petrol fumes and cigarette smoke, but then a rev counter and some switches wouldn't have worked in reality.

At least the installation is clean and tidy, and once inside, you're busy enjoying the actual experience of aiming an E-Type through the streets.

How much?

Somewhere in the region of £300,000 which, admittedly, is slightly more than a Renault Zoe or Nissan Leaf or Tesla Model 3 or Honda e. But none of those cars are an E-Type. So, y'know.

But that £300k is for the whole lot, car included. Got an old E-Type hanging around? Jaguar Classic will charge you just £60k and in a week's time, two engineers will have crated your engine and 'box and returned your E with I-Pace power.

Advertisement - Page continues below

Why should I care about this one?

Some pragmatism needs to happen here. Combustion engines aren't long for this world, and there's no getting around that fact. So better to accept it and work out a solution to keep designs like this on the road.

Because our very worthy, emissions-free utopia threatens to serve us nothing but bland econoboxes and anonymous ride sharers. Amongst these, an E-Type Zero will hover down the road like some kind of ethereal, supernatural body.