Electric
Official! New AMG C63 will be a 4cyl hybrid… with an electric turbo
AMG confirms 600bhp+ plug-in C63, 800bhp+ GT 4dr and pure-electric AMGs coming this year
AMG, famous for its fuel-gargling engines and sledgehammer performance, is going all-in on electric. You've heard the rumours, now it's official: the next BMW M3-rivalling AMG C63 (revealed later this year) will feature a plug-in hybrid powertrain combining a four-cylinder turbocharged petrol engine with an electric motor, for a total power output of well over 600bhp…. sent to all four wheels. Early indicators are it'll be comfortably faster than the last-gen V8 C63, but a good chunk heavier.
Save your gasps, because that's not all. The 'E Performance' modular hybrid system which places a two-speed gearbox, an e-motor with up to 201bhp, and an electronically controlled differential on the rear axle – all packaged in one compact unit, rather than placing the motor between engine and gearbox, a so-called P3 hybrid – can also be combined with AMG's 4.0-litre twin-turbo to devastating effect. The first model to receive that combo, with more than 805bhp and 738lb ft of torque, will be the AMG GT 73 4dr, also on sale later this year.
Advertisement - Page continues below
But wait, there's more! 2021 will also see the birth of the first full-electric AMG model, based on the new EQS limo, with a whole family of AMG-enhanced EQ models to follow. You know the drill: more power, firmer suspension, better brakes, interior and exterior upgrades and a more anti-social soundtrack, albeit via loudspeakers, a "shaker" and a sound generator, rather than four heavy-metal pipes.
Back to the hybrids. AMG says the benefits of having the entire Electric Drive Unit (EDU) on the rear axle are many. It improves weight distribution (total weight of battery and EDU is around 200kg), and because it doesn't have to run through the nine-speed auto gearbox it can deliver its torque more immediately, and recoup lost energy more efficiently under braking – up to 90kW in the most aggressive of four regen modes. Under most conditions the system will run as rear-wheel drive, but if it senses slip at the rear both electric and combustion power can be sent to the front axle.
As you'd probably guessed, the four-cylinder engine is based on the 2.0-litre turbo (M139, engine code nerds) from the ballistic AMG A45, except it's now mounted longitudinally and even more powerful – up from 416bhp in the A45 to around 443bhp here, making it the new bhp-per-litre champion. Add in that 200bhp+ electric motor and you arrive somewhere north, quite a bit north, of 600bhp. In a C-Class.
Advertisement - Page continues below
Throttle response should be extraordinary, better than a naturally aspirated engine, because as well as the instant e-torque this is the first Mercedes to get an electric turbocharger – tech taken directly from F1 (where it's called the MGU-H) – with an electric motor mounted directly on the shaft of the turbo, between compressor and turbine, for virtually instant throttle response and more torque at lower engine speeds. Win win. It's the same tech that'll feature on the Project One hypercar. What's that? You thought AMG had forgotten about its F1-engine-for-the-road experiment? Nope, first production versions will arrive with extremely patient first customers by the end of this year, says AMG.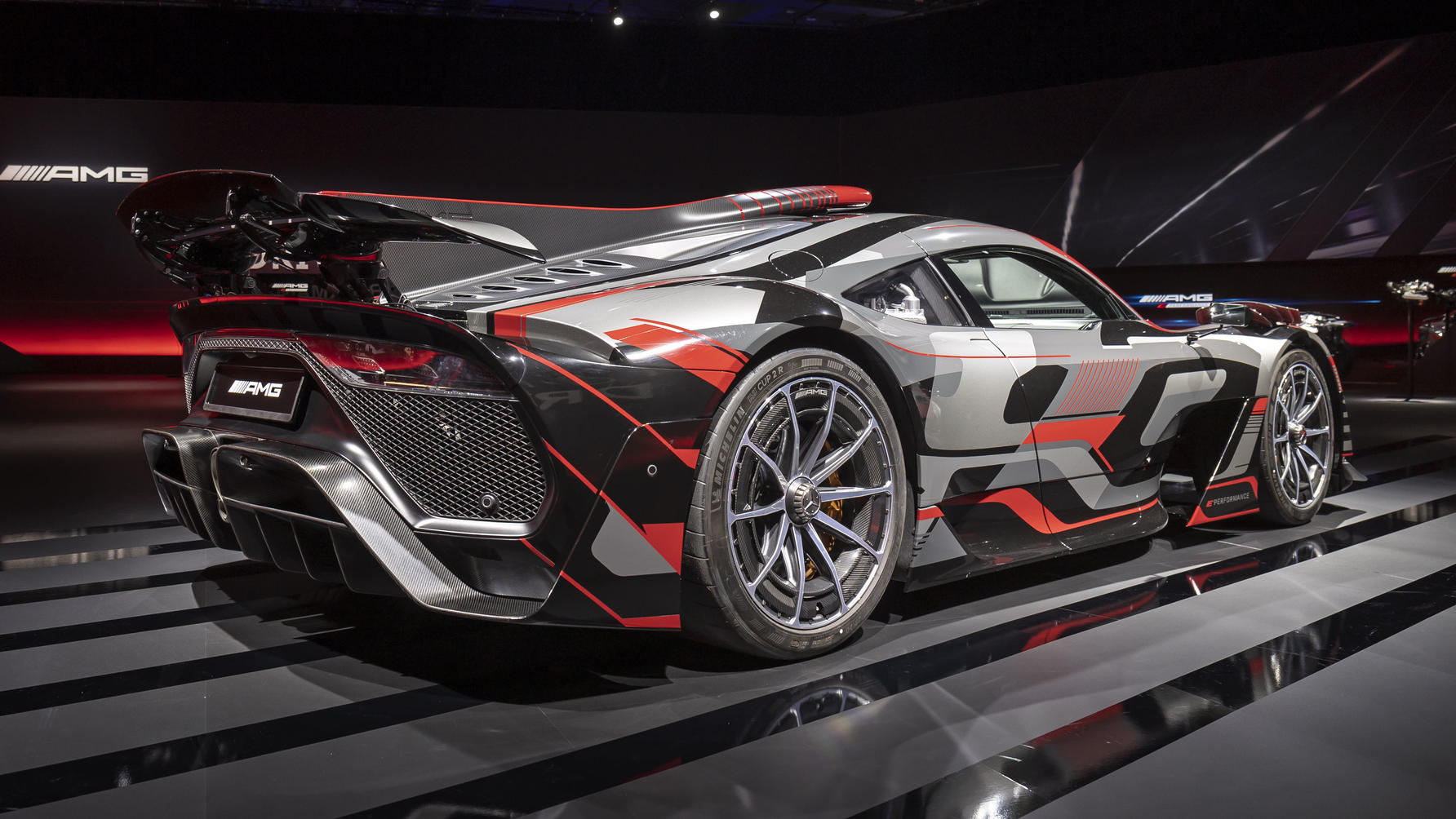 Now, that battery. Again, using F1 know-how AMG has managed to build an 89kg, 400V, 6.1kWh stack with direct cooling for each of the 560 cells, constantly circulating around 14-litres of coolant. And it's that - being able to maintain battery temperature at a stable 45 degrees Celsius, regardless of how brutal you're being with the throttle and unsympathetic you're being on the brakes – that's key to charging and discharging quickly and repeatedly without any drop off in performance. You can plug it in and run in pure-electric mode up to 80mph without rousing the engine, but not for very long – zero-emissions range was never the goal here, it was max performance before all else.
How you deploy that performance is up to you. Select Comfort mode and the engine and e-motor work together for maximum efficiency, while the steering, suspension and throttle response are backed off. Dial it up through Sport, Sport+ and Race and the car tenses, sharpens and priority is given over to having full electric boost available at all times.
Top Gear
Newsletter
Thank you for subscribing to our newsletter. Look out for your regular round-up of news, reviews and offers in your inbox.
Get all the latest news, reviews and exclusives, direct to your inbox.
It's a lot to take in, a step change from the big-lunged, big-capacity AMGs we've known in the past, but with the exception of that not-insignificant weight gain… you can't argue with the numbers. So, what do we think internet: is an electrified, four-cylinder C63 progress in your book?