Electric
The secrets behind making a hybrid Porsche engine
Time to pick the (massive) brain of a Porsche engine expert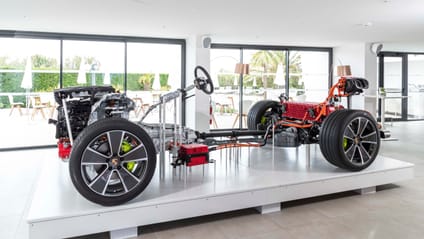 Porsche destroyed lots of engines learning about hybrid cold-starts

Porsche is very proud of the fact its new Cayenne e-Hybrid can travel up to 25 miles from the moment you unplug it without ever turning the engine on. And because the e-motor can propel it up to 83mph, there's a very real chance you might never wake the V6 until midway through an autobahn overtake. So, we asked Porsche's Manager of SUV Powertrains, Friedmann Heller, how they get around the problem of a dead-still engine, immersed in stone-cold oil, suddenly being asked to develop maximum horsepower, without shattering into thousands of expensive shards…

"In the early days, when we did the first Panamera hybrid, we broke a lot of engines", explains Freidmann with a grin. "We broke pistons and bent rods... It was because the V6 we were using was never developed for a hybrid. Now, in fact, all engines in the new Cayenne and Panamera are developed for hybrid. The bores, the oil system, the ECU, everything. So we can do things with the oil channels and limit the revs to only 4,000rpm when the engine is cold to protect it from damage."

Somewhere in Germany, there's a hefty pile of ex-Panamera V6s and V8s that were sacrificed to learn the way around this problem.

"Now when we do cold weather testing in Sweden, we can start the car in the morning at minus 20 degrees, with no problems", says the engine boss. So, now you know.

Advertisement - Page continues below

Porsche is considering a faster Cayenne Turbo S e-Hybrid…

How well do you know your Porsches? True Porschephiles will be aware the Panamera spawned a petrol V6 hybrid first (the Panamera e-Hybrid), and then a while later, the ultimate fast four-door (the Panamera Turbo S e-Hybrid). The latter twinned a 542bhp bi-turbo V8 with electric gubbins for extra performance. It's the definition of overkill.

So, would it make sense for Porsche to plumb the same drivetrain into the Cayenne, and create a part green, part-mean Turbo S nutter version? Is there any demand for a near-700bhp Cayenne?

"We are exploring opportunities for future models – we have the technology already", says Heller coyly. TG suggests that a Cayenne with V8 turbo power and e-boost might be just the tool for setting an improbable Nürburgring SUV lap record. "Yeah, we'll see", is the cryptic reply.

Here's the logic. Porsche is working on re-educating its buyers with this simple theory: if you want the fastest Porche, you want a hybrid. The top Panamera is the electrically assisted Turbo S. Its performance flagship, since 2013, has been the hybrid 918 Spyder. And it's not poured millions of Euros into a hybrid-powered Le Mans winner for fun...

So, expect to see a 680bhp hybrid Cayenne on sale within a year, costing about £100,000.

…and also a diesel version (but only a V6)

'Hang on a moment', you're thinking. 'I thought Porsche announced it wasn't doing diesels any more? And that it had killed off the V8-powered diesel Panamera?'

You're quite right. However, Heller confirms Porsche isn't done with diesel just yet. Diesel is great for long-range driving, for low CO2 emissions, and for towing heavy loads. Heller says in Germany lots of Cayennes are bought by posh rural types with horseboxes, and they still want a diesel. So, will they give the people what they appear to want, even though European diesel sales are pretty much in the toilet?

"I can say we are considering offering a diesel Cayenne, but we are watching the demand and have to wait for the right time", Friedmann says. He's happy to admit that the idea of a fast Cayenne S Diesel is dead in the water, and any future Cayenne Diesel will have V6 power, not a V8.

Interestingly, 60 per cent of all Panamera sales in Europe during the first three months of 2018 were hybrid powered. Sixty per cent! Crikey. By contrast, the best the Cayenne's ever managed was 12 per cent of sales as a hybrid. So, there's work to be done to convince the SUV crowd...

Advertisement - Page continues below

The 918 Spyder and 919 racer's engine calibration is (apparently) in Cayennes now

Surely it's just marketing bobbins that says the Cayenne e-Hybrid, or any part-electric Porsche, has tech carryover from the 887bhp 918 Spyder hypercar. Right? Wrong, according to our learned German friend.

"The strategy of when to use electrical energy comes straight from the 918 and the race guys", Freidmann says proudly. And that's not just in using electrical torque to fill in the gaps where the turbo V6 isn't on full boost.

In a similar way to the 919 racer saving its electricity for critical moments in the Le Mans lap when it needs to slingshot out of slower corners, Freidmann explains in great detail how using GPS and sat-nav data to strategically deplete and recharge the Cayenne's battery over a journey is the best way to balance maximum efficiency and oomph from the powertrain. At this point, my brain melted and dribbled out of my ears onto my shirt.

Unlucky, China. Your Cayenne hybrid is slower

The Cayenne e-Hybrid is an anomaly. It's a rebel. Why? Because it's got a ruddy great 3.0-litre turbo V6 engine up front. Its rivals don't. Volvo XC90 T8, the BMW X5 40e and the Range Rover Sport hybrid all use 2.0-litre turbo engines supplemented by e-power. But Porsche wanted its USP to be speed, so it's got a bigger engine.

Except if you live in China. Freidmann explains. "The Chinese customers are, how to say it… less focused on performance than European or American customers, and the 2.0-litre engine qualifies for less tax than a 3.0-litre. So for that market, where comfort and refinement are more important than performance, we will have a 2.0-litre four-cylinder Cayenne e-Hybrid."

Are there plans to bring that entry-level version to Europe? "No." Ah well. Can't imagine we'll miss it.

Electric Porsches will be less complicated, but come with their own headaches

One of the more mind-spinning facts you might have learned from Top Gear's 918 Spyder vs Panamera Turbo S e-Hybrid test is that the mass-produced four door saloon's on-board brain processes 30 million more lines of code than the highly-strung hypercar. Madness. Porsche says its current hybrids are not just its most complicated cars ever, but the most complicated cars it will ever produce.

So, the all-electric Mission E, due in 2019, will be a doddle, then? Freidmann smiles but admits that full EVs "come with their own new challenges".

Here's one. When a combustion-engined car breaks traction, the ramp-up in torque is relatively steady, so even if you suddenly run over black ice or standing water, the on-board computers have sufficient time to calculate what's going on and brake the wheel that's struggling, or transfer drive away from it. It all happens in a fraction of a second, faster than any human could react, but it's not beyond the realms of modern computer science.

Freidmann goes on to explain how because EV motors generate such massive torque, developed almost instantly, and have a high rotating mass in the motor itself, a sudden spike in wheelspin on a slippery, icy road can literally rip the motor unit apart before the traction control has even had time to stab the brakes. Again, there's a pile of broken drive systems somewhere that confirms this expensive lesson.

So while the next generation of Porsche EVs might have fewer lines of computer code in them than today's Porsches, they'll have to carry processors that can 'think' even faster, just to contain the power in case the driver's getting clumsy with the, er, not-so-loud pedal. Fascinating stuff.