Electric
World exclusive: TG drives the Nissan BladeGlider
Can Nissan reinvent the sports car for your grandkids using electricity and a defunct racecar?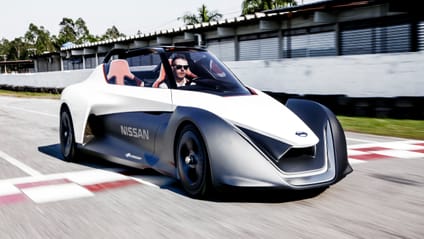 Doesn't look much like a Nissan, does it? The BladeGlider looks more like a mishmash of a Shinkansen bullet train, the SR-71 Blackbird, and something else that escapes me at the moment. Anyway, I want to draw your attention to the reversing light. In a rear shamelessly riffing on BMW's i8, it's significant. 

Images: Pedro Danthas

Advertisement - Page continues below

It's a spare from Williams' current F1 car, and the tip of a British bloody-mindedness iceberg that's brought Nissan's vision of a next-generation sports car into being. It's Williams Advanced Engineering that has animated the BladeGlider as you see it here, sizzling in the 35°C glare of a Brazilian winter.

In fairness, Nissan's been gamely experimenting with rocket-shaped fast cars – originally intended as an Indy Car design proposal – for a good while beforehand. 

First there was the Nissan-powered DeltaWing, which got cruelly punted off at Le Mans in 2012. Then there was the Zeod RC, which became the first racer to complete a fully electric lap of La Sarthe, then choked on its gearbox.

In 2013, the BladeGlider road car concept was unveiled at the Tokyo motor show, then quietly re-veiled as Nissan dealt with a legal challenge from DeltaWing partners Panoz – explaining the subtle "Inspired by DeltaWing" legend stuck to the back. 

Advertisement - Page continues below

So the BladeGlider is back. Two, to be precise, both on a mission to show a Vitamin D-depleted, arthritic-thumbed Generation Z that electric cars can be exhilarating. There are no Leaf hatchback bits under the streamlined skin.

This is car two, and TopGear is about to get a world-exclusive first drive at the Kartódromo Internacional de Guapimirim, about an hour north of Rio de Janeiro. The irony of flying 5,700 miles to appraise a green, zero-emission vehicle is not lost on me.

OK, BladeGlider doesn't exist to preach about EVs being our only chance of apocalypse avoidance while wearing a holier-than-thou frown. Nissan has the Leaf for that, doing the big numbers. A quarter of a million have been sold – it's the world's most popular EV, despite what Tesla's invasion of YouTube would have you believe.

No, the BladeGlider's role is to show you, me, and every other disenfranchised post baby boomer that EVs will have a sense of humour, beyond internet-catnip insta-hitting teleportation capsules. 

Off the line, the BladeGlider lopes to 62mph in 4.8 seconds and tops out at just 115mph. Two 130kW motors – one in each rear wheel – provide the equivalent of 263bhp in total, but separating the drive laterally across the back axle unlocks the possibilities for infinite torque-vectoring, along with 2016's must-have car accessory: the drift mode.

You're waiting for the caveat, aren't you? The point where I admit that "of course, this comes at a cost", and note the batteries are fashioned of uranium and dark matter, so the six-tonne BladeGlider can't actually be hurled around at anything above the pace of a Venetian gondola. Erm, wrong. This is plug out and play. Once I'm in, that is.

I'm warned about opening the BladeGlider's door, and supervised intensely from the moment my hand finds the spring-loaded handle lurking under the scallop in the door's surface.

Made from carbon supported on a steel spaceframe, the seven-foot doors account for a sizeable chunk of the BladeGlider's 1,300kg kerbweight, so they're mounted on the sort of gas struts I think they use to execute jumps in Hollywood car chases. 

Advertisement - Page continues below

So, you click the handle outward, the door crawls upward an inch or two, then threatens to fling itself skyward and launch the operator like a medieval trebuchet. Slowly does it, admiring the exquisite aluminium strut the door rests upon. It looks like a Lotus Elise's hinge, only massively stronger.

"Is that extruded aluminium?" "No. We milled it from a solid block", explains test and development engineer Darren Cockle. Components as rarefied as that hint at why no one is prepared to give away exactly how much the BladeGlider has cost to create, but they can't help wincing when badgered.

Door safely operated, the rest of the BladeGlider welcome procedure is a doddle. There's no sill to step across, just a narrow apron of floor to the front and centre of the driver's Recaro bucket, flanked by identical passenger seats behind each of the driver's shoulders, settled atop the battery housing.

The diminutive, Alcantara steering wheel presents itself, complete with F1-esque data readout, with reach and rake adjustment. With no left/right-hand-drive compromise, the driving position could not be more perfect.

The seat is low and supportive, the drilled pedals central and begging to be left-foot braked. The steering wheel is spot-on for thickness and size, and with the visor screen's pillars draped behind the driver's eyeline, my attention is focused fully forward almost as if there's a set of crosshairs painted on the screen. The view plays tricks on your brain: the narrow, tapering nose and diving wings exaggerating the sense of perspective.

You've heard of cars that look like they're doing a hundred sat still. The BladeGlider, sucking the horizon toward its snout, feels like it's covering twice that while I'm clipping the belts together.

Advertisement - Page continues below

I expect Darren, an ex-Lotus chassis technician, to instruct me on a launch sequence that requires a degree in electrical engineering, and triple-jointed limbs. Wrong. Left toggle switch down for Master Power "on". Next one along (Power Mode) into "P2". Switch gaze to steering wheel, and twist the right knob from Neutral into D2. The drivetrain is silently armed. I'm ready to go. It was more difficult last time I changed the clock on my cooker. 

There's no creep once my left foot is clear of the brakes, and the throttle takes a heftier than expected prod, but from about an inch of travel the BladeGlider surges forward, not with breakfast-troubling pace but enough to skitter the 265-section rears on a surface grittier than Plan B lyrics.

Flattening the gas provokes the typical vum-vumm-skreeee from the motors, and proper wheelspin from the rears as the BladeGlider, without a hint of nose-lift, shoots forward instantaneously. It's not a one-dimensional powertrain, this, which you'd expect given it's actually derived from the gubbins in the blunt end of a Formula E racer. You choose either hushed, oozing progress, or range-killing tomfoolery. 

It's an ideal fit for a kart track, where the straights are short-lived and the corners many and tight. Clicking the paddleshifters alternates the ferocity of regenerative braking – I'm in Defcon 2 for maximum retardation when I lift off, so only the right-hand hairpin requires a proper jab of the brakes.

They're strong, firm underfoot and usefully consistent, free from the squirming telltale pedal betraying that the stopping effort is being shared between power harvest and old-fashioned friction.

All this breeds confidence. Being sat central with all the controls just so, mega brakes, the truly exquisite build quality… it all bodes that the BladeGlider handles properly, and so it proves. I should've known: Lotus chassis bods don't tend to sign off turkeys.

Again, it messes with my head. My brain sees a front track that should understeer like a bobsleigh across a ballroom floor, but shifting the weight bias miles rearwards has the nose snapping between corners. The steering is fast and brims with information just like a Caterham's, and there's not much higher praise than that.

I'd assumed it was unassisted, only to be corrected back in the pits: there's actually some electrical assistance on board. Not that I could feel – just crisp, delicate responses and nuances in weighting through the faster bends as the car squats down onto the flared rear track and sets off on another charge, blasting the rear seats with turbulence but not ruffling the driver, sheltered beneath the curved pane of the cockpit. 

Reclined amidst the flanks, it slowly seeps into me that this machine is genuinely fun. Not "for a prototype", or "for an EV", but simply as an alert, chuckable, adjustable roadster. There's enough punch to enjoy naughty half-slides through Guapimirim's tangled switchbacks, but such immense grip that the strained harness leaves imprints my shoulders. It's a challenge. Y'know, kids, like Pokémon Go. 

Soon, this BladeGlider and its twin will head off on a worldwide tour, ambassadors for electric power, aimed at converting as many young minds as possible into actually desiring a cell-car as much as they require a cellphone.

The machine you see here will stay a prototype. Too pricey to crash-test, too niche to produce, though Nissan EV strategy boss Gareth Dunsmore admits that some could be built for the same blank-cheque enthusiasts who demanded Juke-Rs for their mollycoddled collections. 

I hope the BladeGlider tri-seater story doesn't end here, because it's too innovative an idea, and too enjoyable in execution to go the same way of the – aha! - Sinclair C5. Knew it reminded me of something...