First Look
Ten things you need to know: the next Mercedes-Benz CLS
Merc's niche-busting saloon/coupe lands in November. Here's what we know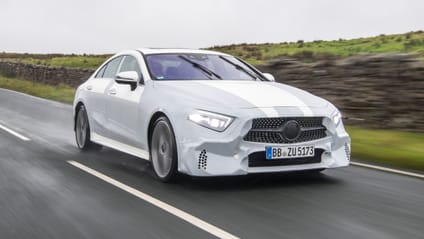 The CLS has been a genre-busting success

The Mercedes-Benz CLS is now nearly 15 years old, the genre-busting saloon/coupe thingy now in its third generation. Very much a toe-dipping exercise from the niche-creating experts, the fact there's a new one underlines how successful it's been. Indeed, up until June this year the CLS has accounted for 350,000 sales, which might not sound like much, but with the model mix skewed appreciably to the hottest, most expensive AMG versions it's obviously very good business for the firm. We're in the passenger seat of this fairly heavily disguised example today, driving on UK roads, the production version to be revealed at the LA Auto Show this November.

Advertisement - Page continues below

The stereo system should be a cracker

Michael Kelz, chief engineer for the CLS, loves his music, classical preferably. He admits spending far too long getting the stereo right on this car. That's true of the E-Class too, which he's also responsible for, but here he's really gone to town. His boss asked whether so much time was required tweaking the stereo, and Kelz insisted. So if you like your music, then the standard audio equipment should be very good indeed, while the range-topping, optional Burmester system is so good Kelz wants to put it on stage with an orchestra to demonstrate it.

It wants to be as refined as a Merc S-Class

The CLS might occupy a position that's both luxurious and sporting, but Kelz targeted the Mercedes S-Class as the benchmark for refinement - which might relate to his desire to enjoy his music, too. Those usually conflicting goals have been achieved by a number of means, one of which includes - from 19in wheels upwards - tyres with a layer of acoustic foam inside that dampens out road noise. They seem to work, too, Kelz admitting that Mercedes-Benz's obsession with refinement means removing the sound of water spray from the tyres is a goal. In the UK, in October, that's no bad thing.

Advertisement - Page continues below

We hear different sounds to other countries

When developing the CLS, and the E-Class before it, Kelz made an interesting discovery regarding how different nationalities hear and process sounds. We're accustomed to a bit of road or engine noise from a car, indeed, we subconsciously welcome it as demonstrating that the car is doing what it should and ignore many frequencies. That's different in China, where customers expect silence, with as much noise damped out as possible. Kelz puts this down to differing routes to car ownership. It's likely that a European or American customer will have climbed a lengthy automotive ladder to get to a Mercedes-Benz and be used to mechanical noises, while many Chinese customers will often have a Mercedes-Benz as their first ever car.

It'll be the same CLS suspension across all countries

With the E-Class, Merc has set up slightly different suspension settings for China, more orientated to comfort than any other marketplace. That won't be the case with the CLS, which Kelz says will have standard suspension settings across all marketplaces. It's wrong to assume that the CLS just runs a tweaked set-up from the E-Class too, instead every part number in the suspension is different, the CLS more overtly sporting than its conventional saloon relation. That said, sitting in the passenger seat it feels very comfortable indeed.

The UK roads throw up some of the most difficult challenges for chassis engineers

It's not just remembering to drive on the left - in left-hand-drive prototypes - that causes headaches for Mercedes-Benz's testing engineers when in the UK, but the roads themselves. Our ancient roads aren't quite as perfectly engineered (read - straight) as you might find in the CLS's homeland, their propensity to meander along contour lines of our far from flat countryside creating some very difficult problems for the engineers. Dips and compressions in particular, which mixed with the ever-changing, and what Kelz diplomatically describes as 'rough' texture of British tarmac, makes for particularly challenging conditions. Kelz says UK buyers should have the air suspension with the 19in wheel with its acoustic foam tyres for the best balance of ride comfort and handling.

The CLS borrows autonomous driving tech from the S-Class

The S-Class is Mercedes-Benz's most sophisticated model, but the CLS borrows all its kit for its autonomous offering. It's still stage 2, which means we're some way off being able to crawl in the back and have it drive us home after a night in the pub, but it'll help you through traffic and ease motorway driving. Even so, Kelz admits he loves driving, adding that when he started at Mercedes-Benz over 30 years ago, with new models back then they were lucky if they got a new axle. Today, the new technology on offer from Merc's toy-box is mind-blowing.

Advertisement - Page continues below

There'll be a choice of controls inside, but no touchscreen - yet

Another nod to market, and age, differences here. If you've ever sat in a current Mercedes-Benz you should be familiar with its Command input device for all the 'infotainment'. It's basically a big button that turns and has a pad on top for additional controls. Increasingly, people want touch entry, so there'll be the option of a touchpad, undoing years of development in one swoop. Kelz admits he's a fan of the former, as you might expect, though Asia prefers touchpads, and increasingly so do buyers who've grown up with touch inputting on devices. Indeed, in time we can expect the huge screens that dominate the dashboard to be touch-operated. Though not even Merc has worked out how to avoid all those messy fingerprints. You can be assured there's someone, somewhere in Stuttgart looking into it, though.

These prototypes have covered in excess of 8,500,000km

That's 5.27 million miles give or take a few here and there for our terrible maths. A lot then, and necessary. The earliest prototypes started running around four years ago, with the testing process demanding that the complete cars must run at least two winters and two summers. Not ordinary seasons, either, Mercedes-Benz taking them about as far North as roads go - and driving on ice lakes when they run out of snow-covered tarmac - and to the hottest places on the planet. There's some virtual testing, as much as 35 per cent, but nothing, says the well-travelled engineers, beats proper real-world testing.

The first cars are so-called B0 cars, of which around 40 were built using prototype parts. They're followed into testing by 140 B-vehicles, which are classified as pre-production models, like the disguised cars you see, hidden, here.

Advertisement - Page continues below

The CLS runs Merc's latest engine family

Yeah, we're all going to be electrified in time, but there's life in the internal combustion engine yet. The CLS runs Merc's recently introduced engine family, a modular (think Lego) set of engines in anything from four-to eight cylinders. There's integrated starter generators on a lot of them, too, helped by 48V electrics which allow extended coasting and stop start functions. All that's bundled under 'EQ Boost', EQ being Mercedes-Benz's future electric and hybrid brand. All come with nine-speed automatic transmissions, and there's the option of either rear- or four-wheel drive. There'll be a plug-in too, though we'll not see that in showrooms for a year or more.