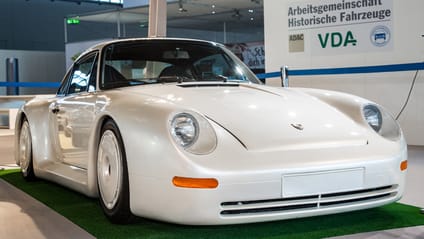 Hard to think that in the same year Kajagoogoo were deftly explaining, well, whatever it was they were trying to explain in Too Shy, Audi launched the Sport Quattro. Hush hush, indeed.

You see, at this year's Frankfurt Motor Show, the organisers decided to take a step back into the decade that style, taste, and frizz-ease forgot; specifically, the same year that Michael Jackson unveiled the 'moonwalk', Return of the Jedi was released, and, erm, McDonald's introduced the McNugget. 1983.

Representatives of Germany's 'Historic Vehicles Working Group' cobbled together the show stars from exactly 30 years ago under the banner "where are they now?", and wheeled them into Hall 3.1 at the 2013 IAA. And to take a look back at the 'stars of 1983' is to dip into a pool of old school fantasia.

Cars like the aforementioned Sport Quattro, the BMW M635 CSI, the Lancia Beta Coupe VX, the Mercedes Benz 190 E 2.3-16, and a few more, including the gorgeous, gorgeous Porsche 'Gruppe B' design study; a car that would later turn into the legendary 959.

A few others were smuggled into this hall that weren't from '83, but instead represent 'new and established historic vehicles', but you'll have to click through the gallery to find out which ones.

If you're attending the Frankfurt Motor Show this year, and you're of a certain vintage, then hall 3.1 is an absolute must see. Tell us in the space below which is your favourite...

Words: Vijay Pattni
Pictures: IAA 

Advertisement - Page continues below

BMW M635 CSI

Introduced at the 1983 Frankfurt show, this was the 6-Series that received a heart transplant from BMW's M1 supercar. So underneath sat a 3.5-litre straight-six engine producing 286bhp, with enough power to hit a 159mph top speed. On launch, the M635 CSI cost 89,500 deutschmarks (remember those?). Using some wizardy on the Internet that translates the obsolete currency, that's around £46,000 in today's money (including VAT). Though we could be wrong.

Audi Sport Quattro

Developed for rallying and thus built as a road car in a limited run (the FIA required series production for entry into Group B at the time), this is the car that set the benchmark. The water-cooled, five-pot 2.1-litre engine produced a whopping 306bhp - not to be sniffed at even by today's hyper-inflated horsepower standards - and cost a suitably stratospheric 195,000 Deutschmarks when it hit showrooms. That was twice as much as the Porsche Carrera Turbo of its day.

Advertisement - Page continues below

Mercedes-Benz 190 E 2.3-16

Remember this? James May bought one for the German performance saloon challenge on Top Gear telly many moons ago, and it's another one pinched from the 'had-to-build-it-to-go-racing' bucket.

Mercedes wanted to enter into the DTM of the day, and required a road-going model. Step forward the 190E 2.3-16. The 2.3-litre four-pot petrol engine (with 16 valves) featured a cylinder head from Cosworth, and was a detuned version of the one Merc used in touring cars. Thus, it produced around 185bhp and could hit a top speed of 143mph. It also helped James May win the telly challenge, despite him running out of fuel, overheating, and, erm, getting lost around a circuit...

Opel Monza GSE

A concept bearing the 'Monza' name might be previewing the future of Vauxhall/Opel design - as we told you about here - but this is the original Opel Monza. Looking at both, they're, erm, not exactly stablemates.

Still, it was the range-topping 'GSE' that made its debut at the Frankfurt show in 1983, those letters standing for an especially generous trim line. So the 180bhp 3.0-litre six-pot engine remained as it was, but you got Recaro seats, a leather-covered steering wheel and an on-board computer. As standard!

Porsche 'Gruppe B' design study

Looks very familiar, doesn't it? (the one on the right that is - the one on the left is a 1963 Opel Kapitän) After racking up Le Mans victories, Porsche wanted to taste the top spot in the rally world. So in 1982, decided to launch its 959 rally project: a vehicle based on the 911 SC, that needed to be road-ready to satisfy the FIA's Group B regs. So we come to the 'Gruppe B' design study that made its debut at the 1983 IAA. And what a reveal that must have been. Imagine the faces!

The 2.9-litre six-pot engine produced a whopping 450bhp, with two water-cooled turbochargers connected in parallel to charge-air coolers (the first passenger car to do so), and of course, four-wheel-drive. It could hit 0-62mph in just 3.9 seconds (two tenths off the pace of Audi's modern Quattro Concept), had a massive top speed of 197mph, and was made from materials such as aluminium, Kevlar composites and Nomex. Hammond rather likes it too.

It cost 420,000 deutschmarks when it was launched in 1987. Wait, 1987? Despite being unveiled in 1983, strike action - and the sheer complexity of building the thing - meant production was delayed for a few years. But still.

Renault Fuego Turbo

It's the Renault Fuego Turbo! Fuego means 'fire' in Spanish, and this one was the range-topping 132bhp version, featuring a turbo'd 1.6-litre four-pot. You even got an on-board computer and four disc brakes.

Advertisement - Page continues below

Volkswagen Golf Mk II

A big one, this. The second generation of the car that remains the default buyer's choice and benchmark C-segment motor was launched at the 1983 IAA. 17cm longer than its predecessor, 95kg heavier (not such a bad thing in 1983), and available in C, CL, GL and GLX editions, this was the car that would eventually go on to sell more than 6 million units. The GTI version is also a car that has a strange affect on the adenoids of certain men...

Ford Sierra XR4i

Using the same 2.8-litre engine from the Capri, Ford decided to launch the XR4i Sierra in 1983. It had a double rear spoiler. It had multi-pillared rear windows. And a version was raced by Andy Rouse who won the BTCC in 1985. All of the 1980s is in this car.

Advertisement - Page continues below

Opel Calibra

This wasn't even a twinkle in an Opel designer's eye in 1983, instead rocking up in 1993 as a V6 (the 2.0-litre models came out a couple of years before). At the time, the Calibra was one of the most aerodynamically efficient cars on the road, featured rather handsome bodywork and, erm, sat on the chassis of the Cavalier. So not the most dynamic or exciting car on the planet. The 200bhp 4WD Turbo models also had a reputation for lunching the transfer boxes, but that's another story, because JUST LOOK AT IT.