Gaming
The 10 best cars in Forza Horizon 5
Our pick of the best cars in the Xbox's biggest racing game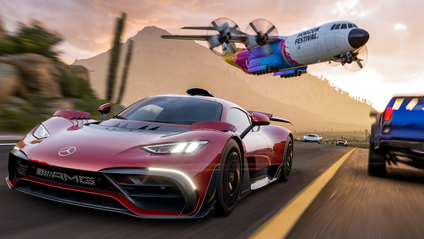 Coming up with a definitive list of the 10 best cars in most racing games is straightforward. You pick the 10 quickest cars around a single lap. Coming up with that same list for Forza Horizon 5 is a little trickier. You see the purpose of the Horizon games has always been having fun rather than achieving the ultimate lap time, which is why we present to you a mostly unscientific, almost entirely subjective list of the best cars in Forza Horizon 5.

Until we get to the last one on the list, that is, which is objectively the best car in the game. Read on to find out exactly what it is.

Advertisement - Page continues below

This is both the Horizon 5 cover car and the vehicle currently causing serious trouser trouble for car fans worldwide. But unless your name's Nico Rosberg, you're unlikely to ever be parking yourself in the AMG One's bucket seats and firing up that F1 derived engine. This car packs a thousand-or-so horsepower, with a totally unique engine note, features active aero to prevent you from launching your own amateur space program and is limited to 275 cars worldwide.

Which is why it's such a treat to be able to drive it in Forza Horizon 5 and not feel even the slightest bit guilty when you accidentally veer off a cliff and scour off all the paintwork against a particularly pointy cactus.

Hoonigan Cossie V2 (1994)

Luther Vandross and Janet Jackson sang that the best things in life are free and that definitely applies to Forza Horizon 5 where, within moments of firing up the game, you're handed the keys to the frighteningly capable 4WD Hoonigan Cosworth. It'd be tempting to discard it shortly afterwards as a mere 'starter' car, but you'd be doing it, and yourself, a disservice.

As you'd expect from a car commissioned by Ken Block, for whom sideways is standard, this thing handles beautifully whether off-road or on, making it a versatile tool for your high speed commutes between events. Particularly if you're prone to accidentally flying off the asphalt.

Advertisement - Page continues below

Our favourite of the cars to land in Forza Horizon 5 in the game's latest 'season', the E90 BMW M3 GTS is the ultimate, limited edition version of the beloved E92 M3, packing one of the greatest naturally aspirated V8 engines ever conceived, enlarged in the GTS from 4.0-litre to 4.4-litre. Unnecessary fripperies like rear seats and glass windows have been discarded, saving 136 kilos and the entire thing is dipped in retina-assaulting Fire Orange paint.

These are exactly the sort of dinosaurs we're going to miss when the entire world is running on electricity, but you'll always be able to drive them here. On your console. Which is, confusingly, also running on electricity.

Hot Wheels Baja Boneshaker (2013)

With Mexico the home of the infamous Baja 1000 off road race, you're going to need a jacked up Baja buggy to handle the most challenging terrain that Forza Horizon 5 will throw at you. Might we recommend the custom Baja Boneshaker, which takes one of the most beloved Hot Wheels cars of all time and turns it into an all-terrain weapon with an offroad rating of 10 out of 10.

You also can't put a price on the intimidation factor. Every time your opponents glance behind them, they'll see your car replete with a giant chrome skull bearing down on them and will probably swerve off the track in sheer terror. Granted, that hasn't happened for us yet, but that doesn't mean it won't.

Porsche 911 Reimagined by Singer (1990)

They say beauty is in the eye of the beholder, but we reckon the Singer Dynamics and Lightweighting Study makes a beholder out of pretty much everyone. This is, unequivocally, one of the prettiest cars in Forza Horizon 5.

Singer's restomod talents have been well known for some time now, but given the, at times, delicate relationship with Porsche it must have taken some serious sweet talking just to get this car in a videogame game at all. It seems like the Horizon 5 player-base knows it's special too, because on average you'll currently need around 16 million credits to pick it up in the auction house. Time to smash that virtual piggy bank.

Looking like the sort of car we doodled on the back of an exercise book when we were 12 years old, the Jesko has the stats to back up the spaceship looks. Horizon 5's version is one of the fastest cars in the game and with the right tune, it'll hit an eye-watering, space-time continuum ripping 380 mph. What's the last thing to go through a fly's mind when it hits the windscreen of a Jesko? Its bum. And then, probably, the bums of several hundred more flies.

Advertisement - Page continues below

Ford Mustang Mach E 1400 (2021) 

Of the electric cars in the game, our favourite for all round usability is the Ford Mustang Mach E 1400. Not only does that large number refer to the number of electric horses hiding under the hood, and not only does it feature more wings than a Boeing factory, the car also gives you the option to switch between RWD and AWD deployment, making this the combination shampoo and conditioner of filthy great powerslides.

Now you might be wondering why we're recommending a Ford Transit van from 1994, but the Super Van 3 is actually a Le Mans prototype playing dress up. What's more, it's packing a Cosworth HB engine, which was borrowed from the Benetton F1 team that was, at the time, busy shepherding Michael Schumacher to his first world championship.

But we're not just recommending it for its historical interest, otherwise we'd be pointing you towards the 1926 Bugatti Type 35 C. Drive the Super Van 3 and you'll discover it's surprisingly stable and predictable, thanks to plenty of downforce, a low centre of gravity and race-spec tyres. Alright, its stock tune is a little lacking in power, but that's easily remedied, creating a safe, stable vehicle for those tense, longer races like the Goliath. And that's not to mention the exquisite pleasure of stuffing your online opponents in something that looks like it should be delivering your Amazon parcels.

Advertisement - Page continues below

Toyota Gumout 2JZ Camry Stock Car (2010)

Showing up to a drift meet you're likely to see a lot of the same sorts of car, Supras, BMW M Cars and the odd Ford Mustang. So why not rock up to your next Drift Zone in something a little novel, with this 2JZ-swapped Toyota Camry NASCAR.

Part of the Formula Drift pack that was released late last year, this Frankenstein's monster of a drift car needs judicious use of the handbrake to persuade it into a slide. Once it's broken traction, though, it's so long it feels like you're expertly powersliding a canal boat. Plus looking at this icon of Americana, we're willing to bet there's a half eaten bucket of buffalo chicken wings in the footwell. Result.

Lamborghini Sesto Elemento (2011)

It's worth bearing in mind that, with Forza Horizon 5's in depth tuning options and the ability to download tunes from other, more obsessive players, you can turn just about any car you fancy into a stunningly capable racing car. But if you're too lazy to even navigate to that tuning menu, you could just drop two and a half million in-game credits on the Lamborghini Sesto Elemento, which scores 10 out of 10 in four out of the six attributes the game tracks straight out of the box.

And one of the two in which it doesn't score the perfect 10 is offroading, which should be rather obvious from that ground clearance. This S2 class car offers a perfect balance of handling, acceleration, launch and braking in its category, losing out only in outright speed. Pound for pound, it's the best car in the game.