Gaming
20 of our favourite retro racing games
What's the best old-school racing title ever?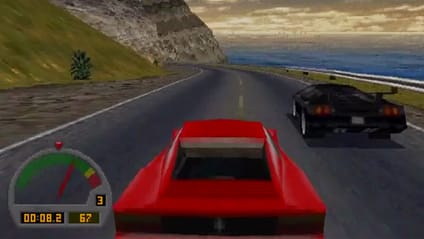 The Citizen Kane of the 16-bit era. The sheer mental effort involved in racing spaceships 50 times faster than is normal meant that it could be played for no more than twenty minutes before it caused chronic eye-ache and lasting fatigue.

Advertisement - Page continues below

Ayrton Senna's Super Monaco Grand Prix II

Billed as boasting the "most realistic physics", ASSGP was widely regarded as the least realistic GP game on the market at the time. Before each race, a pixelated Senna would cheerily offer sage advice about the track you were about to drive, which made it brilliant.

Featuring more ROCK per pixel than any other racing game, this married Megadriverized electro versions of Black Sabbath, Deep Purple and Steppenwolf to blow-'em'up 4x4 racing. There was also a villain called Butcher Icebone, which surely ranks alongside Snake Pliskin as the Best Name of All Time.

Advertisement - Page continues below

Possibly the most realistic game of its era, it actually felt like you were driving a radio-controlled car in three glorious, isometric dimensions. Though the overwhelmingly irritating soundtrack made you want scratch your ears off.

Ivan "Ironman" Stewart's Super Off Road

Tough, wobbly 4x4 action endorsed by tough, wobbly 4x4 racer Ivan Stewart. Provided superb multi-player fun, though it was a little Toyotafied - all the trucks were Toyotas, the tracks were plastered with Toyota branding and the pre-race music was a synthed-out version of the "I love what you do for me Toyota" jingle.

Probably the earliest first-person racing game in history, you had to put a plastic car at the bottom of your cathode ray telescreen before tumbling forward between two rows of white dots. It doesn't sound it, but this was genesis.

Massively difficult, but became hugely famous in 1980s arcades for being the first cabinet where you could pretend to do wheelies on a full-size replica dirt bike. Was therefore the last word in cool.

Advertisement - Page continues below

You can't have a list like this without mentioning the "in no way affiliated to the show you know and love called Top Gear" game called Top Gear. One of the first racing games on the Super Nintendo, it was mainly notable for a bug that let you hit the finishing post to finish the race, bounce off, and finish the race again, thereby bagging "double points". It was therefore suitably ambitious and rubbish.

Basically Nintendo's copy of the superior Out Run, this came with 3D glasses, which gave you a headache and didn't really work properly. Much like today's 3D tech, really.

Advertisement - Page continues below

Another example of how pleased we were by simple innovations back in the early days. The super-speedy Spy Hunter had CARS THAT TURNED INTO BOATS, as well as WEAPONS and MACHINE GUNS and OIL SLICKS, which was TREMENDOUSLY EXCITING. It also never seemed to end.

Eye-melting F1 game. Inspired equally rubbish cartoon. Gives you a headache if you play for more than 40 seconds.

Lotus Esprit Turbo Challenge (1990)

Unsurprisingly, car selection's limited to Lotus Espirit Turbos. Features enjoyable computer-controlled driver names, including Ayrton Sendup, Nijel Mainsail and Alain Phosphate.

Painfully difficult sim that features the first 3D polygon driving environment. Only clever kids were any good at it. Which includes none of the Top Gear office.

Dangerously moreish 3D F1-style effort and the first to offer split-screen two-player gaming. You even had to stop for fuel and tyres.

There are dragsters. There are jumps. There are turbo boosts. There's not a lot to hate here. You could even connect two computers and take on another player. Awesome.

Motorcycling game that allows you to punch other riders in the face. Infinitely satisfying to send Gunther spiraling towards a car at 100mph.

Micro Machines 2: Turbo Tournament (1994)

Furiously addictive and immeasurably fun. Also had a funky cartridge so you could plug in two extra controllers for four-player goodness. Eight if you shared. You could even do 360s.

Chasing down baddies in a Porsche 928 - save for their very own Violet Berlin, this is what every young race gamer dreamed of. Scrolly, pursuity brilliance.

Creative, ingenious and hilarious karting game that makes all but the soulless smile. Battle Mode invariably ends in the administration of a dead arm.

Better than Chase HQ for three reasons: the Ferrari Testarossa, 'cause you're a street racer and that lovely blonde passenger. You even got four radio stations to choose from, each synthing out their own lasersdance electroperas.