Retro
Gallery: every single Top Gear Car of the Year winner of the last 30 years
... all gathered in the exact spot where we shot the first ever issue of the magazine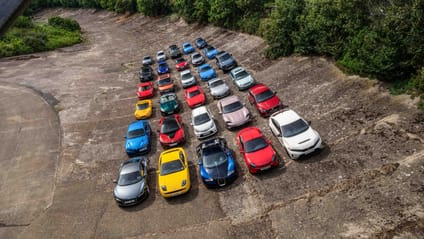 375 issues ago, TopGear "at long last, powered into print", finally supplementing the telly show that had been on British screens since 1977 with a paper-based companion. To set the tone, the team set about bringing ever single new car model on sale in the late summer of 1993 to the banking of the storied Brooklands motor racing circuit in Surrey. A Lamborghini shared the front row with a Lada. "Only one carmaker failed to provide a car – Ferrari." Cars beyond the fifth row were lost as "blobs of colour". It was an ambitious stunt that intimated TopGear magazine would indeed have something for everyone. 

Jump forward to the summer of 2023 at the TopGear office, and we're debating how to commemorate 30 years of the magazine, with a single shot that shows the breadth of everything the magazine has rated during its existence. We elected to pay tribute to issue 001 by gathering each and every car that's won the TopGear Car of the Year award since its inception, and delivering the lot to the spot where the first ever mag cover was shot. 

As ever with those 'wouldn't it be great if...' ideas, there were immediately some headaches. Chief among which was the realisation that until 2000, TG mag didn't actually declare a Car of the Year. And the telly show only did so intermittently. We delved into the archives to see what the team rated through the Nineties, and we selected, on behalf of our forebears, the cars most deserving of posthumous TG CotY titles. That was the fun bit. 

Then there was the 'where the hell do you actually find a tidy Fiat Multipla' bit. Tricky, that. Turns out two-tone Bugattis and bright red Ferraris are easy to source, but Pumas have rusted away faster than the Titanic. Few Fiat owners thought to preserve a bug-eyed endorsement for Italian birth control. Our maths stumbled when we discovered there were in fact two 2005 Cars of the Year. And Ford sent along a beautifully preserved Mondeo that was registered in the correct year... but was the wrong shape. Wouldn't be very TopGear if we'd 'got the lot' after all. 

So, we present to you the cars we've applauded and awarded. Happy birthday TopGear magazine. Reader, welcome to the hall of fame.

Advertisement - Page continues below

CLASS OF '93: Bestseller of the year was the Ford Escort, but we were more taken by the likes of the Peugeot 106 Rallye and Ferrari 456GT.
WHAT WE SAID THEN: "If the Fiat was all looks and no go its stylists' work would've been in vain. It isn't: it's got most of the other bits right too."
JUDGED BY HISTORY: Slash-tastic styling still more than holds up in modern times: one of the most daring mainstream designs of the Nineties.

CLASS OF '94: Audi's RS2, the Aston Martin DB7 and Lancia Delta Integrale all received purple prose. Ford Escort still Britain's favourite buy. 
WHAT WE SAID THEN: "You can forget about traction control taking care of you here, the pope's more likely to wear an orange sash than Ferrari is to fit traction control to a road car."
JUDGED BY HISTORY: The beginning of the Montezemolo effect at Modena, as Ferrari's tenacious boss blew away the cobwebs and set about creating an F1-inspired technical powerhouse.

Advertisement - Page continues below

CLASS OF '95: A good year to be blown away by cabrios, with the RenaultSport Spider, Ferrari F50 and MGF all under the TG microscope. Ford Escort still top of the charts.
WHAT WE SAID THEN: "After driving the excellent new 523 and 528 I'm unable to find reasonable fault with either which, quite frankly, is irritating."
JUDGED BY HISTORY: One of the all-time great BMWs, and saloon cars. Was the best barge in its class when it went on sale, and remained so until after it was replaced.

CLASS OF '96: We rate the Porsche Boxster as better than a 911 and the Ferrari 550 as the best prancing horse... ever. Fiesta finally usurps Escort.
WHAT WE SAID THEN: "Let's face it, the days of lashing about at super-high speeds are damn-near over. This is where the real fun is, top down, revelling in razor-sharp handling."
JUDGED BY HISTORY: A lightweight legend, good enough to remain on sale (albeit three facelifts and various engines later) for a quarter of a century.

CLASS OF '97: Fiesta cements its position at the top. Honda's Integra Type R, the Land Rover Freelander and BMW's M Roadster all impress.
WHAT WE SAID THEN: "The Puma is the first of its kind to drive even better than it looks [...] It'll take about 60 seconds for it to put a smile on your face."
JUDGED BY HISTORY: A certain kind of enthusiast knows these are a handling gem, but the general public seems to have lost interest when they rusted away.

CLASS OF '98: Not for the last time, the Fiesta remains Britain's number one buy. Meanwhile the Jaguar XKR, Audi TT, VW New Beetle, Jag S-Type and Rover 75 all grace the mag cover. Sorry.
WHAT WE SAID THEN: "I can't say whether or not the Focus's suspension is quieter than that fitted to its rivals but that's only because it's so much fun to drive that I forgot to check."
JUDGED BY HISTORY: A car that summons nodding reverence from road testers – this was the point at which Ford nailed the fun to drive family car, and it took the rest a decade to catch up.

Advertisement - Page continues below

CLASS OF '99: Ferrari's new 360, the sensational Pagani Zonda and the 9,000rpm howl of a Honda S2000 all feature heavily, while the award winning Focus overtakes the Fiesta in the sales charts.
WHAT WE SAID THEN: "Just like a flash coffee machine, there's no logic to buying one, but I want one all the same, and by the end of this first steer, you'll want one too."
JUDGED BY HISTORY: As a commercial failure... and a car too clever for its time. It was light, spacious, frugal and beautifully built, but just too pricey.

CLASS OF 2000: We bid a fond farewell to the original Mini while going gaga for the new BMW M3, Renault's wild Clio V6 and the even wilder TVR Tuscan.
WHAT WE SAID THEN: "This remarkable machine has reinvented the family car and kicked it into the new millennium. As a sparkling piece of original thought, it's a worthy winner."
JUDGED BY HISTORY: The Multipla was facelifted into bland obscurity, then dropped altogether and never replaced. And MPVs are now pretty much extinct. Whoops.

Advertisement - Page continues below

CLASS OF '01: We love the Aston Martin Vanquish, give a cautious thumbs up to the Jaguar X-Type, and are relieved to discover the new Mini has the old magic. 
WHAT WE SAID THEN: "The Ford has to be all things to all men: private car, business car, one capable of absorbing families and yet satisfying to the single driver. A jack of all trades."
JUDGED BY HISTORY: The MkIII Mondeo is apparently so forgettable even Ford itself sent us the wrong one. Yet another dead Ford name, and Mondeo man is now a 3-Series guy.

CLASS OF '02: While the new Ford Fiesta and Vauxhall Vectra got a proper savaging, the Ferrari Enzo blew minds into various postcodes.
WHAT WE SAID THEN: "Climbing to the top means being able to mount kerb and conquer mountain. The Range Rover does this and also includes a world class interior and peerless refinement."
JUDGED BY HISTORY: Peak Range Rover. As a piece of design, and a union of agricultural duty with royal poshness, there's never been a more perfect Rangie than this.

CLASS OF '03: BMW's new Z4 loses out to the Boxster, the baby Lambo Gallardo gets acclaimed, and Clarkson calls the Carrera GT an all-time great. Correct again.
WHAT WE SAID THEN: "We jumped out of it, grinning broadly and knew we'd found a winner. With the Focus RS, Ford has delivered a cracking little package at a cracking price."
JUDGED BY HISTORY: A controversial car, sensitive to set-up and happy to torque steer you into a tree. But with so many gone or badly modded, a MkI RS is now a fast Ford modern classic.

CLASS OF '04: The telly show gives its own CotY gong to the MkV Golf GTI – a sensational return to form for VW. We're also rather partial to the Ferrari F430 and BMW's V10-powered M5.
WHAT WE SAID THEN: "Fancy an Almera? Or a Primera? Of course you don't. Let's face it, the Nissan badge doesn't awake the beast in us. But do you fancy a 350Z? Of course you do."
JUDGED BY HISTORY: Never had the TT's rep for chic quality, nor the Mazda RX-8's wild engineering, so the 350Z's contribution to car folklore was via The Fast and the Furious: Tokyo Drift...

2005 Toyota Aygo / Bugatti Veyron

CLASS OF '05: While the Aston Martin Vantage is busy charming us and the Range Rover Sport is making the Cayenne look underdone, the Ford Focus is still Britain's bestselling car. 
WHAT WE SAID THEN: "Our overall TG Awards winner this year is the Toyota Aygo, alongside the Bugatti Veyron. Yes, we can see the irony – and one costs one hundredth the price of the other."
JUDGED BY HISTORY: The Veyron template morphed into the Chiron, only recently discontinued and still a tour de force. Aygo's demise is endemic of the slow death of the affordable city slicker.

CLASS OF '06: The Dodge Viper shows one way to make a pant wetting front-engined supercar. The Ferrari 599GTB demonstrates another.
WHAT WE SAID THEN: "It's just as lovely to behold, and with two more seats, more practical than the Aston Martin V8 Vantage. That's a great car. But on points, the Jag is better still."
JUDGED BY HISTORY: A car that evolved from a gentlemanly 400bhp coupe into wilder XKRs, XKR-Ses and the rare XKR-S GT, before spawning the F-Type. Still a mild whiff of golf trouser.

CLASS OF '07: Yes, the Focus is still the top seller. Duh. TG mag keeps it real with drives of the £1m Lamborghini Reventon, Aston DBS, Koenigsegg CCX... and Fiat 500!
WHAT WE SAID THEN: "It looks astonishing, goes, stops and corners like it has rewritten the laws of physics, and it is built like a nuclear bunker."
JUDGED BY HISTORY: Still the finest driving Audi of all time, and unlikely ever to be topped. V10 was lovely too but we'll take a V8 manual coupe, ta.

CLASS OF '08: Ferrari 430 Scuderia, Nissan GT-R, Mercedes CLK Black leave Clarkson and co agog... but the California is branded "the first Ferrari that goes better than it looks".
WHAT WE SAID THEN: "We're celebrating something truly unique in the Scirocco: a common man's exotic. This is a car that we can understand, we can appreciate, we can afford."
JUDGED BY HISTORY: For a while it seemed like the Scirocco could step out of the GTI's shadow. But then VW revamped its tartan embroidered hatch and left its coupe cousin to wither on the vine.

CLASS OF '09: Recession? What recession? Murciélago SV, new Lotus Evora, Vette Z06 and roofless Stirling Moss take our mind off the credit crunch. Fiesta's back on top of the sales charts. 
WHAT WE SAID THEN: "The scope of its abilities is absolutely breathtaking [...] and while it's probably the best-handling Ferrari road car ever, it's also the smoothest riding and most refined."
JUDGED BY HISTORY: Always likely to be a classic, given it's the final non-turbo V8 Fandango. Even though it eschewed a manual gearbox, the 458 may represent peak Ferrari supercar.

CLASS OF '10: Fiesta's staying put at number one, while outside of Normville we're treated to the new Noble M600, Porsche's 3.8-litre GT3 RS, and the four-door Aston Martin Rapide. 
WHAT WE SAID THEN: "The DS3 isn't just a fashion accessory. Behind all the slick Mini-esque marketing bluster and all the lipstick and glitter, there's a very good, confidently dynamic little car."
JUDGED BY HISTORY: A consistently strong seller in the UK, DS' supermini launchpad hasn't really translated into long-term Mini troubling premium badged success.

CLASS OF '11: What a year for small cars: the VW Up, BMW 1M, Kia Picanto and, um, BAC Mono all impress. If you need to move a wardrobe fast, there is always the Ferrari FF...
WHAT WE SAID THEN: "The Evoque is a pony that's also a racehorse, a shire horse, a dray horse, a show jumper and an easy rosette winner in the dressage competition. It's brilliant."
JUDGED BY HISTORY: Noticed how all Range Rovers, Sports and Velars that have followed the Evoque have looked a little more streamlined and stylish? That's the Evoque effect.

CLASS OF '12: The Pagani Huayra, new Range Rover and the Dacia Duster conspire to make 2012 a real humdinger for fresh metal. 
WHAT WE SAID THEN: "The GT86 is a lovely car to drive. The steering is without fault, the ride is sporty without being stupid, and the grip is poor by which I mean excellent."
JUDGED BY HISTORY: The very fact that Toyota merely rejigged the styling and added some torque to the GR86 10 years later shows how right it got this recipe the first time.

CLASS OF '13: Ferrari 458 Speciale, McLaren P1, Jaguar F-Type, BMW i3, VW XL1... another halcyon year for the album. Another year in which the Ford Fiesta outsells everyone. 
WHAT WE SAID THEN: "The ST was a unanimous choice. A car than invigorates, excites and rekindles some of that love you thought you'd lost for the simple stuff."
JUDGED BY HISTORY: Easy to forget that the ST had to battle a techfest Clio RS, reborn Peugeot 208 GTI and several DSG-equipped VW Group hot hatches when launched. An all-time great.

CLASS OF '14: This is the year we drive the LaFerrari, Citroen C4 Cactus, Porsche 918 Spyder and the arse-engined Renault Twingo. Variety is the spice of life, eh? 
WHAT WE SAID THEN: "It's the kind of car we should celebrate, a beautiful vision of the future, delivered now. A car that tells us the future will be different, but still exciting."
JUDGED BY HISTORY: Plug-in hybrid supercars are now a mainstay of the genre, but sports cars not so much. There are no beautiful BMW i cars anymore, which probably makes the i8 more special.

CLASS OF '15: Among the Ferrari F12 TdF, McLaren 570S and Porsche Cayman GT4, we find time to be won over by the BMW M2 and Ariel Nomad. 
WHAT WE SAID THEN: "It felt alert and eager and sharp. It made me revel in the tactility and feedback. One quick nudge and the RS was with me. And it did this as I was driving through 
a section of roadworks."
JUDGED BY HISTORY: Not our favourite Focus RS, if we're honest. Were we blindsided by the Drift mode gimmick?

2016 Alfa Romeo Guilia QF

CLASS OF '16: The SUVs cometh: Tesla Model X and Jaguar F-Pace are among 2016's most important newcomers. But the Golf GTI Clubsport S and Mercedes-AMG C63 Coupe steal our hearts. 
WHAT WE SAID THEN: "It's modern and high-tech but the proposition is simple: engine, handling, beauty. Those are the things we want from Alfa. The Giulia overdelivers.
JUDGED BY HISTORY: Still on sale, and still a joy to drive. A BMW M3 is more complete somehow, but this is sexier, and sounds so much better.

CLASS OF '17: Fiesta still tops UK sales charts, but in TG land, the McLaren 720S, Ford GT, Merc E63 and VW Up GTI win hearts and minds. One of the strongest years for new cars ever.
WHAT WE SAID THEN: "Just as a Corvette or Hellcat is America at its tyre-shredding, belching best, this is Japan distilled into a practical five-door family hatch."
JUDGED BY HISTORY: A monumental leap in hot hatch performance which saw off all challengers and barely needed changing for 2022's reboot. Apart from a spot of de-uglification.

CLASS OF '18: Only in TG can a Suzuki Jimny excel like a McLaren Senna, while Alpine's delightful A110 runs our winner very close at the top. 
WHAT WE SAID THEN: "I just love the fact Ford spends as much time ensuring its baby Fiesta drives slickly as it does the half-million pound GT. This is the way things should be done."
JUDGED BY HISTORY: Taken off sale mere months ago, along with the blockbuster selling Fiesta family. Was still the best small hatch money could buy, and may forever remain so. RIP old friend.

CLASS OF '19: Records smashed left right and centre, as Renault's Trophy RS blitzes the FWD 'Ring contest and Andy Wallace drives a Bugatti Chiron SS beyond 304mph. 
WHAT WE SAID THEN: "Porsche has permanently altered what people who love conventional cars will think of electric cars. It demonstrates the industry is determined not to allow the motorcar to become a homogenised commodity."
JUDGED BY HISTORY: As a car to enjoy driving on a great road, the Taycan remains the premier EV.

CLASS OF '20: We fall for the Honda e, fail to spot the VW ID.3 is a complete dud and get rightly lathered up about the Toyota GR Yaris and Rolls-Royce Ghost. 
WHAT WE SAID THEN: "With most cars you've got racetracks, possibly a mountain pass to really cut loose on. In the new Defender, your playground is everything else."
JUDGED BY HISTORY: Vastly overqualified for the job most are using it for. Can conquer the Serengeti before breakfast, but most folks use theirs to fetch croissants from Waitrose.
 

CLASS OF '21: The talented EVs are coming really thick and fast now: Mustang Mach-E, Ioniq 5, EV6, EQS, Battista... but we're still quite chuffed by the hilariously yobbish Ford Puma ST, actually. 
WHAT WE SAID THEN: "The i20N shows that modern hot hatches haven't lost the knack. There's a keenness to it, backed up by huge ability and real dynamic polish."
JUDGED BY HISTORY: Proved the stellar i30N wasn't a fluke, gave us hope for life after the Fiesta, and made the upcoming Ioniq 5 N a really difficult third album. A Hyundai high point.

CLASS OF '22: An eclectic year of pleasant surprise, thanks to the likes of the McMurtry Spéirling and MG4. Toyota's GR86 is sublime, but is the VW ID.Buzz actually as great as touted?
WHAT WE SAID THEN: "People will say it's absurd to spend £50k on a superheated shopping trolley, they'll say you could have a VW or a Mercedes, but they'll be wrong. This is a very special car."
JUDGED BY HISTORY: Already a legend in its own lifetime: likely as good as the petrol hot hatch will ever get. Genius chassis, bulletproof engine, and one of the best gearshifts ever devised.