Gaming
Assassin's Creed Mirage: seven more games that should return to their roots
Ubisoft has gone back to basics with the latest AC instalment. Should the rest of the industry follow suit?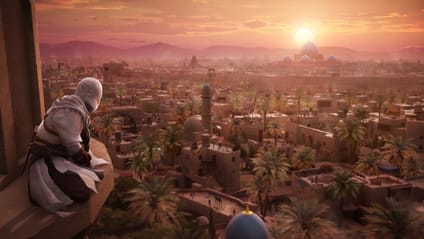 Baggy jeans are back, Big Brother's on telly every night, and everyone's talking about a new Assassin's Creed game, a stealth-action title set in the medieval Middle East. We're basically one bank closure away from a total regression back to 2007.

Ubisoft judged this return to the classic formula expertly for Mirage, though. It's not just about 2000s nostalgia - if it was, the absence of frosted tips on protagonist Basim's bonce would be a critical oversight - but rather a recognition that the series had become a bit of an open-world everything simulator recently. Incomparably big world maps, a lifetime's worth of upgrade trees to upgrade, collectibles to collect, fetch quests to fetch… And a half-forgotten premise somewhere underneath all the clutter.

Mirage slashes away all of modern AssCreed's bloat, and it's all the better for it. And if we all don our hoods and intone the right Templar mantras, maybe these other titles will find their way back to their original, better, directions too.

Advertisement - Page continues below

Tomb Raider's place in society over the years has fluctuated from 'excellent puzzle game' to 'retrospectively very troubling softcore titillation' before finally arriving at 'open-world action game like all the others, featuring Lara Croft' in more recent years.

It's not that there's anything wrong with Crystal Dynamics' 2013 reboot or its two very triple-A successors, Rise of the Tomb Raider and Shadow of the Tomb Raider. But in modernising a once awkward and stiff platformer, the newer games accidentally assimilated Tomb Raider into the great big homogenous beige lump that is modern triple-A gaming.

It's time to drop the skill trees, the brutal melee takedowns, the punishingly dull cinematics and collecting animal pelts for an upgraded arrow. Time to focus once again on exploring a tomb full of subtle, secret wonders and impossible traps.

You get the sense Crystal Dynamics agrees with this sentiment - it's putting out remasters of the first three classic titles in February 2024.

COD's a beloved annual serving of preposterous military hoo-ah-ing, every bit as reliable and predictable an autumn occurrence as the turning leaves, or filming fireworks on your phone and then never, ever watching the video of it.

But it's not really a game anymore, is it? It's a suite of games, one of them a solo shooter, another one a co-op zombie horde survival game, then a battle royale and a multiplayer deathmatch and… Well, they're all usually pretty good. But let's not let trifling matter ruin this point.

Because Call of Duty used to be eight hours of cinematic, story-led linear first-person gaming. And it was absolutely excellent at this. What modern heights might its developers achieve within the confines of this premise, if it didn't also have to develop seven other components in the big COD packed lunch at the same time? Let's find out please.

Advertisement - Page continues below

Once upon a time, British studio Codemasters thought it might be fun to make a game about the British Touring Car Championship, during the series' '90s heyday, no less. And then it did it again a couple of years later and received rapturous applause and quite a lot of sales for its realistic take on factory-enhanced hatchbacks smashing into each other around Snetterton.

Those TOCA games begat the story-led racer TOCA: Race Driver releases in the 2000s, which begat seminal simcade racer Race Driver: GRID in 2008, which begat a long-running series of enjoyable but slightly indistinct GRID games throughout the 2010s and into the 2020s.

Modern day GRID has great damage and meaty handling, not to mention loveably madcap AI. But it can't compete with Gran Turismo for fidelity or sim chops, and it doesn't have the licences to give Forza sleepless nights. It's stuck in driving game no man's land, without one particular feature that it does better than anyone else.

Which obviously means it's time to go back to being a BTCC sim where windshields last all of four seconds and the stewards turn a blind eye to racing backwards round the track and leathering Jason Plato's Laguna into retirement. Plus, the series gave a nod to the old Race Driver: GRID games in its most recent outing, GRID: Legends, when it brought back the cutscene-driven career mode. Touring cars is the next logical step.

Another long-running series that used to have a specific premise, in this case, an elite group of military police operatives first planning and then executing tense tactical missions. However in recent years, the 'Tom Clancy's' prefix has come to denote nothing more specific than 'videogame with guns in it'. Stop and ask yourself: what do The Division, Rainbow Six Extraction and Ghost Recon Breakpoint actually have in common, besides guns and goggles?

But the original Rainbow Six titles were brilliantly specific, and unique for it. No other game tasked you with actually planning out a route into a combat zone and deciding where and when you'd toss flashbangs. They let you pick the weapons and gear for each operator, and watching your crack team of Rainbow hardnuts walking about in woodland camo outside a museum in downtown New York just because you told them to was a very particular thrill.

Operators stayed dead when you got them killed in combat, too. Ding Chavez, you're forever in our hearts.

Just as video killed the radio star, the groundbreakingly detailed Gran Turismo probably didn't give Ridge Racer and its drifty arcade racing much of a shot in the arm. Once it was the automotive jewel in the PS1's crown, getting you to master powersliding techniques and lust after its totally unlicensed fictional cars. And then Polyphony gave us the keys to photorealistic Toyota Supra Castrol LMs, and suddenly Namco's silly old arcade racer wasn't so appealing.

But in the intervening years, up has become down. Driving games are topsy-turvy land. The genre's saturated by super-serious sims with furrowed brows and licences, and pure arcade experiences are in criminally short supply. The stage is perfectly set. The corners have been greased, ready for Ridge Racer's gloriously wayward rear axles. It's time, Namco.

"Sir, it's bad news. FIFA continues to outsell us, and it's making literally billions in microtransactions from Ultimate Team", someone at Konami presumably said to their boss, some time in 2020. "We need to respond."

"Fine. Change the name of our beloved long-running PES franchise to something completely generic, then release it for free, with just a handful of teams and no real modes to speak of."

"Sir?"

"That will be all, fictional Konami employee."

And so eFootball was born. It's hard to imagine a better way to alienate its entire fanbase, even if it had been renamed 'We Hate You Football 2021' and featured a mode that simply punched you in the face through your TV. That would actually have been pretty innovative.

The great irony was that the football itself in eFootball was, and is, pretty good. It's just that they apparently forgot to make a game around that great football, and that's why it finds itself being roasted on this list.

Take the strong on-pitch components, and put them in the old classic modes that fans have been asking for: Master League. Become a Legend. The former was confirmed to release in 2023… But we're rapidly running out of 2023 now, so don't hold your breath.

Advertisement - Page continues below

Finally, a real deep cut from the gaming archives. It's not that No One Lives Forever needs to change its formula in order to return to a fundamentally better gameplay style. Quite the opposite: the brilliant Sixties spy-shooter series has been stuck in IP law limbo for two decades, so someone just needs to figure out how to make more of them.

Or even re-release the original two games. Nobody knows who owns the rights - it's either Warner Bros, 20th Century Fox or Activision. But given this is the kind of niche franchise that falls last on an internet listicle, none of that corporate triumvirate seem that fussed about figuring it out. So it's impossible to buy the old games on any digital storefront, and even harder to make a new one. Remaster specialist Night Dive tried recently, but simply couldn't get to the bottom of the tangled legal knot. What a shame.