Gaming: is the new Need For Speed up there with the best racing titles?
2015's model is rebooted and reworked, but is it reinvigorated?
Feeling the need? This new-for-2015 model of Need for Speed might not have the word 'Underground' in the title, but just a glance at those rain-slicked streets is enough to provoke fuzzy, pleasant flashbacks to the series' 2003 renaissance.
Ventura Bay is a thinly veiled caricature of LA, but one that's permanently shrouded in darkness. It's phenomenally atmospheric as you charge through wide, sodium-lit avenues, the camera shuddering and swooping as you mash the nitrous button. It's a bit like watching the movie Collateral on fast-forward.
If you're committed to commuting between challenges rather than teleporting there, you'll have seen everything the city itself has to offer within two or three hours, with deceptively little mileage required to cover every inch of tarmac. Plus a bit more than tarmac, now that we mention it – if we'd bought a GPS system that took us down a railway line, we'd probably return it to the shop.
But the problem isn't really the setting, though, it's the quality of the action within it. Don't get us wrong, Need for Speed's cars handle beautifully, but the events themselves quickly get tired and repetitive.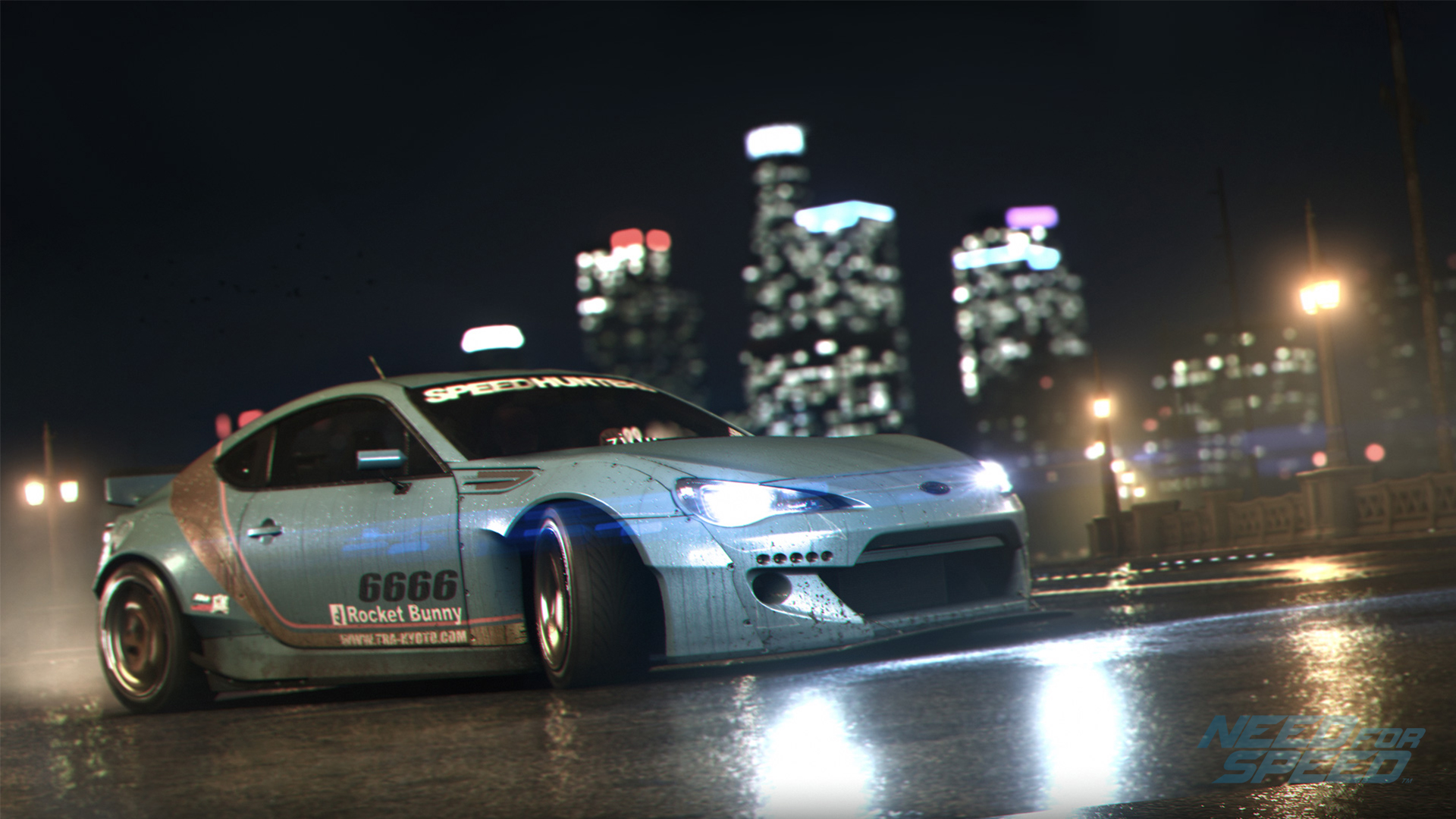 During races the 'rubber band' artificial intelligence is constantly slinging cars past you or having them suddenly lose speed, arbitrarily shuffling the pack in an attempt to keep things interesting. It cheapens the wins and makes the losses feel unfair, all in the name of adding a bit of Hollywood cut-and-thrust to the racing.
It's even worse when you finally come up against cheery cartoon Viking Magnus Walker, the ultimate opponent in the Speed storyline. He's somehow fettled a 1971 Porsche 911 that will blitz past your 991 GT3 RS, merrily disproving Einstein's Special Theory of Relativity as it goes.
Walker's presence (along with the welcome inclusion of Ken Block and his Hoonicorn) is a sign that EA has returned to a more grass-roots corner of car culture after the aspirational hypercars of NFS: Rivals. The focus is back on tuning vaguely attainable machinery until it can hit Mach 3.
The customisation system is one of the best we've seen in a game – you feel the effect of new parts on both handling and response immediately. Tuning your car appropriately for drifting events is particularly important, which is exactly as it should be. And yes, you can also paint it a lurid colour or arrange the decals so they spell out rude words.
Irritatingly, the game mandates a constant connection to the internet, for reasons that are never really made clear. Granted, Need for Speed populates Ventura Bay with other players who can be challenged, but their primary contribution is getting in the way when you're in the middle of an event that has nothing to do with them.
The steep price for that blend of single and multiplayer is a game that makes it unnecessarily difficult to connect with your actual friends, and becomes completely inoperable if your broadband drops out.
None of these individual flaws are a deal-breaker in themselves but, in keeping with the theme of customisation, there's a sense that while the exterior is finished to perfection, Need for Speed could have done with a little more tinkering under the hood…
Need for Speed is out today on Playstation 4, Xbox One and PC