Gaming
Geek, rebooted
We wedge the world's greatest online gamer into a real race car to discover important things about virtual reality and vomiting...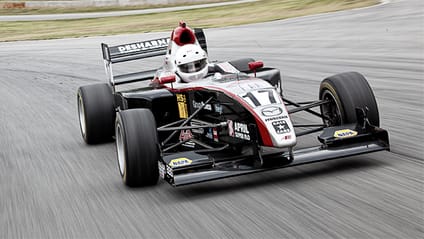 On a normal Thursday, Greger Huttu sits in the blue glow of a computer screen, in his bedroom in the teeny town of Vaasa on the west coast of Finland. In the afternoons, he joins his fisherman father to land a catch of perch netted from Arctic waters. But not today. Instead, he's wedged into the cockpit of a single-seater race car, in the boiling heat of Road Atlanta raceway, Georgia. He's never driven anything like this before - his regular drive is an old Ford Sierra - yet an empty track awaits him, a full race team is at his service and he has full permission to drive as fast as he pleases. Slippery fish suddenly seem a million miles away.

Words: Dan Read
Photography: Daniel Byrne

This article was originally published in the November issue of Top Gear magazine

Advertisement - Page continues below

Why? Because TopGear is conducting an experiment. Back on that computer in Finland, Greger dominates the world of online racing. He is the undisputed grandmaster of iRacing, a fiendishly difficult driving simulator that recreates the exact physics of scores of race cars and circuits from around the world.

It's not some gimmicky graphics-fest, but a serious way to hone racecraft and learn about car control. And in the last six years, in iRacing and earlier online sims, Greger has conquered all - leading 2,339 of his 2,581 laps and winning every race from pole. Just a week ago, he clinched the iRacing World Championship, earning himself $10,000 as he crossed the line. No wonder fellow iRacer and NASCAR king Dale Earnhardt Jr is Greger's biggest fan. He is untouchable. Today's test is to see how such digital dominance translates into real life.

We'll soon find out. Under the searing morning sun in Atlanta, Greger squeezes into his car, a Star Mazda racer provided by the Andersen Racing team. The Mazda is a slicks'n'wings single-seater powered by the same rotary engine as the RX-8. It weighs just 607kg, has 260bhp, a six-speed sequential 'box and adjustable wings. And it's really, seriously quick - as quick as a GT car around some circuits.

In other words, it's a proper car that needs to be driven in the sweet spot where the tyres and aero do their thing. If our thinking is right, Greger could be the man to put it there. Because iRacing's physics programme is so accurate, he already knows the car well - the way it steers, the way it grips, even the way it sounds and every tiny intricacy of its set-up, from wing angles to suspension bump and rebound rates - and he's lapped this track thousands of times online.

Advertisement - Page continues below

As engineer Alan Oppel briefs him on the controls, Greger displays some typical Finnish cool. He's a humble bloke, a quiet 30-year-old with a hint of podge around the midriff and, if we're honest, everywhere else too. Despite the cameras and attention, he doesn't strut like a superstar. Instead his head is bowed, his words softly spoken. He appears thoughtful - analytical, measured - and as he digests instructions, he simulates a gearchange and angles the wheel, like he's sat here a hundred times before. Which he has. Virtually.

After one installation lap to check everything's working, he starts his first flyer. All eyes turn to the final corner, a swooping downhill-right with a vicious wall on the outside, ready to collect understeery mishaps. Here comes Greger. The engine revs high and hard and his downshifts sound perfectly matched. Then he comes into sight and, to the sound of many sucked teeth, absolutely bloody nails it through the bend, throttle balanced, car planted. His only hiccup is a late upshift, that has the rotary engine blatting off its limiter. "Time to crank up the revs," says Alan. "He's quick."

The telemetry confirms it. His braking points are spot on. He's firm and precise on the throttle. And in the fastest corner, he's entering at 100mph compared to an experienced driver's 110 - a sign of absolute confidence and natural feel for grip. Remember, this is a guy who has never sat in a racing car in his life - he's only referencing thousands of virtual laps. Then, on lap four, he pops in a 1:24.8, just three seconds off a solid time around here. He reckons the car feels more grippy than it does online, but that's probably down to set-up and baking-hot tarmac. It's a weirdly familiar experience, he says, like déjà vu... with added sweat.

The air temperature is 34 degrees; in the cockpit, it's probably closer to 45. It's just too extreme for the increasingly sickly looking bloke from the Arctic. Then there's the g-forces. Road Atlanta is a bucking, weaving, undulating place, where your tummy floats over crests, then smashes into your intestines through compressions. This is another first for Greger. He's never been on a rollercoaster, or even in a fast road car. In fact, the quickest he's ever been was on the flight over here, which also happened to be his first plane ride. Which would explain why, as he hurtles down the back straight at 100mph, he throws up, right inside his helmet. When he rolls into the pits, little flecks of sick roll down his visor and his overalls are soggy around the neck.

Advertisement - Page continues below

He's feeling woozy, but after some motion sickness pills, we coax him back into the car. "You're doing a great job, much quicker than I thought," Alan tells him. "Now let's zone in on those shifts - keep them sweet." Each time around, he gets smoother, employing a progressive technique and lapping faster and faster. But with every bump and turn, the physical forces inflict themselves on Greger's ill-equipped body. He's getting stretched and squeezed. At times his head weighs double. Now you know why F1 drivers have neck muscles like dock ropes and the metabolism of a gun-dog.

On lap 15, he has to admit defeat. He's desperate to drive on, but it's physically impossible. It's that hunger for racing that forms a vital part of a driver's mindset. And Greger's got it. He's shown fearlessness, aggression and - most importantly - natural speed. And by not crashing, he's earned the respect of his team. Not bad for a bloke who's only ever raced in the digital world. Somehow, virtual racing has unlocked something in his brain that allows him to drive like a demon. It's something you're born with, but without a test-bed like iRacing, you might never know you have.

Advertisement - Page continues below

So let's treat today as Greger's first step up the complicated pyramid of motorsport. At the top lie the worlds of F1 and IndyCar and NASCAR and Le Mans. To access them, he'll need that unique mentality. But he'll also need to condition his body to deal with the constant pummelling. Because a racing driver must come as a package. He needs skill and courage and sheer physical ability. Some of this can be perfected on iRacing; other bits will require blood, sweat and tears. It might be a bit late for 30-year-old Greger to get into perfect physcial shape, but for all the younger dreamers out there, our advice is simple. Sit yourself at a PC, load up iRacing and give it a go - you could have some of the magic stuff too. And if you do, be sure to join a gym. Quickly.

We've seen enough vomit-filled helmets for one lifetime, thanks.

Reckon you could do it?

You don't have to be a masterful sim champ like Greger to have a crack at single-seaters. The chaps at the Skip Barber race school can help you on your way, starting with basics and moving through the Toolbox of Driving Excellence until the car goes where you want it, when you want it, at the correct speed. Not upside down on fire.
 
They have schools at over 20 race tracks in the States, so you'll need some pocket money for a flight over, but it'll be worth it. The instructors are world-class, cherry-picked from all sorts of motorsport and with hundreds of years of experience between them. There are lots of courses to choose from, and plenty of cars, including the Lexus IS-F, Lotus Exige, Porsche 911 and Mazda MX-5.

Or you could take the plunge like Greger, and go for the three-day race school in the Skip Barber training car - a pure'n'simple open-wheel single-seater designed to teach you how a car should behave, and more importantly, how you should behave inside it.

And unlike some driving schools, you won't be made to wiggle around cones all day. Instead, the instructors teach you about heel'n'toe gearshifts, high-speed handling, hard braking from speed, overtaking, drafting, standing starts and rolling starts until at the end of the course, you're a fully-fledged rookie racer. Then you can compete in the Skip Barber Race Series where your stratospheric rise to superstardom shall begin. Excited? Good. It all starts at www.skipbarber.com.