Gaming
Here are the five best games on Xbox Game Pass
TG's picks from Xbox Series X, S and PC's great game library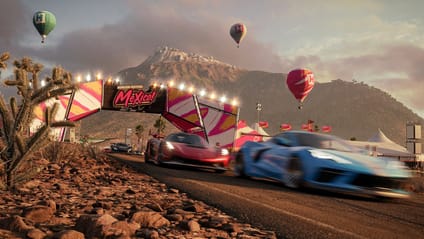 Netflix for games. It was inevitable really, and Xbox Game Pass is the best and brightest service that fits the mould, delivering a library of over 300 games for an (admittedly ever-increasing) monthly subscription fee. Beats buying games.

But the sheer convenience of having a life-swallowing amount of content on demand has introduced a new problem to modern life: decision paralysis. "What shall we watch tonight?" becomes a relationship-dissolving four-hour debate. "What shall I play next" plunges you into a dark night of the soul. Too. Many. Choices.

So just install these Xbox Game Pass games instead and get on with it. They're the best ones on there. We've tested them, using a scientific method that we have to keep utterly undisclosed so you'll just have to trust us.

Advertisement - Page continues below

Halo: The Master Chief Collection

It's not every day you get to play as both a master and a chief. Halo's shiny helmet aficionado has become properly iconic. And not the modern definition of the word, either, which can be used just as readily to describe an individual who transcends culture, or that time your mate tripped up walking out of the Wetherspoons toilets.

He's an icon because the Halo series, which this collection hands you in full, laid out the rules for modern shooters as we know them. Regenerating health. Carrying a primary and secondary weapon, instead of ten of them. Hopping in vehicles between checkpoints. They all originated in this trigger-happy space opera, where somehow you can simply punch a 4X4 laying on its roof to right it again.

That's the thing: nearly everything you do feels good in Halo, with the honourable exception of shouting vitriol into your headset mic during a multiplayer match. The main action feels meaty and gratifying, but so's powersliding your Warthog ATV or listening to the distinctive sound of an enemy's shield being smashed.

Oh, and the story's half-decent too. Warring alien factions, AI that lives in your head, double crossing, explosions… truthfully we haven't ruled out that Halo's narrative was first hatched on a school bus, but it's amazing either way.

A generous swathe of gorgeous Mexican roads, all the cars you've ever cared about, and a preposterous motorsport festival where Koenigseggs and copious tyre smoke take the headline slot instead of the Foo Fighters. It's hard to imagine not having a good time with that concept, but Playground Games really knows how to make it pop off.

What was that – is the handling good? It feels like skiing down an ice cream mountain while getting a back massage. Rear ends snap out with just the right playfulness, classic cars have a recognisable and terrifying sponginess, and modern hypercars feel like WipEout on fast forward.

This is a rare example of a live service game getting the long-term grind right, too. Horizon's seasonal events are like vehicular puzzles, daring you to find the right car and tune combination to meet a particular challenge. And then it gives you a new car. Once that can't be bought, unless it's from the player-run auction house. That makes building a car collection totally worth it - you've got a 2012 Ascari KZ1R, and not many other people do. Bliss.

Advertisement - Page continues below

Corvo Atano has a problem. It's regarding his honour. Once a respected royal bodyguard, the supernaturally gifted assassin finds himself an enemy of the state after he's been – well, you get it.

The world of Dishonored 2 is a vivid, dirty, captivating place. It's like sneaking around inside an oil painting of Victorian Venice, crammed with incidental objects and details that make its fiction feel fuller. But what really sets it apart from other stealth games and immersive sims is how incredibly well it works as a sandbox. Here, says the game. Have a big pile of really imaginative abilities like teleportation, freezing time and possessing people. Now get from A to B however you like.

That makes you feel like you're the genius of the game, even though it's definitely Arkane Studios letting you stand on their Mesa-level shoulders. The plans you hatch, the escapes you improvise and the messy scraps you somehow prevail in, all feel incredibly exhilarating. Then you finish the game, realise there's Emily to play as next, and immediately start a new game to improvise some more.

There are only two emotional states in Dirt Rally 2.0. Most of the time you feel like a kevlar-coated superhuman while you're kicking seven bells out of some Welsh countryside, utterly at one with the barrage of pace notes flowing into your ears. And when you're not feeling that, you're watching a hatchback shed its panelling over 200 metres of ditches and gravel tracks, wondering what the point is in even owning a console if it's going to treat you like this.

That's rallying: ten minutes on the precipice of utter destruction, every twitch of the steering wheel deciding whether you make it to the next turn or end your event here. And Dirt Rally 2.0 conveys that high-stakes, high-skill racing better than anyone. Its cars slide precariously round clifftop hairpins with satisfying weight and furious engine roars.

Sea of Thieves: 2023 Edition

If you played Sea of Thieves at launch, you probably remember ferrying a lot of boxes of chickens to and fro and thinking 'this doesn't feel much like being a pirate'. And you'd have been quite right - the treasure chest of actual things to do was a bit light at the time of release. But that was five years ago.

In the interim, developer Rare's been busy. This is now a co-op pirate sim that's bursting with adventures, from collabs with Pirates of the Caribbean and Monkey Island to fleshed-out faction quest progressions and all the sea shanties you could ever wish to perform together. The fundamental brilliance of standing on the deck of a ship with your mates and each performing your specific roles to sail the thing remains, but now you've got so many more places to set sail to. There isn't another co-op game like it, on Game Pass or beyond.