Gaming
Starfield: seven incredible custom ship builds from the gaming community
Impress passing space tourists with these outlandish rides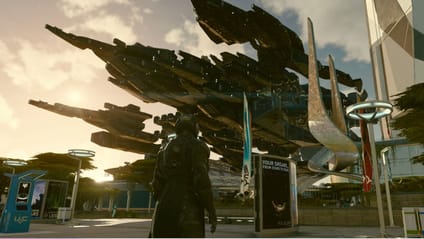 Starfield wants to cover every detail of your spacefaring fantasies, and in its efforts to do so, it's somehow thrown in a powerful ship builder tool in among the vast RPG adventuring and outpost management. Do you need to sit down for a bit or something, Starfield? You must be exhausted.

The community has taken that toolset and in time-honoured tradition, used it to make some absolutely absurd ships. Stuff that would make a NASA employee sick in their mouth and cause a physics textbook to autonomously combust in protest. Here are the highlights - marvel at their improbable angles, then download them and take them for a spin in your game.

Advertisement - Page continues below

Preposterous. It's like an army of space ships were glued together in some astral entity's garage one lazy Sunday afternoon.

Despite the utter chaos of its lines and angles, the UNSC Spirit of Fire nonetheless looks convincing as a dreadnought vessel you'd see crossing the movie frame in an impossibly long shot. There it goes - still going. That must be the end of it now? No, still going.

Considering Starfield has a maximum crew size of eight members, you might arguably consider this overkill. You'd be incorrect. Creator ​​Eyelessjack1080 has it exactly right.

If you've had a play with the ship building tool yourself, you'll know how difficult it is to preserve smooth aerodynamic lines. And yet this Nova Galactic Battleship from DarkLord20172002 trots out looking like something Adrian Newey built. It's a space-torpedo.

Advertisement - Page continues below

A space ship the size of a city. Actually quite a lot bigger than the city of Akila in Starfield. The ideal vessel for the commander who, frankly, just can't stand their crew anymore and needs to be in a different post code to them while still technically flying in the same craft.

Don't ask us what all those different attachments and adornments do. Or how much fuel it takes to get it airborne. All we know is that the game chugs along at worryingly low frame rates whenever it's onscreen, and that's how we know creator lereken understood the assignment.

Of course there's a Millennium Falcon. Wherever there's sci-fi, customisable content and modders, legally muddy facsimiles of George Lucas' IP are sure to follow.

Creator dertien has done a wonderful job of making this ship feel like part of Starfield's universe, while also visiting from a galaxy far, far away simultaneously. And it's actually a useable size, which is a bonus.

This sleek little number from creator CyberGHO5T is apparently inspired by Lamborghinis. Which is ironic, because Lamborghini itself holds onto a spaceship-like design principle. While other ships on this list are all about utility, power, or filling the screen with as much real estate as possible, the focus here is on luxury. It even looks pretty to walk around. There's attention to detail everywhere, and that kind of craftsmanship sets you back - around 990,000 credits if you attempt to build this one yourself.

We have no idea who Macragge is, but it's safe to say their honour is very much safeguarded by this absolute unit from creator fairassa. A recreation of a Warhammer 40K vessel, it bears a striking resemblance to a Victorian cruise liner colliding with some skyscrapers.

Imagine being a bandit and seeing this thing appear through your window. It's just not worth it, is it?

Advertisement - Page continues below

Another sleek, aerodynamic ship from creator Oxycopium, who's taken the stealth bomber and imagined what would happen if it velcroed itself to five other stealth bombers. The answer, obviously, is something that we absolutely have to explore the Starfield universe in. You only get one chance to make a first impression, and touching down in this futuristic paper aeroplane is going to live long in the memory of many a New Atlantis denizen.