News
Gear knobs. Seven of the best
Inspired by Porsche's new seven speeder, here are our pick of the classic sticks...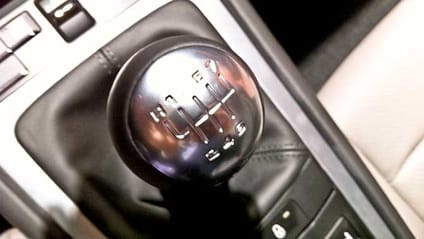 If you've read Jason Barlow's up close encounter with Porsche's new 911, you'll know he was rather taken with the seven-speed gear stick. As were we all.

Predictably, this then lead to a heated office debate over the finest ratio-shifting devices ever made. So here, in entirely unscientific fashion, are our top seven.

Have we forgotten any? Let us know at editor@topgear.com

Advertisement - Page continues below

Resurrected in the latest Golf GTI 'Edition 35' as a piece of gratingly obvious PR nonsense, the original puckered golf ball gearknob from the 1976 MkI Golf GTI remains an iconic place to rest your palm.

This legendary knob was first premiered at the Frankfurt IAA in September 1975, causing quite a stir when connected to a close-ratio four-speed gearbox and 1588cc, 108bhp engine. It gained an extra digit in 1979 when the GTI became five-speed, and has remained influential.

Original GTs arrived with a hollowed-out, beechwood gearknob that paid homage to the scary 917 Le Mans racers.

Advertisement - Page continues below

Flip-top lid and a big, red button? All gearsticks should have an ejector-seat release to void annoying passengers.

Classic Yank shifter comes as a knob or a T-bar, and an amusing 12v switch that controls stuff like nitrous or line-lock. Yee-ha!

This silvery moon is attached to one of the best gearboxes in the business: the S2000 shifter is stumpy, globular and bolt-like.

Again, another shifter that takes care of those James Bond fantasies by having a flap for an engine start button in the top.

Advertisement - Page continues below

Classic open H-gate and silvery manual wand from Ferrari. The one that makes the 'click-clack' gearchange noise...