Hot Hatch
The best Eighties hot hatches to invest in right now
We all know the Eighties was THE decade for hot hatches, but which should you spend your hard-earned on?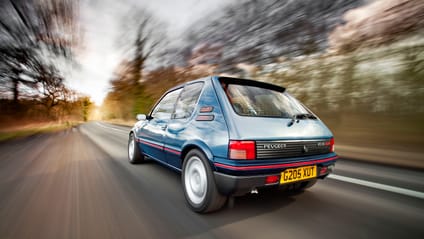 There's something about being 'retro' that comes from a point of not being expensive. Anything worth serious money suddenly becomes something else, a collectible item or investment. Retro is more egalitarian, less exclusive, more real. 

It doesn't get much more real than Eighties hot hatches. They all but destroyed the sports-car market back in the day, when drivers realised they could have a car that was fun to feed down a B-road on a Sunday yet could be a practical drive to work, come Monday morning. They set a precedent for blue-collar speed, a tradition that continues, albeit with far, far higher bhp. 

But let's be honest: it's unlikely that you'd buy any of these cars to provide a return (although a really well-kept one might, given a few years), but more because they defiantly aren't modern. Most don't have traction control or very sophisticated suspension. Many have the kind of power outputs under a third of a modern hot hatch, with the performance figures to match. But they need you to drive them, invest in getting the best from them. We love the Eighties. And here's why… 

Advertisement - Page continues below

So we'd all really like a Giulia Sprint or an Alfasud, but life doesn't work out that way. So how about an Alfa Romeo 33 Cloverleaf? OK, so it's only 103bhp from a 1.5-litre boxer four (late Eighties versions got a whopping 117bhp from a 1.7), but it's an Alfa, and you can pick them up for beans. If you can find one that hasn't melted. 

Yep, we'd all like a mid-engined, RWD and very wide-arch 5 Turbo 2, but prices are heading north. So how about a Renault 5 Turbo? With the same 115bhp, 1.4-litre turbo engine and super-light weight (850kg), it's one of the pocket rockets of the age (0–60mph in 7.5secs), albeit FWD. The special-edition 'Raider' models are sought after.

Advertisement - Page continues below

The definitive GTI. The MkI Golf replaced the Beetle in 1974, but it was June of 1976 before the first GTI appeared. A tidy MkI is getting hard to find, and pricey, so how about the MkII (1983)? Not so sought after but more usable, they make great, cheap daily hacks with a little retro flavour. A supercharged G60 or Rallye would be a little more exclusive.

205 GTi is a legend. We've all heard it, but a decent 205 GTi has already started to climb in value, whether in 1.6 (104bhp) or 1.9 (126bhp) format. So what about the less-loved 309 GTi or GTi 16? You get 128bhp, alloys, fogs, a decent bodykit and most of the handling verve of the 205. Most. OK, so it's not as pretty and getting increasingly hard to find, but it's a decent choice. Another option would be a Pug 306 GTi 6 or a Rallye, but they come from the Nineties, so are debatably 'retro'. If you want something even more quirky, the Citroen BX19 GTi used essentially the same motor as a 205 GTi with a different inlet manifold and cylinder head. About 119bhp in a bigger car meant that it wasn't the firecracker the little Peugeot was, but it was definitely interesting. There was also a 16V version with the same engine as the Peugeot 405 Mi16, which made about 160bhp, but good luck finding one. 

The Sunny GTi-R set the standard for hot hatches at the start of the Nineties. But it was a homologation car for WRC, and so not cheap. If you want something more affordable (but not easier to find), then how about a Nissan Cherry Turbo? You get a 1.5-
litre blown four with… 114bhp. Mind you, it only weighed 884kg. Bit of a curveball this, as even at the time the Cherry T was widely criticised for peaky engines and a bone-jarring ride. 

An Escort RS2000 MkI would be lovely, but prices are insane, the same going for anything that can be historic rallied with any degree of success. So how about gunning for a later MkIII FWD XR3 with the 1.6 CVH? Later it became the XR3i, then the RS1600i, then the RS Turbo (Lady Diana had one). If that's a bit too Essex for you, then there's always the Fiesta XR2 with a 96bhp CVH? Bodykit-tastic, but light and cheap. 

 

Advertisement - Page continues below

A proper Cinquecento Esse-Esse would be lovely, but prices for good ones (even clones) are rising. The answer is a Fiat Ritmo 125TC. It was perky, quirky and managed 60mph in 8.7secs. Only problem is, it was never sold in the UK. So keep an eye out for a Fiat Uno Turbo, which used a Strada 1.3-litre motor with a turbo. With 105bhp, it won't tear your arms off, but you do get awesome graphics and a 845kg kerbweight. 

This feature originally appeared in the Top Gear magazine Retro supplement.