Hot Hatch
Five reasons why the new Civic eHEV proves the Type R will be brilliant
Honda's new family hatch is a very decent car – but there's clues the Type R will be world-class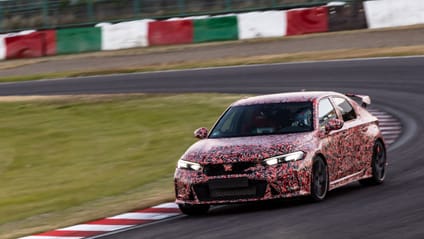 The body is stiffer and lower

Honda says the bodyshell of the standard new Civic eHEV hatchback is 22 per cent stiffer than the outgoing car. A stiffer bodyshell isn't just stronger in the event of a crash: it's also a better platform to bolt your suspension to if the car's not twisting itself into a piece of pasta every time you aim it into a corner.

The steering mounts are also beefier, to give more precise, less corrupted steering – not that the old Type R suffered in that department.

Meanwhile, the new Civic is a lower car overall than the one it replaces, and it's also got a 10mm lower centre of gravity. Small margins, but it all adds up when you're chasing ultimate performance.

Advertisement - Page continues below

Because Honda knew the new Civic was going to be a hybrid, it needed to take weight out of the car to offset the mass of batteries and electric motors. By swapping out lots of welding points for adhesives, and using lighter panels like an aluminium bonnet and resin tailgate, the new Civic's body is 20 per cent lighter than the previous generation. 

The new Type R won't have any hybrid assistance, so it should buck the trend for family cars getting heavier with each passing generation. And that's great news for acceleration, braking, cornering and fuel economy. 

It's not horrifically ugly

The new Civic hatchback is by no means a beautiful car. If you want a genuinely pretty family hatchback, you still need to buy a Mazda 3, because it's gorgeous.

But the Civic is no longer a crease-festooned assault on your eyes. Its calmed down, grown up, and doesn't look like it was styled in an argument between designers who all hated each others' guts. Hopefully Honda won't plaster it with fake grille mesh like the FK8 Type R…

Meanwhile, the interior's taken a huge step on from the old Civic, in design, quality and screen resolution. It'll be a nice place to sit, in your bright red bucket seats.

Advertisement - Page continues below

Finally, you can mix-and-match your modes

The Civic eHEV is a good car, but it's not an exciting or especially sporty one. Oddly, there is – prominent on the centre console – a Drive Mode toggle, which switches the car from Eco, to Normal, and Sport modes. Tellingly, there's also an 'Individual' setting so really geeky users can mix and match their favourite settings. 

This feature hasn't been present on a Type R before. The first turbo'd Type R was stiff in normal mode, and basically had no suspension at all in +R mode. The successor, which has recently gone out of production, added a Comfort mode which was lovely and squishy in town. But if you desired the angriest throttle map, you had to put up with the stiffest suspension and heaviest steering. There was no way to separate it.

We predict the new Type R will at last allow you to save your perfect parameters, like the Hyundai i30N or loony AMG A45S. Not a moment too soon.

It's Honda's last chance at an old-school hot hatch

Over the decades Honda has brought us some of the world's great affordable fast cars. Various hot Civics and the Integra have made the Type R bloodline an extremely strong lineage.

They stuck the landing going from high-revving VTECs to turbos, but the world is changing fast and the new Type R will be a real outlier in the Honda range, as the only model in the European line-up not hybridised. Even the NSX supercar is a plug-in. 

So by the time Honda's thinking about the next-gen car, it'll have to be a partly if not completely battery-powered effort. That makes the upcoming Type R a 'last of the breed' kinda car, and when engineers know they're in the last chance saloon, they tend to come up with pretty special results.