Hot Hatch
Top Gear's hot hatch of 2014: S1 vs Golf R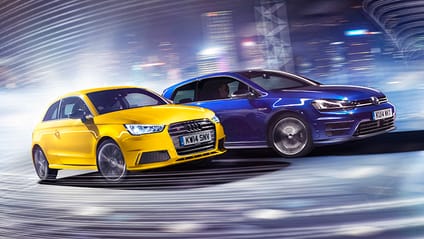 If you own, or are thinking of owning, an Audi S1, you'll be pleased to know that, thanks to TG, it's now a fraction safer. You see, we were meant to resolve the whole Golf R or S1 thing about six months ago, but... it didn't end well. One of our number, a Chief (nudge nudge) rather than an Indian, set the baby Audi on fire.

Now, it was subsequently discovered that an incorrectly installed hose had interfered with the heat shield near the catalyst, so the insulating material had come adrift, touched the turbo and caught fire. It can't do that any more.

Pictures: John Wycherley

This feature originally appeared in the Awards 2014 issue of Top Gear magazine.

Advertisement - Page continues below

At the time, we were trying to figure out which of these two deserved a place in the final five of our annual PCOTY shoot-out. In the end, that was an academic decision. The Golf R won through.

It then went on to prove itself a more manageable road car than the Corvette Stingray, and a better driver's car than a BMW M3. Yep, that's a tough one to get your head round, isn't it - a Veedub that's more engaging and entertaining than a BMW M car.

And yet there's still a sneaking suspicion with the Golf R that it's just a GTI that, for the vast majority of the time, is lugging around a spare pair of driveshafts.

Why not just save yourself three grand and have the GTI? It's not like the S1 is free from these negative associations, either. With the Audi, the suspicion is that, well, it's an Audi, and Audi S cars have a patchy reputation at best.

So let's put the kibosh on this now: the Golf R
is not merely a GTI with an engine chip and a 4WD system that can send a bit of power to the back end, and the S1 is not a disappointing Audi.

Advertisement - Page continues below

To make way for the Haldex quattro 4WD system that can send up to 50 per cent of the torque to the rear, Audi had to junk the A1's standard torsion-beam rear suspension and replace it with a multi-link set-up that allowed more clearance space for the differential and multi-plate clutch pack. Unfortunately it also meant the boot floor had
 to be raised, reducing luggage capacity by 60 litres.

VW meanwhile, could have simply tweaked the engine management system of the EA888 2.0 turbo engine and got to the magic 300PS (296bhp) mark.

The fact it decided to develop a modified cylinder head, fit new injectors, exhaust valves, valve seats and springs, plus a bigger turbo and revised pistons is the hallmark of a company that's prepared to go the extra mile.

Given the work that's gone into the engine, it's hardly surprising rumours abound there'll be an R400 version of the Golf next year.

Take it from us, similar attention to detail
 has gone into every area of these cars, but when you stand next to them, all you think about is the appearance and quality - how they look so smart, how companies that have paid this much attention to shutlines and plastics can't possibly have bothered so much with anything so coarse and mechanical as handling and driver appeal.

But it's not a case of either/or with these two. The quality you see laid out before your eyes continues when you peel away the layers and study the oily bits underneath. A great car isn't just about great components, it's about honing and developing the whole package to a fine point. This is where the Golf R is so strong - and so surprising.

You drive 
it and initially gently marvel at its refinement and ride comfort, a bit later you might pick up on how astonishingly responsive the engine is, after a few more miles the clarity and accuracy of the steering.

Advertisement - Page continues below

As you continue to drive more and peel away at these layers, it just gets better. You notice how everything operates with exactly the response
 and reaction you'd hoped, but inwardly doubted, 
it would.

So you find a favourite road and proceed to be blown away by this Golf. It is the car that can do everything - 40mpg cruiser, upmarket business chariot, winter weapon... genuine thrill provider.

The chassis balance and composure, the turn-in, the perfection of that turbo engine. It's not often the TG team arrives in the office with a faraway look in its eyes and starts talking about lease deals.

Drawbacks? The seat's too high. Can't think
 of a single other thing. OK, I wasn't sure about the engine noise initially but actually really like it now.

Advertisement - Page continues below

There's more to fault with the S1. It, too, has an irritatingly lofty seating position, plus it could do with dartier, more feelsome steering and a less nose-heavy handling balance (the Golf's 59:41 weight distribution is only one per cent more rear-biased than the Audi's, but it's happier to work its rear axle harder and able to send up to 100 per cent of its power to either axle).

It is marginally less well honed, a mite less precise and professional than the Golf. But it's also feistier. A little barrel-chested charger of a thing.

The S1's small and perky so doesn't intimidate other road users, and as a result you can get away with things. It encourages you to behave badly, wants to inject a bit of fun into every drive, no matter how mundane.

And it's genuinely fast and capable, a 1,315kg pocket hatch stoked along by the Performance Pack version of the Golf GTI's 2.0 turbo. We recorded 0-60mph in 5.5 seconds.

Deft manual gearbox, too - Audi toyed with a DSG option, apparently, but it would have added 25kg over the nose and given the S1 a level of maturity it neither wants nor needs. Well done, Audi. Well done, also, for the quad exhausts - not necessary, but very right.

Both are dynamite on B-roads, a proper hoot. The S1 is 180kg lighter, but not appreciably more agile, while the Golf is better balanced, but barely a trace faster.

Some people in the office would have the S1 and, even though they're wrong, I can see where they're coming from. It's a barrel of laughs with a premium badge. A quattro Mini. It rocks.

But the Golf is better. Truly, genuinely, outstanding, in fact. Let's reintroduce the BMW M3 at this point. We had the following discussion in the office the other day: straight choice - M3 or Golf R? More people would have the Golf, even those who like to take the car-park entry ramp sideways.

Marginal gains, that's the key phrase here. Volkswagen has taken the already excellent GTI and left no stone unturned in its pursuit of improvement. Just fitted some extra driveshafts, has it?

Yeah right. Congratulations, VW - the result of your efforts is the best hot hatch on sale today.